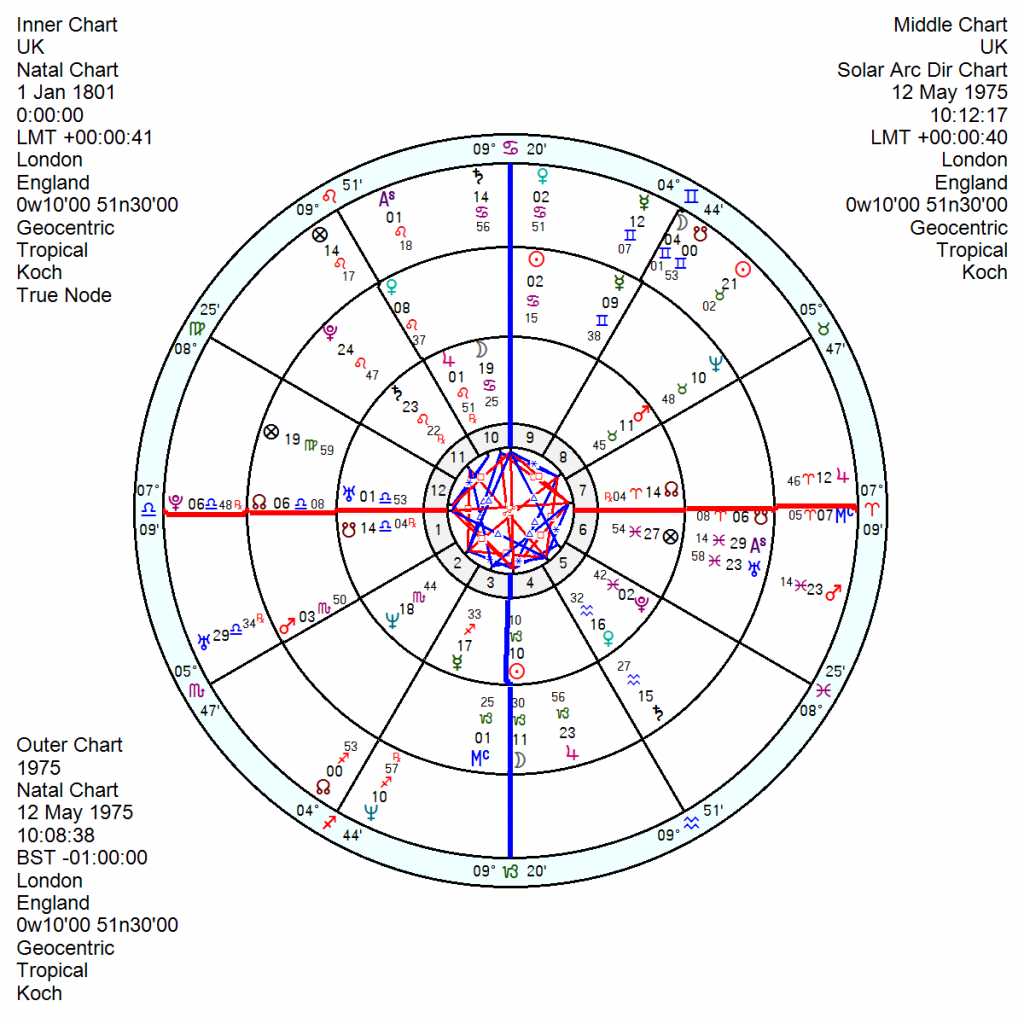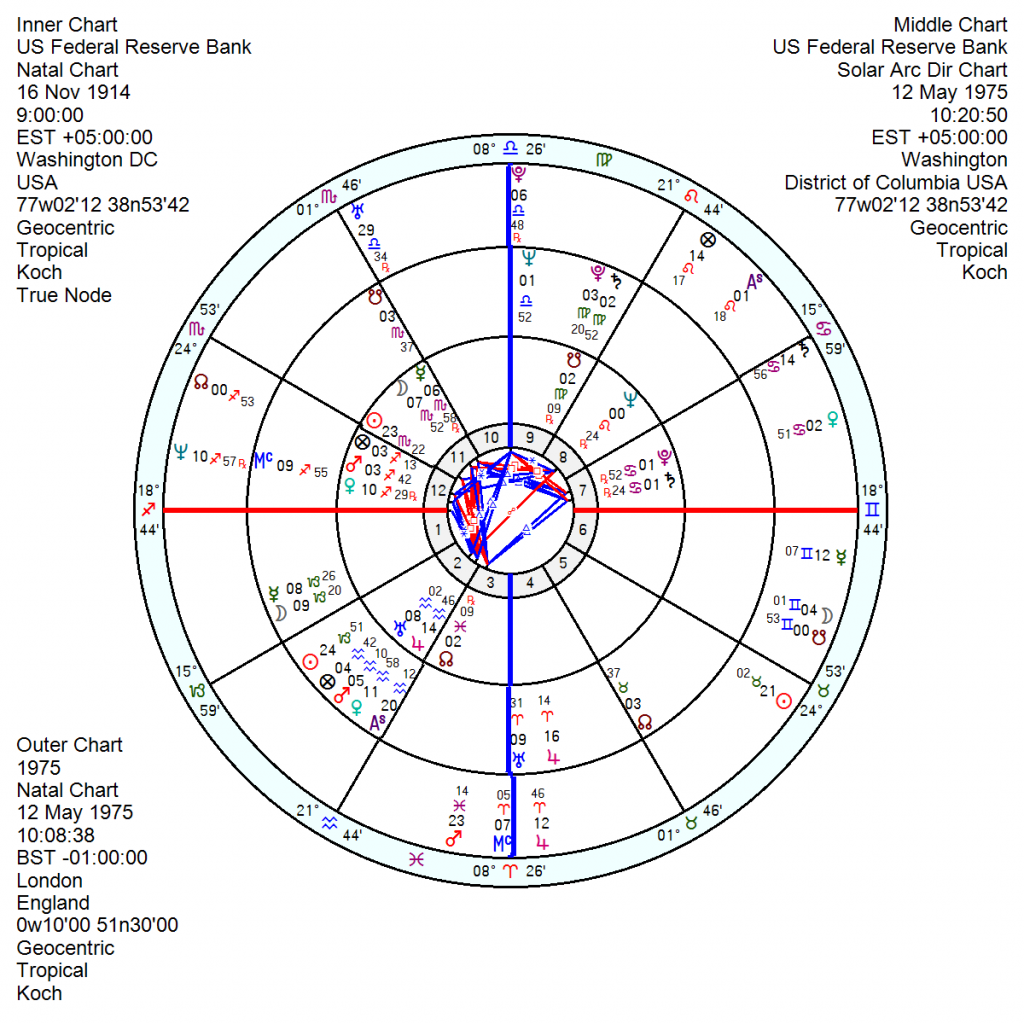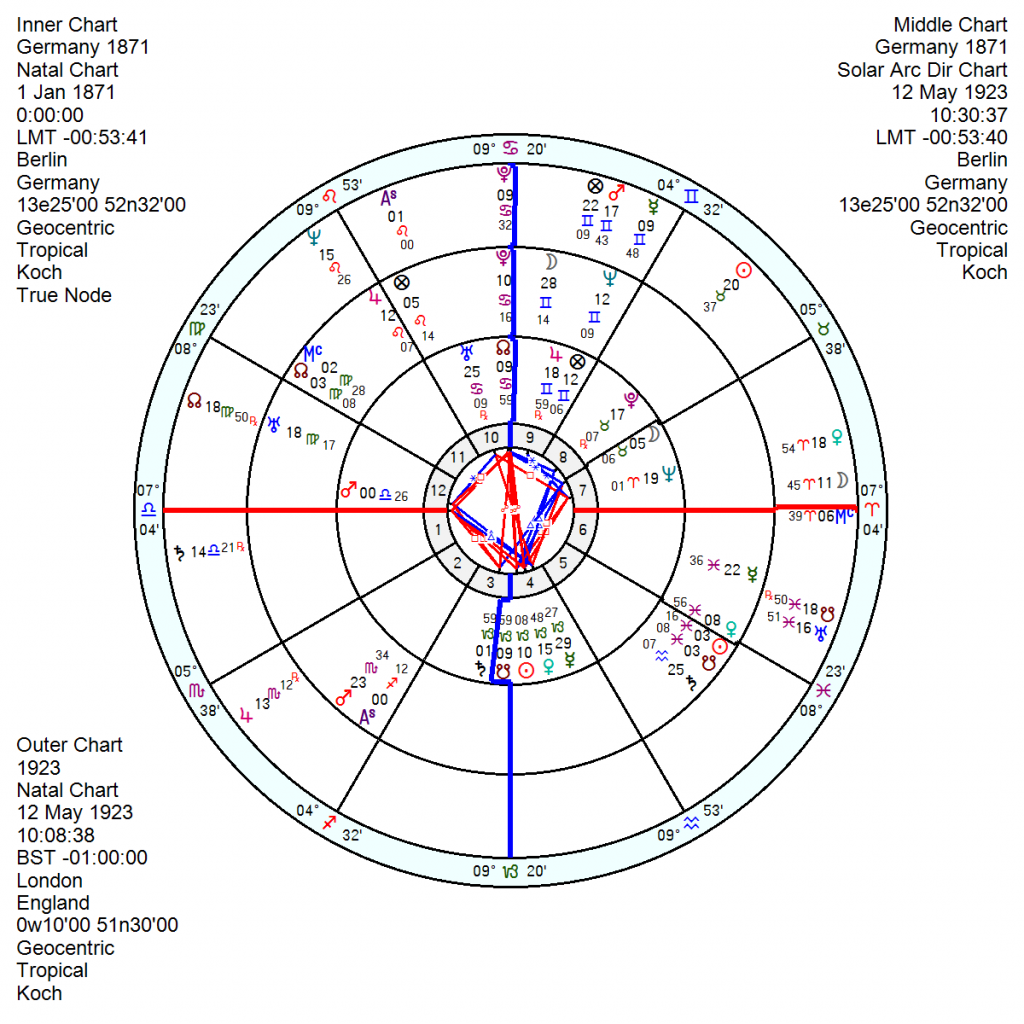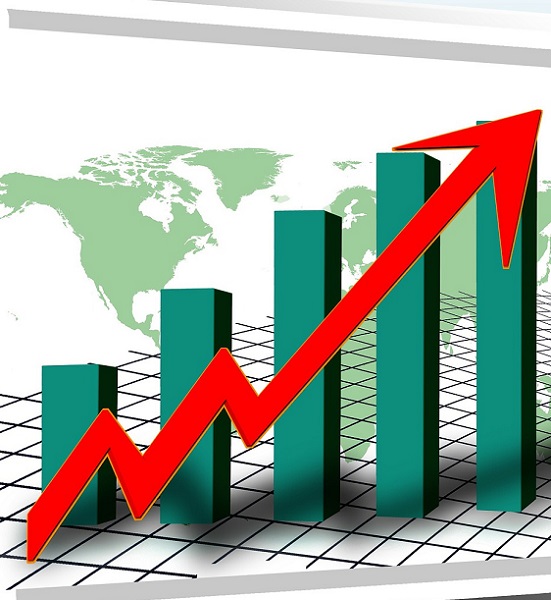 Trepidation about rising inflation is spooking the markets but there's nothing much on the astrology to back up the panic at least instantly.   Looking back over times of high inflation, in 1975 for UK and USA and 1923 for Germany, the key factor appeared to be Neptune.
In 1975 with inflation hitting 24% in the UK – on the UK 1801 chart, Solar Arc Neptune moving through the UK financial 8th was about the conjunct the Mars and Solar Arc Saturn conjunct the speculative 5th house Venus. The Bank of England 27 July 1694 JC chart had Solar Arc Neptune conjunct the North Node and opposition the financial Venus; with tr Pluto conjunct the Solar Arc Saturn.
In the USA in 1975 inflation was running at 13.5%. On the US Fed Reserve chart, 16 November 2014 9am, tr Uranus was square the 8th house Neptune, the Solar Arc Neptune was square Saturn Pluto and tr Neptune was conjunct the financial Venus – so a super-whammy of panic.
In Germany in 1923 when hyperinflation struck tr Neptune was square the Germany 8th house Pluto; tr Neptune was opposition the Germany Neptune with tr Pluto conjunct the MC North Node and opposition the Sun.
The USA Federal Reserve Neptune will certainly be under considerable pressure from tr Pluto in opposition to the FedRes Neptune in 2023/24 and Solar Arc Neptune conjunct the Sun in 2026, but there's nothing immediate flagging up concern.
On the UK chart tr Uranus will oppose the financial Neptune in 2022 and tr Saturn will square Neptune. This is one staging post of a longish disruptive trail of tr Uranus round the three UK financial planets of 8th house Mars and 5th house Venus starting this year and extending on till 2024. And the Solar Arc Midheaven will square the Neptune in 2024 as well; plus Solar Arc Pluto squares the UK Sun in late 2022 which will be blocked. Whether it is inflation or just financial travails of a different variety it will be a bumpy ride at times. Uranus, of course, being the trickster planet, will bring ups as well as downs.
Germany, if anything, looks even more tossed around by the celestial influences with a bubble-bursting and disappointing Solar Arc Neptune square the Jupiter later this year alongside the status-quo-upsetting tr Pluto opposition the 10th house Uranus extending into 2023. In 2023 tr Uranus will conjunct the 8th house financial Pluto for yet more forced change with tr Saturn pitching in its tuppence worth of woe as well. And the Bundesbank chart, 26 July 1957, will have a good deal of downward pressure from tr Saturn opposition its Mars, Mercury, Pluto in 2022 and tr Uranus in square the following years. But there's nothing like the problems there were in 1923.