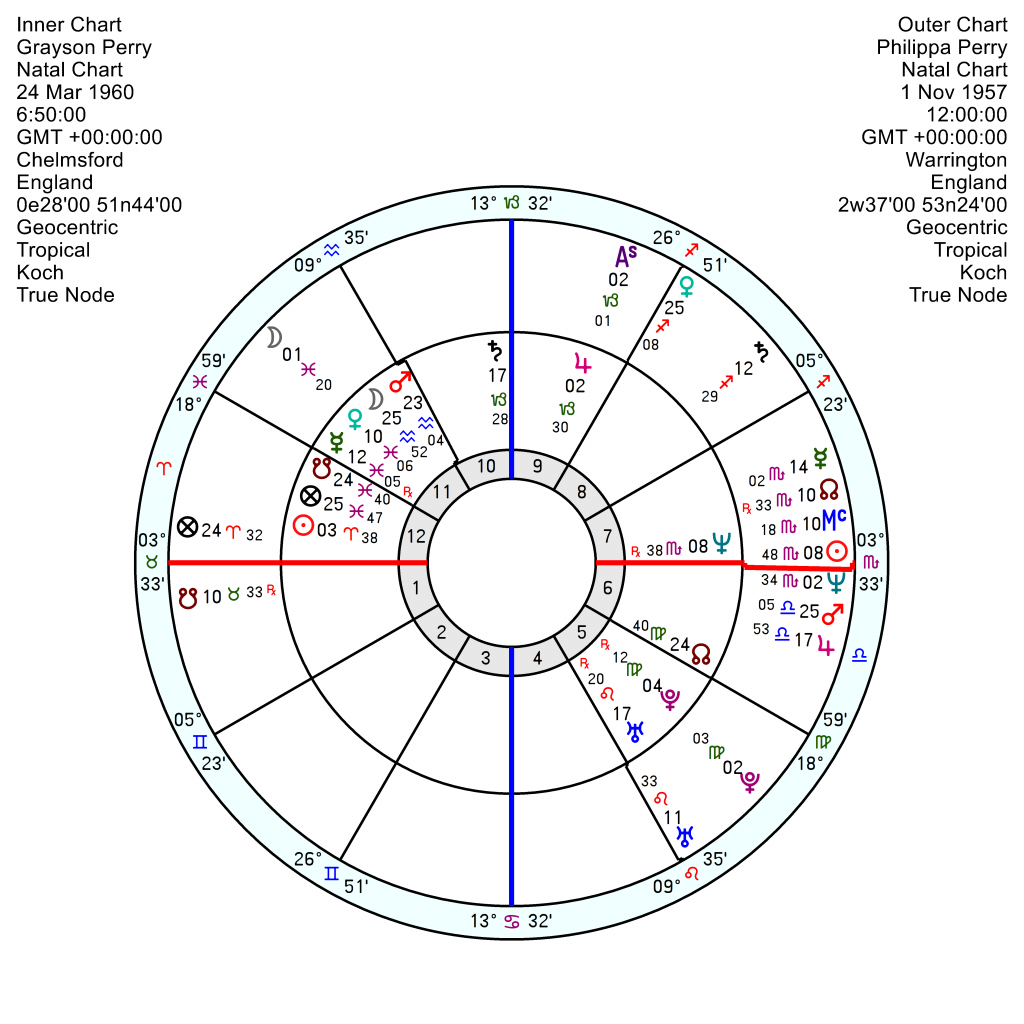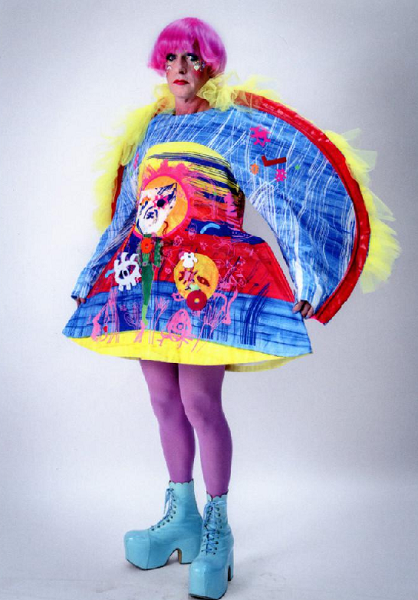 Grayson Perry, the talented ceramicist and art documentary presenter, has caused a stir by suggesting the pandemic will clear the arts scene of 'dead wood'. Given that hundreds of gallery and museum staff face losing their job, his remarks were deemed 'out of touch and unempathetic' as well as 'disgraceful'. Outrage and provocation always were his metier since he was as well known for his transvestite alter-ego Claire, as for his creative achievements.
He was born 24 March 1960 at 6.50am Chelmsford, England, and as expected has a contrarian Mars in Aquarius quadrupled in strength by being conjunct an Aquarius Moon in the 11th and opposition Uranus in the 5th. He also has grandstanding Pluto in his 5th which can be creative and attention grabbing.
His 12th house Aries Sun is in an expansive square to Jupiter and on the focal point of a Yod to Pluto sextile Neptune which will foster an ambitious streak though his sense of self-worth will teeter from too little to too much frequently. He does have a talented Half Grand Sextile of Venus Mercury in Pisces in a passionate opposition to Pluto sextile Neptune and Jupiter in Capricorn – so he has been blessed with ability and luck. Though he's also always been under a fair amount of strain – he has another quincunx of Uranus to a 10th house Saturn.
He had a tough childhood, with his parents splitting when he was 7 because of his mother's adultery and he inherited a violent stepfather. He hasn't spoken to his mother in two decades and is now married to a psychotherapist with a daughter. Much of his work has an explicit sexual content, some of it sadomasochistic and abusive.
The Moon Mars opposition Uranus does explain his ruptured relationship with his unpredictable and angry mother which is what stokes his need to be maverick and shock. He has described her as mentally ill and refused to reconcile with her even when she was dying.
  He is married to psychotherapist Philippa Perry, 1 November 1957, who is a Sun, Neptune and Mercury in Scorpio with a Pisces/Aquarius Moon. It's an odd mix but they've been together for two decades so obviously it works. Her Sun Neptune falls in his 7th close to his Neptune so arguably his artistic and her healing careers soak up the non-committal Neptune. Her Moon may conjunct his Venus if she's a late day baby and her Venus falls in his 9th for an intellectual and affectionate connection.