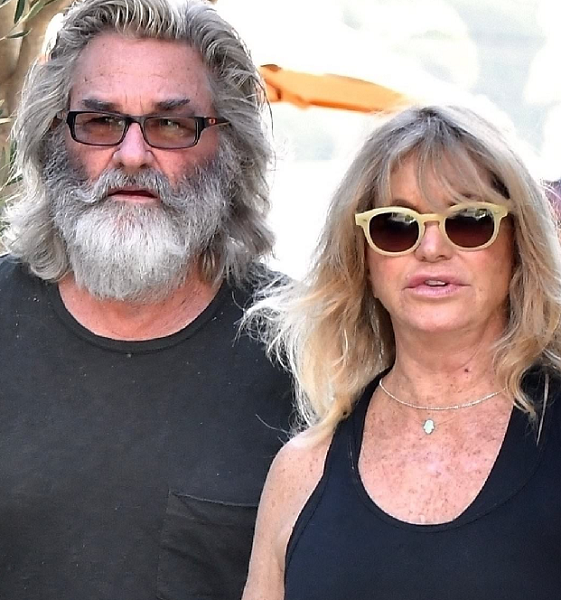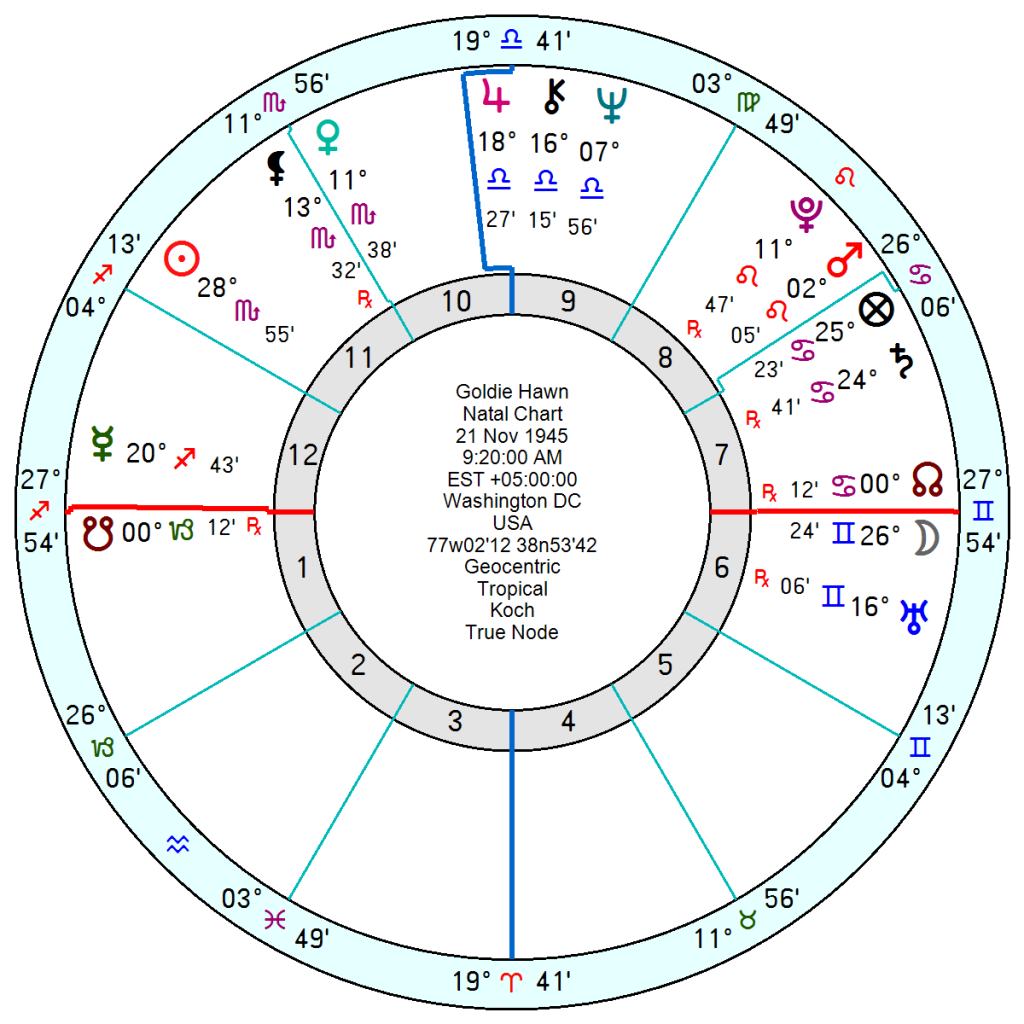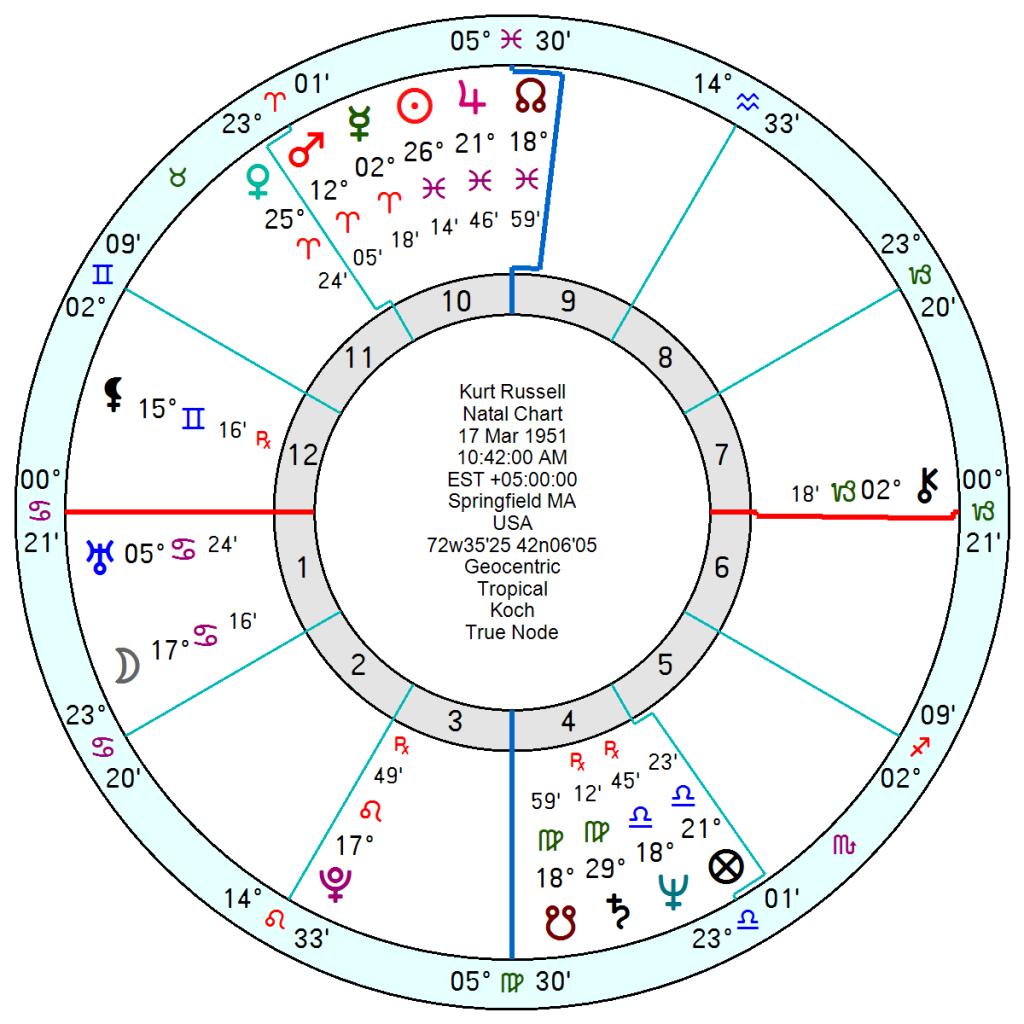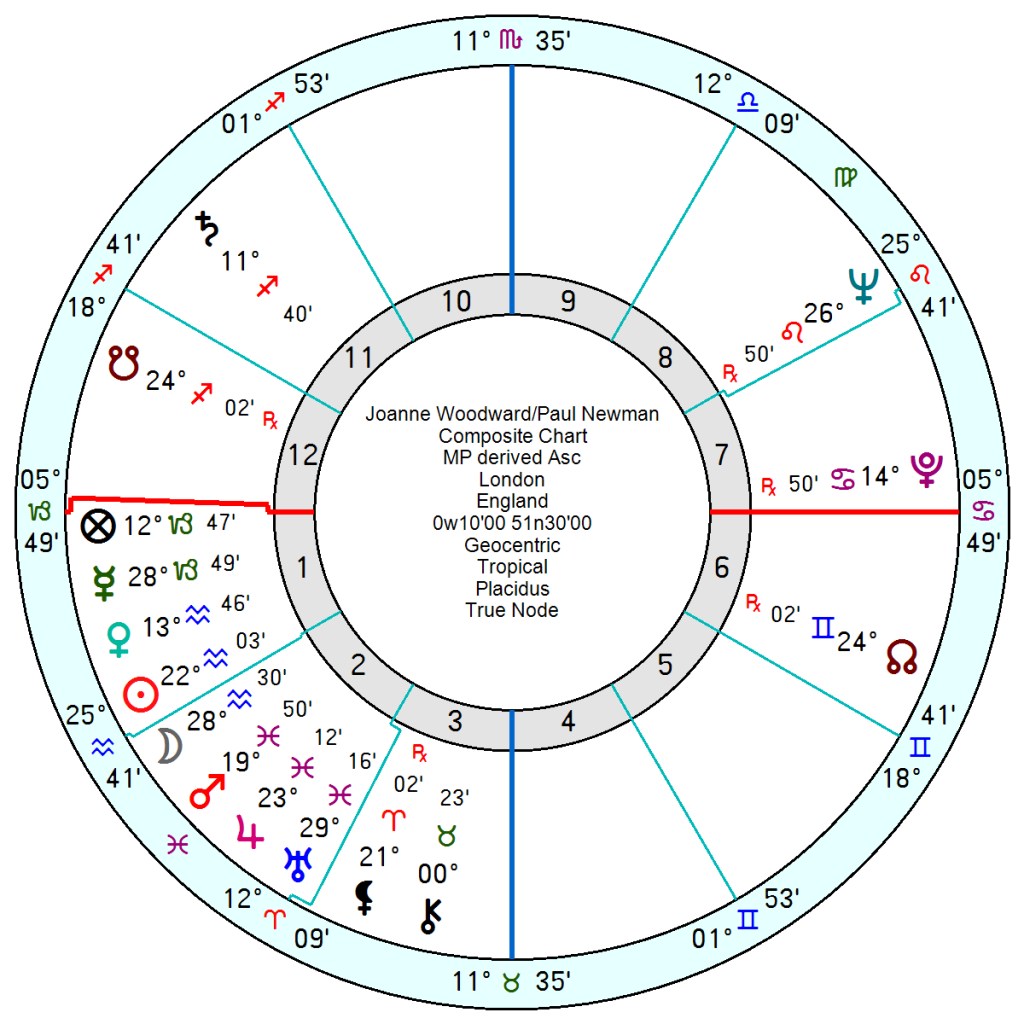 Actress Goldie Hawn has been with Kurt Russell since 1984 and never married which is a perpetual source of questioning by the celeb magazines. Exploring their Astro-connection indicates an unusual bond, not as you might expect.
She born 21 November 1945 9.20am Washington, DC, she is a Sun and Venus in Scorpio with her Sun trine Saturn; and Moon and Uranus in Gemini, Jupiter in Libra on her Midheaven and a heavyweight Mars Pluto in Leo in her 8th.
He was born 17 March 1951 10.42 am Springfield, Massachusetts and is a Sun Jupiter in Pisces opposition Saturn with an independent-minded/rebellious Uranus on his Cancer Ascendant. His Cancer Moon is in a showbusiness square to Neptune opposition a 10th house ambitious Mars. With a yod of Neptune sextile Pluto inconjunct Jupiter. He needs a public audience with a T square focal point Moon and her Gemini Moon will be happy enough to share him with the masses.
  His Pisces Sun Jupiter fits well with her Scorpio Sun and his Cancer Moon squares her Jupiter. Her Gemini Moon squares his Sun Jupiter which is OK and squares his Saturn for work getting in the way of relaxation. His Moon opposes her Saturn which says much the same. Saturn can cut down warmth but does give longevity. His Mars in Aries is trine her Pluto for the odd tension.
His Uranus falls in her 7th so freedom will be what they both bring to the domestic table; especially since her North Node falls in her 7th as well, so she'll be happy enough at times to slide back into being her own person (1st house) and not just part of a duo. And since both have Jupiter in their respective 10th houses of career, their individual success will keep them glowing.
The relationship chart has an affectionate composite Sun Venus conjunction; a jointly successful Jupiter in the 10th; a communicative Air Grand Trine of Mars trine Venus Mercury trine Neptune – and possibly most significant of all a yod onto the Sun inconjunct Saturn sextile Uranus. Composite yods do bring together couples who irrevocably change the destiny of the other – not always for the better it would have to be said but in this case it works. So there will feel as if there is a fated connection.
His Part of Fortune falls on her Midheaven and her Part of Fortune is trine his Sun and Jupiter – which may also help.
  The Paul Newman/Joanne Woodward relationship chart also had two fated, interlinked yods and their marriage held together through thick and thin – with some of the reality emerging only after his death. See previous posts Oct 30 2022, 27 July 2022.  Joanne W's Part of Fortune was conjunct his Sun – no idea how it works in synastry so will explore. It was highlighted in the Pinault Hayek marriage see post below, so obviously is a key factor.
"Let there be spaces in your togetherness, And let the winds of the heavens dance between you. Love one another but make not a bond of love: Let it rather be a moving sea between the shores of your souls. Fill each other's cup but drink not from one cup. Give one another of your bread but eat not from the same loaf. Sing and dance together and be joyous, but let each one of you be alone, Even as the strings of a lute are alone though they quiver with the same music. Give your hearts, but not into each other's keeping. For only the hand of Life can contain your hearts. And stand together, yet not too near together: For the pillars of the temple stand apart, And the oak tree and the cypress grow not in each other's shadow."
― Khalil Gibran, The Prophet