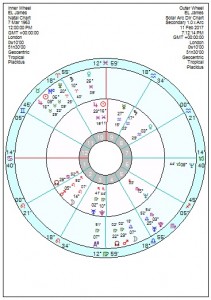 Fifty Shades Darker, the sequel to Fifty Shades of Grey has hit the cinema screens to escoriatingly bad reviews. EL James, the author, has sold 100 million copies of her 'mummy porn' books worldwide and evidently insisted on full script, cast and direction control of this movie, unlike the last, with predictable results which fulfilled the studios' worst fears. Dominatrix in life as well on the badly written page. [A creative writing tutor described her novels as being written for people who didn't read books.]
Born 7 March 1963, she is a Sun Jupiter in Pisces with her Sun opposition controlling Pluto, trine Neptune. Lucky, confident, intense, a dreamer. She also has Venus in Aquarius opposition Mars in Leo – so somewhat unbalanced between love and lust. Her Mercury in Aquarius opposes outspoken Uranus. Her Leo Moon may oppose Saturn and square Neptune – emotionally rather battened down though creative as well as neurotic. Certainly she wants to be grand with Mars Moon in Leo. It's a see saw chart with four oppositions so she'll be constantly looking for answers outside herself in her relationships.
When the first volume of Fifty Shades hit the best sellers lists in 2011 her Solar Arc Mars was opposing her Jupiter with Solar Arc Venus conjunct her Jupiter following along behind.
She's not so upbeat at the moment with tr Saturn square her Jupiter through this year; and tr Neptune opposition her Pluto, square her Sun/Pluto this year and conjunct her Sun in 2018, so undermined. 2019 looks blocked and frustrated with her Solar Arc Pluto square her Mars.