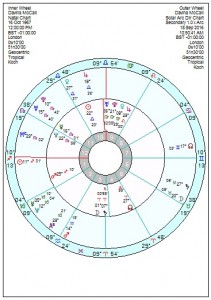 Davina McCall, the UK television presenter, has published a semi-memoir called Lessons I've Learned. In it she tells of her wild child mother, who had her as a teenager, had a drug and drink problem, left her with her paternal grandparents when Davina was four and died in South Africa, when they were estranged despite a reconciliation years before. Her mother sold stories and photographs of Davina, who had her own adult drug problem, at a Narcotics Anonymous meeting which caused the final split. The mother always liked to play the victim and insisted she didn't know what she had done wrong.
Davina McCall was born on 16 Oct 1967 and is a Sun Libra – which in women tends anyway to gravitate towards the father. But her Moon influences are dreadful. Either in late Pisces in which case her Moon opposes Uranus, squares Mars and trines Neptune; or in Aries where it would be conjunct Saturn, probably square Mars and opposition Uranus. Either way it is a picture of a chaotic, angry, abandoning, delusional mother.
Mercifully Davina seems to have pulled herself away from her mother's patterns. An upbringing by steady grandparents would certainly help with that, and has had a good marriage for 16 years with three children.