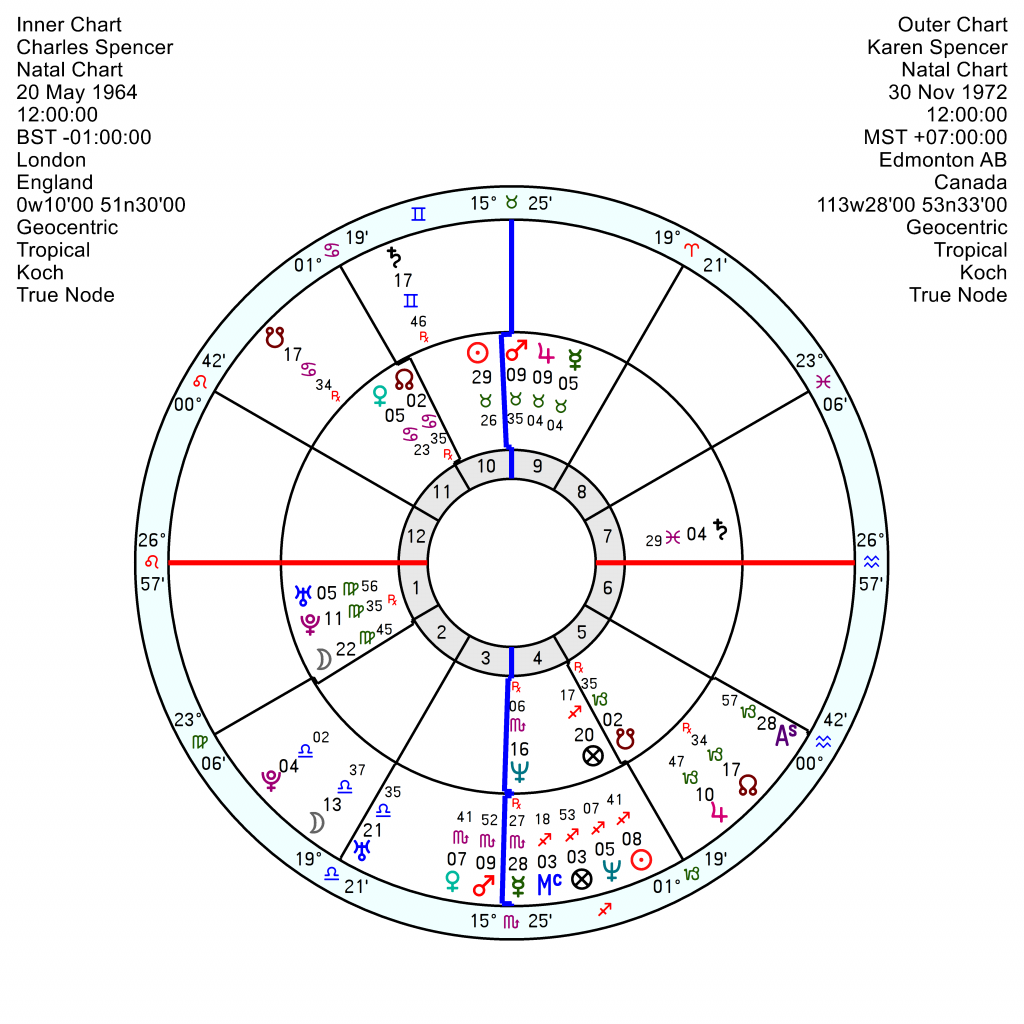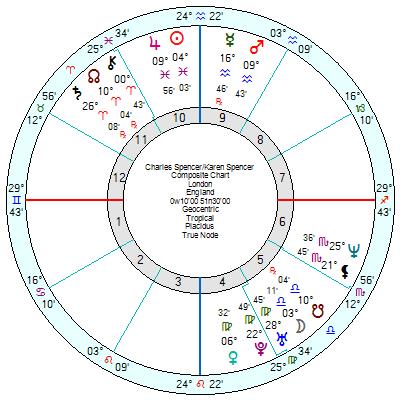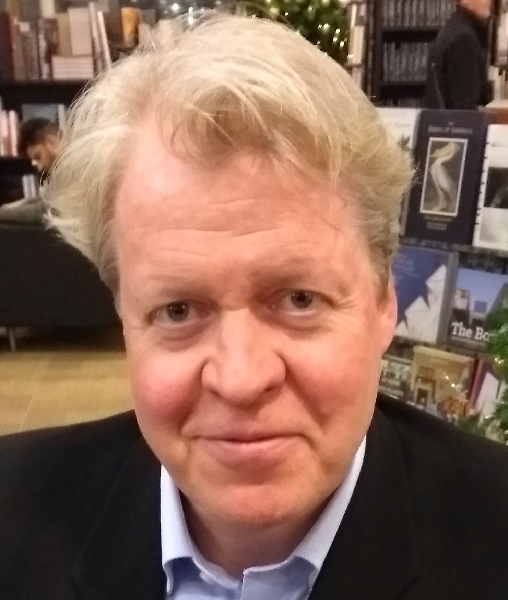 Charles Spencer, Princess Diana's brother, has been talking about his upbringing and his third marriage. He says his unhappy, traumatic childhood with his mother leaving when he was two and being sent to boarding school at 8, sent him into two failed marriages until he went into therapy to sort himself out. He has four children from his first 18 year marriage, two children from the next 6 years to divorce; and one from this decade-long one to a Canadian philanthropist.
Born 20 May 1964 (no birth time) he has a final degree Taurus Sun with Mercury, Jupiter, Mars also in Taurus trine Uranus Pluto in Virgo with Neptune in Scorpio. His Moon is in Virgo; and his Venus North Node in Cancer is in a trine to regretful Saturn in Pisces.
  His present wife, whom he married in 2011, Karen, born 30 November 1972 in Edmonton, Canada, is founder and chief executive of Whole Child International, an LA charity that works to improve the lot of orphaned, abandoned, or abused children. She's an idealistic Sun Neptune in Sagittarius with her Sun in a sensible opposition to Saturn in Gemini and sextile Pluto. Her Pluto is also in a super confident square to Jupiter and in turn her Jupiter is sextile a passionately enthusiastic and highly-determined Venus Mars in Scorpio – so she's quite a power house.
  Her Venus Mars in Scorpio fits in with his Taurus Mars, Jupiter, Mercury – and her upbeat Jupiter Pluto picks up his Venus in Cancer as does her Libra Moon. Her Sun Neptune do sit as cross purposes to his Uranus Pluto opposition Saturn but with maturity and experience they've obviously made it work.
Their relationship chart has a mutually-supportive composite Sun Jupiter conjunction in an affectionate opposition to Venus which is all good. It's also got two Yods of Pluto sextile Neptune inconjunct Saturn; and Mars sextile Node inconjunct Venus – so it's obviously a relationship that has come together for some greater purpose and will change both of their lives irrevocably. Saturn will involve a great deal of hard work and Venus may hint at their stewardship of Althorp House to which they have evidently returned full-time only last year with the intention of living there and embarking on a restoration project.
Photo: Edwardx