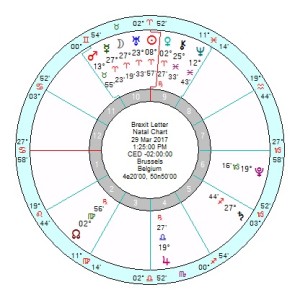 The letter formally informing the EU of the UK's intention to leave was delivered in Brussels today at 1.25pm. It puts charmingly upfront Venus in Aries exactly on the MC conjunct a 10th house Aries Sun, so definitely pro-active. There's also a divisive/rebellious Uranus Moon Mercury in the 10th trine Saturn – which could be positive since it points to organizational creativity and the ability to manage resources, as well as  to promote new systems which are not unduly disruptive.
On the downside there's a gridlocked and bitter Mars in Taurus trine Pluto suggesting it will be an uphill struggle with hostility spilling out at times. And the Uranus Moon Mercury opposing Jupiter square Pluto hinting at a conflict between differing philosophical viewpoints, and a fight for control and the last word. With Saturn square the Sun which moves to exact by transit from March 2018, which is somewhat early for the separation – unless it's a withdrawal into no deal.  Indeed tr Saturn will square Venus MC earlier than that in January 2018 – setbacks and chilly relations.
The Sun itself is anyway square an unyielding Saturn/Pluto midpoint and opposition an argumentative Mars/Node. And Pluto is square the Sun/Moon midpoint which is a fair description of a difficult, long-drawn out and aggravated divorce. And the MC (time being spot on) is square the head-in-the-clouds Jupiter/Neptune, which suggests harm through impracticality or thoughtlessness.
[See posts: March 20 and 24
th
.]