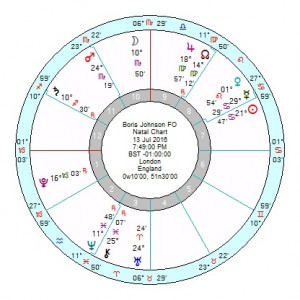 Bojo 'The Clown' in as UK diplomat to the globe does sound like a Monty Pythonesque joke. He has sprayed insults around as befits his Mars in Gemini on the focal point of a high-wire, overly excitable Mutable T Square to disruptive Uranus Pluto opposition Saturn. And he has Mercury Sun Venus also in scattered Gemini – serene and settled he is NOT. It is a very odd appointment.
On the plus side, he is very charming, witty and articulate in his bumbling way when not putting his foot in his mouth.  And he seemed to make not a bad fist of being Mayor of London, much against expectation. He is fairly internationalist having been born in New York with a Turkish great-grandfather and related to the Hanoverian King George 11 centuries back.
From Theresa May's point of view, it isn't as hair-raising as it sounds. The Foreign office is a pale shadow of what it once was. MI6 is now under No 10. Brexit negotiations will be handled by David Davis (mind you he's something else, a mouth without the charm); and new trade by Liam Fox. All three will share Chevening House, the country pile for visiting foreign dignitary meetings. And it keeps Boris racing round the world and out of Westminster's way, which with his Sun Venus Mercury in the 9th he will adore.
His appointment was announced at 7.49 pm 13 July 2016, which produces a very complicated chart. The crisis-ridden Pluto opposition Sun square a 3rd house Uranus could suggest some overly-blunt opinions leaping out; especially since Uranus is also on the focal point of the Yod to Jupiter sextile Mars. Jupiter in the 9th is helpful for amiable international discussions. Though Neptune in the 3rd highlighted in the other T Square opposition North Node square a 12th house Saturn – suggests muddles in everyday ongoings and lack of practicality.
His Mars midpoints are horribly stressed and high-risk from the start of 2017 for three years or so; and tr Saturn will oppose his Mercury Sun Venus – so not a cakewalk.
His relationship with PM Theresa May is under hugely heavy pressure right through her term in office, with some explosions early next year.   He and Liam Fox really dislike each other with a composite Sun Mars opposition Saturn square Neptune in their joint chart – angry, unkind feelings, suspicion.  He is strained and argumentative with David Davis, though there are glimmerings of possibilities of a potential for (maybe) a better outcome.