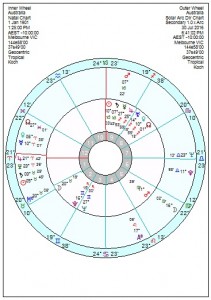 There have been vociferous demonstrations in Australia after the transmission of a documentary showing what the Sydney Morning Herald described as 'the inhumane and abominable treatment of children in juvenile detention in the Northern Territory.' It described a 'taxpayer-funded hell-hole' where children were beaten, kept in solitary confinement in cruelly small spaces for unconscionably extended periods, constrained in barbaric devices, thrown against walls and onto the concrete floor and sprayed with tear gas. The overwhelming majority of the victims are Indigenous. While Aboriginal and Torres Strait Island people make up less than a third of the NT's population, they account for 97 per cent of children in detention there.
The Australia 1901 chart has a sporting Mars in the 5th, though that can be bossy/aggressive where children are concerned. Especially since Mars is on the focal point of a Mutable T Square to Pluto in Gemini opposition an 8th house Venus Uranus in Sagittarius. Tr Neptune is exactly on the opposition to that Mars at the moment, until early 2017; and tr Saturn is just off the square, returning in a few weeks' time, and is conjunct the Venus exactly now – so much concern and shock as it is dragged into the open. The Solar Arc Moon is also moving through the 5th and is picking up the tr Pluto trine this year and next,  bringing pressure to bear on transforming Australia's attitude to nurturing (Moon). Plus there is a Solar Arc Mars conjunct Saturn, exact in 3 months so in effect now, which certainly points to cruelty.
There may be other ways in which these influences will manifest in coming weeks and months but they certainly look descriptive of this horror.