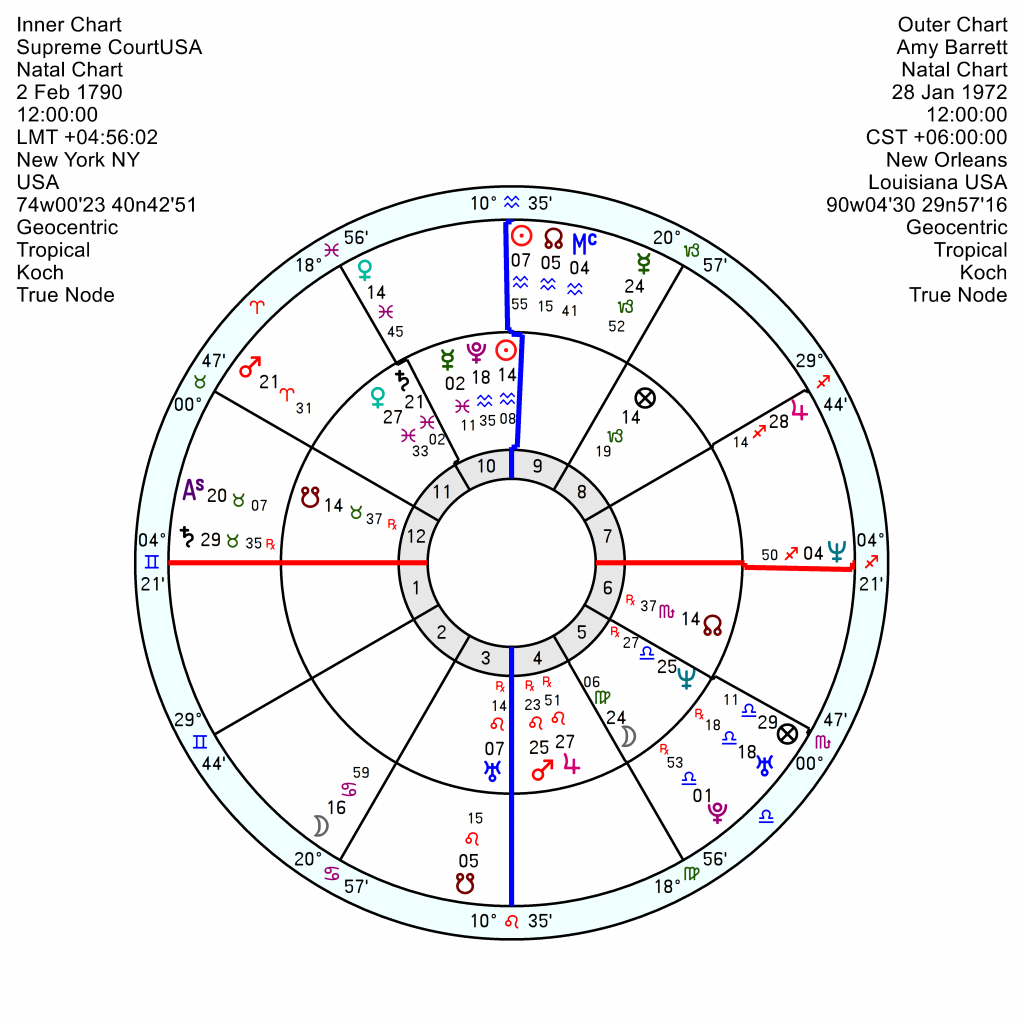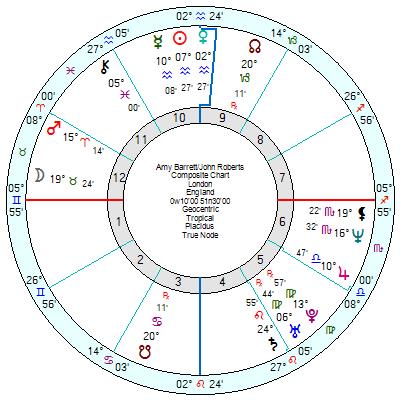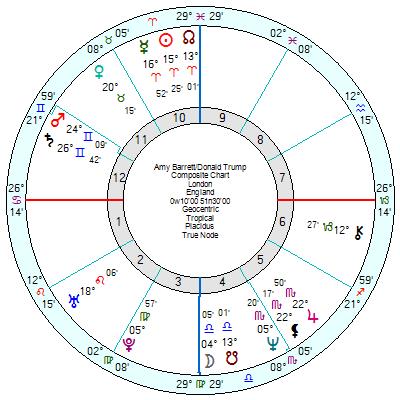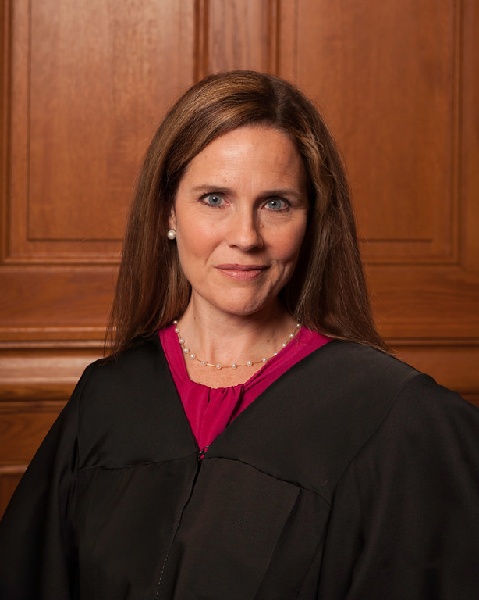 Amy Coney Barrett has been nominated and will almost certainly be confirmed as the Supreme Court replacement for Ruth Ginsberg. Barrett is reckoned extremely intelligent and capable though tainted by her association with a charismatic Christian, essentially Roman Catholic though also ecumenical, group known as People of Praise. It excludes women from its higher leadership and was thought to be one of the inspirations behind Margaret Atwood's the Handmaid's Tale.
  Born 28 January 1972 in New Orleans, Louisiana, she's a Sun Aquarius conjunct the North Node sextile Neptune and trine Pluto – and tied into an out of element Grand Trine, with North Node trine Saturn in Fixed Taurus trine Pluto, turned into a Kite by Saturn opposition Neptune. Sun Neptune Pluto indicates soaring ambition. An Aquarius North Node is associated with devotion to a cause. Neptune is both spiritual and in aspect to Saturn both socially-aware and slightly paranoid. Saturn Pluto gives grit and perseverance.
She also has Mars in upfront Aries in a volatile opposition to Uranus square Mercury in practical Capricorn; with a Cancer Moon also tied into what could be a Cardinal Grand Square. A Cancer Moon will be home-focused (seven children) but she hardly looks the submissive wife type – those are fairly explosive aspects.
Her Sun will catch the tr Uranus square late November to mid-December this year and again next February for a major life's change. This is a point which affects many of the main players and may well be when the confirmation hearings are held. [See previous post September 19 2020]. She has a 'lucky break' tr Pluto sextile her Jupiter/Uranus at the same time late this November to late December, though that's mild. She looks stressed across the New Year till late January with tr Pluto conjunct her Mercury, which will involve her in toxic arguments. And has a fair few disaster influences through 2021.
   She half fits into the Supreme Court since both have Aquarius Suns and her Jupiter in Sagittarius works with the SCOTUS Jupiter Mars in Leo. But her Saturn squares the SCOTUS Mercury and her Mercury square Mars collides with the SCOTUS Neptune – so she will have a dampening and restricting effect on certain decisions and will fight against what she regards as 'soft' judgements.
   Her relationship with Chief Justice John Roberts, another Aquarius, is half friendly; and half fraught due to a composite Yod of Pluto sextile Neptune inconjunct Mars. This could tie them into life-or-death decisions (Mars Pluto) with irrevocable repercussions for both of them.  A composite Yod can have fated consequences for both parties.
  What is strange – maybe not – is that her relationship with Donald Trump is anything but cosy with an outright-dislike composite Mars Saturn conjunction. By 2022 tr Neptune starts three years of squaring and undermining that; as well as upending the composite Uranus also from 2022.  So if he wins or even if he doesn't, cases that involve him which appear before the Supreme Court may find him regretting the day he appointed her.  
And now that I look, Trump's relationship with John Roberts while not quite as starkly at odds, is hitting a rough patch with panicky fears and disappointment from late April 2021 onwards for a year and upsets in 2022.
  The fates may get their revenge, though at some cost beforehand to America's reputation and integrity. What a travesty.
Pic: Rachel Malehorn