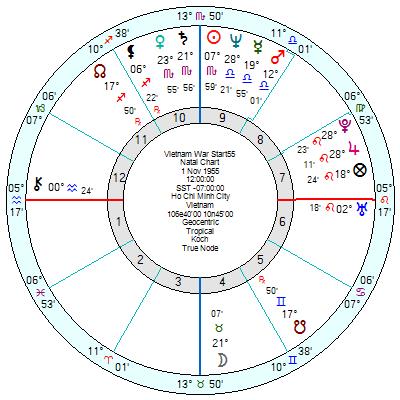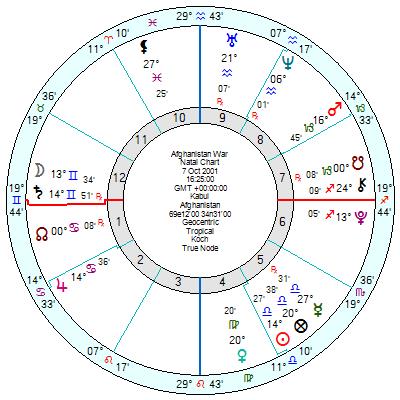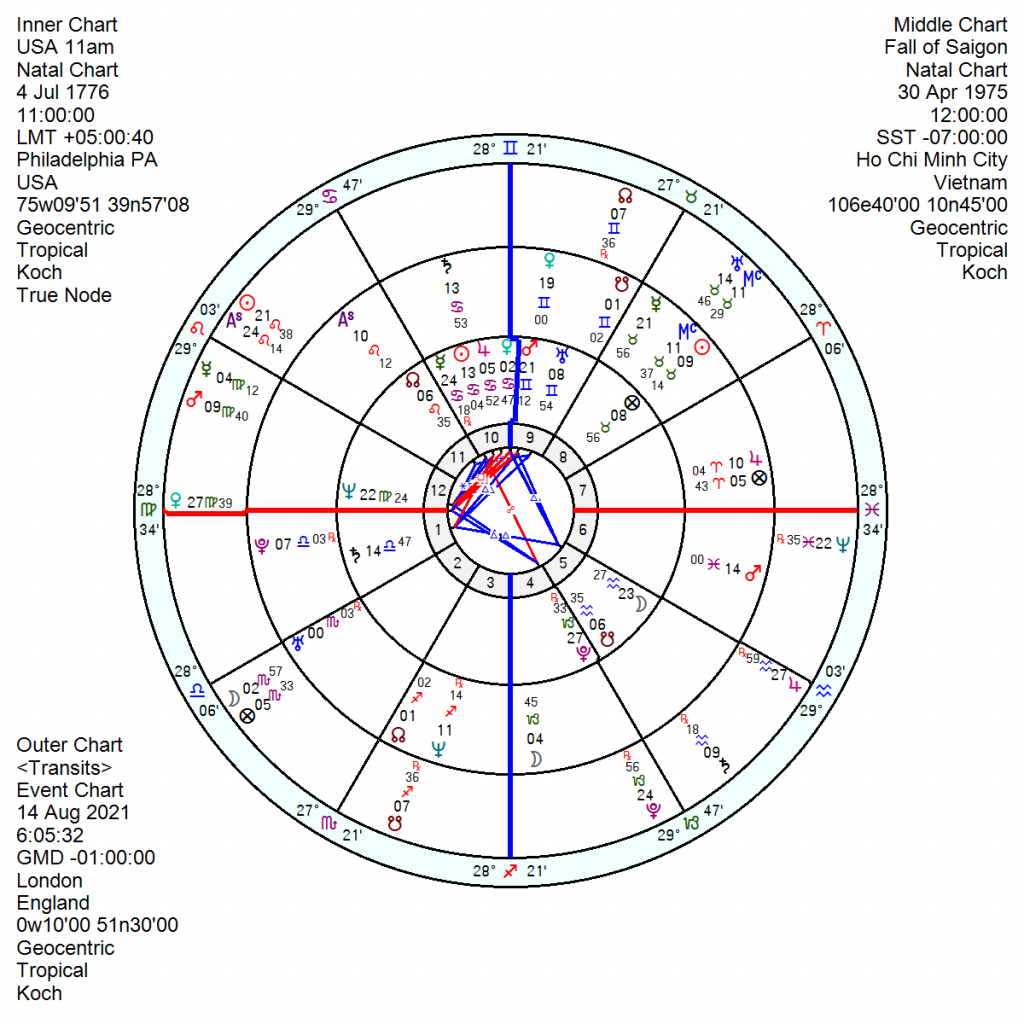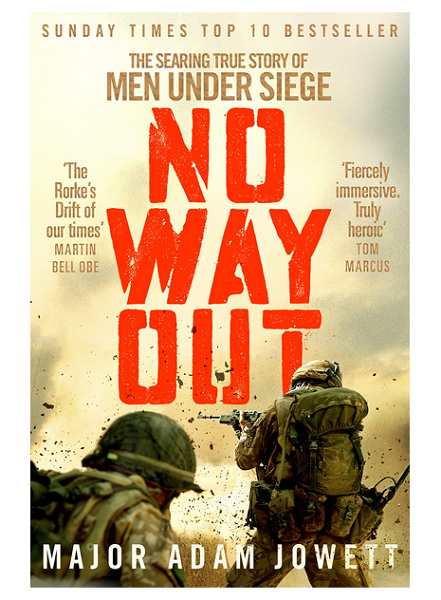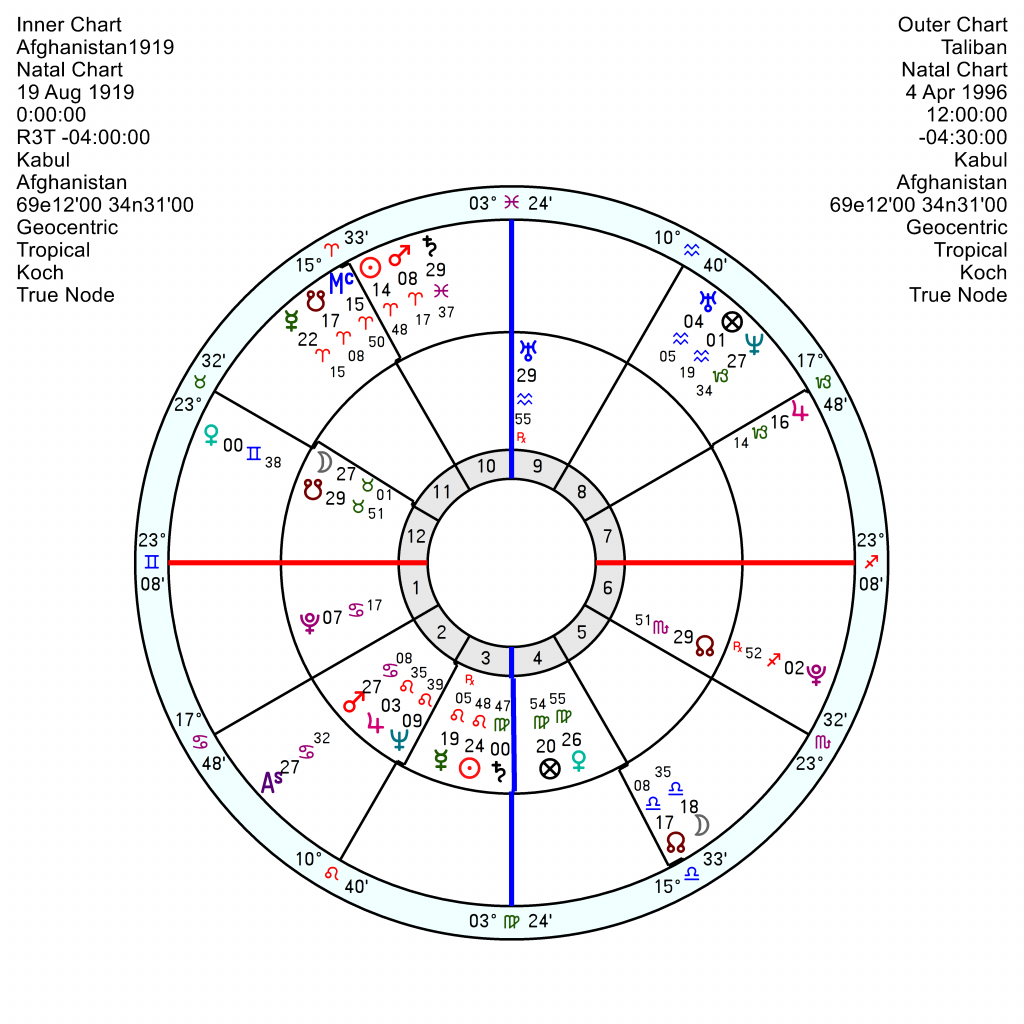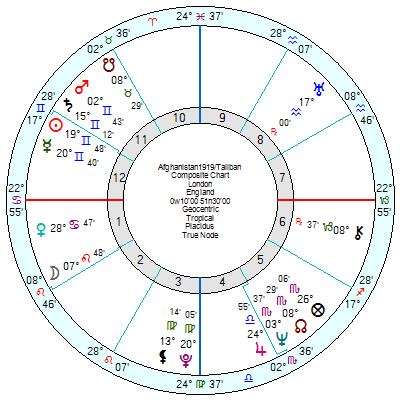 The Taliban have over run city after city in Afghanistan with a wholesale collapse of the national security forces and are now within 30 miles of Kabul. The entire country is expected to be under their brutal control within months, if not sooner, which regrettably is reflected in the astrology – see previous post July 6 2021.
The scramble to airlift out embassy staff and vulnerable Afghans who helped the allies has drawn comparisons with the Fall of Saigon in late April 1975 which brought a humiliating end to the failed war in Vietnam.
Both wars were launched on overly impetuous Jupiter aspects – high in confidence, low on realism, slapdash.
The Vietnam War in 1955 launched with Jupiter Pluto conjunct in Leo squaring onto Saturn Venus in Scorpio. Jupiter Pluto can be fanatical and self-assured, as well as arrogant, but is blocked here by reality-check Saturn.
The Afghan War in 2001 was kicked off as a response to 9/11 with a crusading, overly zealous and self-justifying Jupiter opposition Mars, with Jupiter inconjunct Pluto. Saturn was then in a tough tough opposition to Pluto and semi-sextile Jupiter. So again a similar feel of too much Jupiter in conflict with Saturn.
When the Vietnam War ended in a shambles tr Saturn was conjunct the USA 1776 Cancer Sun exactly and square the US Saturn.
This year as the Afghanistan withdrawal leaves chaos in its wake tr Neptune is opposing the USA Neptune and tugging on the failure-ridden square to the US Mars; with tr Saturn conjunct the US South Node, exact this October when the extent of the collapse will be even more starkly obvious. 9/11 occurred with tr Neptune was conjunct the USA South Node which always seemed to me the most significant aspect – a devastating blow to America's 'leadership' Leo North Node.
There was never going to be an easy answer to Afghanistan and much of the blame attaches to the early decisions of GWB and cronies, but it could turn out to be a blot on Joe Biden's copy book. Relocating his chart to Kabul puts Saturn on his Ascendant as well as Uranus.
Add On: The Taliban was spawned out of the chaos of the Soviet-Afghan War, proclaiming a Caliphate on April 3rd or 4th 1996 and in power between 1996 and 2001. The proclamation date gives a confident Sun square Jupiter with an emotionally intense Venus opposition Pluto and a cruel/military Mars in Aries conjunct Saturn, in a ruthless trine to Pluto and in an opportunistic, crusading square to Jupiter. Mars Jupiter often uses religious justifications for aggressive actions. The brutal Mars trine Pluto is further emphasised being in a mini-Grand Trine, sextile Uranus.
  It's not that dissimilar to the Al Quaeda chart of 11 August 1988 with a Leo Sun trine Mars in Aries and square Pluto. With Pluto trine Venus, inconjunct Mars and sextile Neptune. Both have Mars at almost the same degree in Aries.
  The Taliban chart clashes badly with the Afghan country chart with the Taliban Neptune opposition the Afghan Mars, undermining the country's assertive drive, causing panic; and the Taliban's ferocious Mars is square the Afghan Pluto for a destructive, enraging connection.
The relationship chart is bleak with a chained-together and resenting it composite Sun Saturn square Pluto. It is under disillusioning and disappointing Neptune influences this year into early 2022; with feelings running high in 2022/23 with tr Pluto opposition the composite Venus.
Where the Taliban chart runs into trouble, if the start date holds good, will be 2023 when there is a Solar Arc Pluto square the Saturn for deprivation, hardship, financial setbacks. Though even before then with tr Pluto conjunct the Taliban Neptune from early 2022 to late 2023, there will be widespread confusion.
  The Afghanistan chart looks road-blocked and threatened in 2022/23 with tr Pluto opposition the Mars but there could be changes come 2024 as tr Uranus square the Sun and tr Pluto approaches a confident-push square to the Jupiter in 2025, though before then picking up the uplifting Jupiter midpoints from 2023 onwards. So paralysis for a couple of years and then maybe more hopeful.