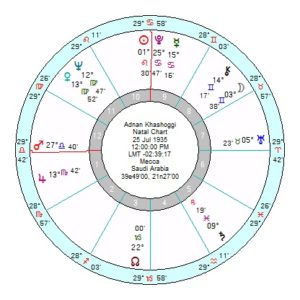 Adnan Khashoggi, the Middle Eastern arms dealer and fixer, vastly wealthy with a high-rolling international lifestyle, and mired in various scandals throughout his life, has died. In the 1970s and 1980s, he made hundreds of millions brokering vast arms deals for his friends in the Saudi royal family, his wealth once estimated at £2.4 billion. His assets included 12 homes, fully staffed at all times, including a 10,000 acre ranch in Kenya, an estate in Marbella and houses in London, Paris, Cannes, Madrid, Monte Carlo and Manhattan. He had a stable of Arabian horses and 200 exotic animals, 100 limousines, a personal airline of three jets and a fleet of three yachts, one of which he sold to Donald Trump.
Scandal was never far away. He negotiated a defence contract with Maggie Thatcher's government and the Saudis, with Mark Thatcher allegedly involved (which he denies) which raised eyebrows; and was a facilitator with various US administrations from Nixon onwards, which appeared to help him survive his involvement in the Lockheed bribery scandal of 1975-76 and the Iran-Contra affair of the 1980s as well as other legal tangles. A sister, Samira, would marry the Harrods owner Mohammed Fayed and was the mother of Dodi Fayed.
He was a lavish host, clearly charming for those on his right side, generous to his multiple mistreses and the women he procured to grease his business deals with the Saudis. And he did organise and fund the top secret Operation Moses in 1984, which airlifted 14,000 Ethiopian Jews from Sudan to Israel during the famine caused by the Ethiopian civil war.
Born in Mecca on 25 July 1935, he had a fearsomely determined and quite ruthless chart, with a flamboyant Leo Sun close to controlling Pluto opposition a Capricorn North Node square Mars in Libra opposition Uranus. Overflowing with initiative, not short of courage, attracted to a high-adrenaline lifestyle. His more charitable side would come from an emotional Water Grand Trine of Mercury in Cancer trine Jupiter in Scorpio trine Saturn in Pisces, with Saturn opposition elusive Neptune and Venus in Virgo.
Certainly one of a kind, though his business methods left a great deal to be desired.