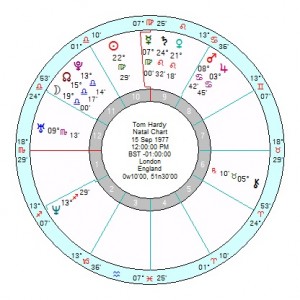 UK actor Tom Hardy – Black Hawk Down, The Revenant, Mad Max, The Kray Twins, TV's Peaky Blinders and at present in the savage BBC drama Taboo which he co-created with his father – revels in playing menacing roles. He's even being mentioned as a future Bond.
Born 15 September 1977, he's another Sun Virgo, like Rufus Sewell, Sean Connery, Jeremy Irons; but his chart is dominated by an adventurous and emotionally excitable Mars Jupiter in Cancer square Pluto, which gives him a reservoir of anger and a real edge of danger. His Mars Jupiter are also trine Uranus which again will stoke up his testosterone.
He had a tumultuous youth, being expelled from school, doing several short stays in prison and acquiring a cocaine habit that nearly killed him. He's twice married and is now an ambassador for the Prince's Trust which mentors the young.