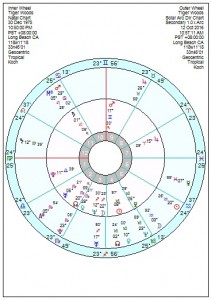 Tiger Woods who has had three back operations in the space of 19 months and not played competitively since last August has withdrawn from this week's Safeway Open, saying his game was "too vulnerable".
Other top golfers said it is a hard grind to come back and compete against the best. Nick Faldo: "Everything is stacking up against him now. Physically, mentally and obviously competing." Luke Donald who had his own off-time through injury said: "There's a lot of mental anguish when you take time away."
He's certainly suffering from the uncertain, nervy Saturn Neptune effect, with tr Saturn exactly conjunct his 3rd house Neptune now with Solar Arc Saturn square, also exactly. So a double whammy of psychological droop. He hopes to return in December and he'll be brighter then with tr Pluto trine his exuberant Mars/Jupiter midpoint. Though he's got tr Saturn opposition his Mars in the final days of November which could be accident-prone and a setback.
Into 2017 tr Saturn opposes his MC which could be the beginning of a cut-off period for him. He'll have some highs and successes in 2017/18 with tr Pluto trine his Jupiter/MC (birth time being accurate to the minute), but mid 2018 sees his Solar Arc Mars conjunct his Saturn which is going to be a collision of sorts, certainly a tough obstacle to overcome and could exacerbate his back problem or make it the final closure on what has been a sterling career.