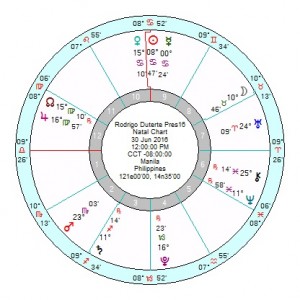 Rodrigo Duterte, President of the Philippines, is racketing around like a loose cannon, called Barack Obama 'son of a whore', threatening to separate from the USA and side with China, much to the horror and alarm of his own ministers, never mind US officials.
He was sworn in at noon on 30 June 2016 in Manila, which certainly gives a divisive chart where close relationships are concerned with Uranus in the 7th in a stressed quincunx to a vengeful and determined Mars in the 2nd, suggesting he'll goes his own way on trade and money-making ventures, though erratically. It is a materialistic chart with an Earth Grand Trine of Pluto trine Jupiter North Node trine a Taurus Moon – but since all of those are in hidden houses, there may be a fair amount of backroom dealing (as well as a fairly mutinous domestic population). For all that it's a strong chart since that Grand Trine forms into a Kite with Pluto opposition Sun Venus on the Midheaven. Plus the over-hopeful, wobbly Jupiter opposition Neptune square Saturn. That last will give him trouble next month when tr Saturn squares Jupiter exactly; but a good deal more so when tr Neptune opposes Jupiter come 2018/2019. That is often associated with financial high hopes being dashed.
His relationship with Chinese leader Xi Jinping is friendly with a composite Sun Venus; and innovative though hard-edged with a composite Mars trine Saturn, sextile Uranus; and definitely opportunistic with a composite Jupiter square Mars. Both may see the political advantage in rubbing the US's nose in it, rather than focussing on the economics. There'll be some explosions and upsets from mid 2017 onwards.
His relationship with the US is under highly strung and confusing influences till January 2017; and again will erupt mid 2017 onwards with more heated exchanges.
He's exerting his machismo in cocking a snook at the USA but may find China and even less palatable Big Brother in the longer term.