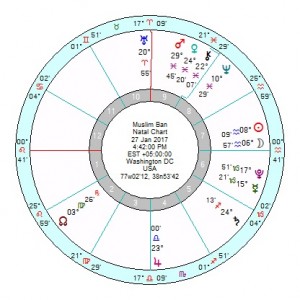 Trump's executive order to ban entry to travellers from seven Muslim-majority countries – Iraq, Syria, Iran, Libya, Somalia, Sudan, and Yemen – which has been causing global criticism and chaos at airports with conflicting instructions from department heads  – was signed at 4.27pm January 2017. Countries such as Saudi Arabia and Egypt, who produced the majority of the 9/11 terrorists; and Algeria and Tunisia, responsible in part for the recent European ISIS atrocities are not included.
There's a New Moon in Aquarius in the 7th, which is unaspected apart from a semi-sextile to a muddled Neptune in the 8th. There's a hard-edged Saturn square a 9th house Mars Venus. The 9th refers to foreign countries and travel and Saturn puts blocks and delays in the way of movement. The divisive and disruptive Uranus MC opposes Jupiter in the 4th squaring onto Pluto Mercury in the 6th. Arguably Jupiter in the 4th points to safe domestic space; though with employment consequences onto the 6th; and fierce arguments from Mercury Pluto.
The 7th house New Moon is odd – it suggests vulnerability and need of relationship support, which given that it's likely to result in less support is counter-productive. With the Node in the 2nd opposition the 8th house Neptune there may be financial consequences.
It's initially only a 120 day ban; but, if extended, it'll run into real problems late this year as tr Saturn squares Mars exactly, and be facing a complete turnaround come 2018 with tr Pluto square Uranus.