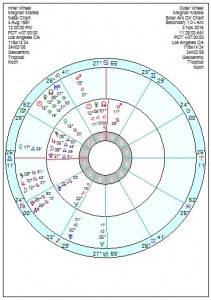 Now that actress Meghan Markle seems to be a running possibility for Prince Harry (maybe) and not just a mirage in celebrity websites' fondest hopes, it seemed worth a second look – if only to get away from political disasters on all sides.
Born 4 Aug 1981 Los Angeles, she's an entertaining Sun Mercury in Leo; with an idealistic Jupiter Saturn (Moon) in Libra square Mars in excitable Cancer – so she'll veer between high enthusiasm and the opposite fairly frequently. She's also got Venus in Virgo which is picking up the tr Neptune opposition from April next year, running off and on till late 2018. This looks disappointing where love and romance are concerned. She's also got a high-hopes ( and false happiness) tr Neptune opposition her Sun/Jupiter till January 2017 and opposition her Sun/Saturn at the same time – so she'll be very up and down. Then has a run of confused, disruptive and very unsettled transits to midpoints through 2017. So she won't find being in the spotlight of publicity surrounding a Royal romance as much fun as she might have expected.
'Sources' (usually unreliable) say she's already met Prince Charles – that relationship looks argumentative with a composite Sun Mars; and communication-blocked with Saturn Pluto conjunct Mercury; and is sagging somewhat through 2017.
HM Queen looks half pleased and half horrified; with a composite Sun Venus opposition Jupiter as well as an awkward Mars opposition Saturn square Uranus.
Prince William looks quite enamoured of her with a composite Sun Venus square Jupiter Pluto; but won't put up with any upstaging.
Kate Middleton looks less enchanted and would attempt to keep the upper hand as well as keeping her distance.
Prince Harry does have tr Uranus square his Sun/Moon midpoint from late February next year which can suggest separations in close relationships – or at least a major turnaround in his hopes and expectations of what he wants.
I do feel sorry for him having to play it all out in the spotlight and indeed having to find a partner who could survive that gilded cage.