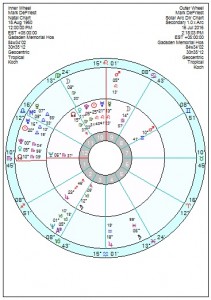 The story of Mark DeFriest would melt down your brain. Aged 19, his father died having bequeathed him his toolbox which he picked up before probate, was reported to the police by his stepmother for theft, and got a four year jail sentence despite five out of six court-appointed psychiatrists reporting he was mentally ill (the sixth later changed his mind and supported his appeal).
His original sentence has extended into 34 years (27 of them in solitary confinement) for 13 escape attempts —seven of them successful — and hundreds of disciplinary reports for minor infractions. He is apparently an autistic savant so astute that he was able to memorise the shape of jailers' keys and fabricate copies, but so mentally disordered that he had to act out his compulsion to escape. In prison he was raped by fellow inmates, beaten by guards and denied the treatment he needed.
Born 18 Aug 1960 in Gadsden County, Florida, he's a maverick Sun Uranus in Leo with two trickier-even-than-usual Yods – Mars sextile Mercury inconjunct Saturn; and Neptune sextile Saturn inconjunct Mars. The first of these brings a heavy karma – and my recollection is it was in the chart of another unjustly imprisoned (maybe executed) individual.  The other gives him a high-wire need to be pro-active. His Mars is also square Pluto Venus which would intensify his emotional reactions especially to being trapped and powerless.
What an indictment of the US legal and prison system.  He is now being transferred for two years to a California prison to prepare for parole as tr Uranus trines his Uranus Sun.  Though nothing will be easy for him at this late stage.