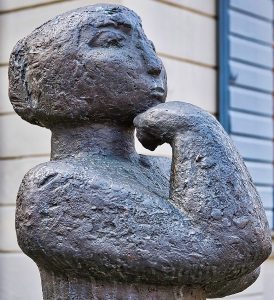 Kellyanne Conway has resigned from the White House to spend more time with her teenage family. Her husband George has also withdrawn from his anti-Trump lobbying. It was always an extremely odd set up with his regular, pungent attacks on her boss.
She was never that easy a fit with Trump since her Saturn in Pisces opposition Uranus Pluto squares his Sun and Moon and her Mars squares his Saturn. Their relationship chart shows considerable strain and aggravation over the New Year to late January 2021.
Her relationship with her husband George is stressed exactly now; and she's not looking that happy on her own chart from late this month till late November, feeling trapped and frustrated. Her Solar Arc Sun is opposing her Uranus now which would indicate a sudden change and she should have a lucky break in 2021 with her Solar Arc Jupiter conjunct her Uranus; though she's into a run of swampy Neptunian transits for two or three years ahead which are generally not supportive of ego-directed ambitions.
Trump has also been having problems with his elder sister Maryanne Trump Barry, whose secretly recorded comments about her brother being an unprincipled phoney, a liar, cruel and a cheat who had someone else sit his exams for him have hit the headlines. She didn't attend their brother Robert's White House funeral.
Born 5 April 1937, she's a Sun Mercury in Aries square Jupiter in Capricorn opposition Pluto so not short of chutzpah or pushy confidence. Her Saturn in Pisces square Donald's Sun and Moon so she will always have been critical with her Pluto conjunct his Saturn Venus; and her Uranus in Taurus square his Pluto – so despite her earlier protestations of being a supporter she is a disruptive force in his life.
Gawd the man is a bore. He's drilled his way into people's skulls as an ongoing obsession. It is a talent of sorts I suppose.