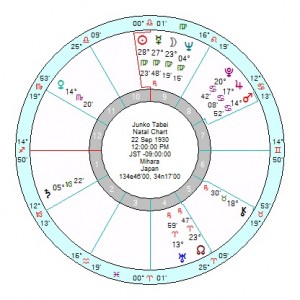 Junko Tabei, who has just died, was the first woman to climb Everest in May 1975, after having been nearly killed in an avalanche, which left her with a twisted back and in pain. Yet two weeks later she made it. She was born on 22 September 1939 in Japan and suffered through World War 11 with little to eat, being a frail child laid low with fevers and lung infections.
Against her parents' wishes she married another mountaineer and had one child before attempting Everest. Later she had another child but continued climbing becoming the first woman to climb the highest mountain in each continent, including Kilimanjaro in Africa and Mount McKinley in Alaska. In an interview she said, "I've never felt like stopping climbing, and I never will, even when I have seen people killed in accidents in the mountains. Up on the summits I feel calm, free of cares." Even a cancer diagnosis four years ago didn't stop her climbing in her seventies.
She was a Sun Mercury (Moon) in Virgo; with a confidently determined and adventurous Mars Jupiter Pluto in Cancer; with her Mars in a tough-minded opposition to Saturn in Capricorn square a trail-blazing Uranus in Aries.
She certainly had guts, grit and luck – and it's all the more noteworthy given that she came from Japan, where women were not expected to be independent and certainly not mountaineers.