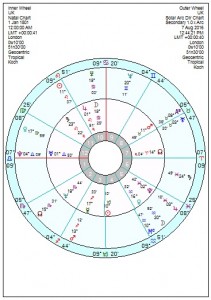 David Cameron's ermine-lined presents to his buddies as he flounced off may well prove to be the final nail in the coffin of the House of Lords, though it won't happen instantly.
The (still unelected) House of Lords was the ruling body of England in the bad old days of autocratic monarchs and nobles; and its power was very gradually eroded in a series of moves over the centuries. Hereditary peers were edged out; it was prevented from blocking House of Commons (elected members) legislation etc etc. But it remains as a depository of Prime Ministerial and Opposition Leaders' favours; and on occasion does put a much-needed brake on hot-headed Commons decisions – elected members bringing no guarantee of common sense.
Major changes to the UK legislature would involve the UK 1801's 11th house Saturn in Leo. There's some movement on this in 2017 with tr Uranus trine Saturn; but it might have to wait till 2024 when tr Uranus in Taurus is in square. Though it could come earlier, since the UK Saturn is tied into other planets at earlier degrees. And tr Pluto opposition the 10th house Moon in 2017/18 may begin to chip away at the populations' attitude to their rulership.
There were two Acts in the 20th Century which had a significant effect on the House of Lords – 18 Aug 1911 and 16 Dec 1949.
There is significant pressure on both these charts at the moment – a nasty sinking feeling – and more so through a teeth-gritting few years ahead, when pressure for change escalates against heavy resistance. Both these charts indicate 2024 as game-changers. So that would fit with the UK chart.