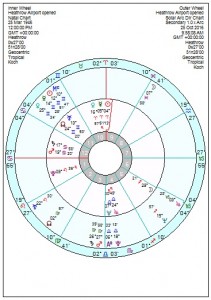 The UK Government has given its approval for a third runway at Heathrow Airport after decades of dithering. It will in theory bring £61bn of economic benefits and create up to 77,000 additional local jobs. Plus additional employment while it is being constructed. It would lead to almost 50% more planes over London and is likely to bring major challenges from campaigners before it is voted on in Westminster in late 2017/18. If it is built, it'll be 2025 before it is ready.
Heathrow was officially opened for civil aviation on 25 March 1946, having previously been used by the Aviation Ministry in two wars. This gives it an Aries Sun opposition Neptune and trine Pluto, which seems fitting for airport with global aspirations. Though there's also a T square of Jupiter in Libra opposition Venus in Aries square Saturn Mars in Cancer – which is certainly designed to stand the test of time, with hints of business travel, though it doesn't give it too friendly an air.
That Saturn Mars will be under immense pressure from tr Pluto opposition both through 2017/18, so the arguments are likely to be vicious and hostile, deadlocked at points. If it does manage to get through the Commons, then it gets a tremendous boost around 2022/23 when the Solar Arc Pluto is conjunct its Jupiter. So who knows? It could happen and earlier than scheduled. Though it looks very in the balance with a total stalemate as Solar Arc Pluto squares Mars late in 2017. Maybe it'll be voted down and then get resurrected later on.