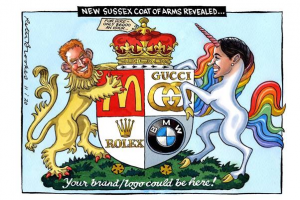 (Cartoon: The Times Peter Brookes)
Moving ahead it's tricky to see how the young-ish couple will move back from the debacle since there's been such a deluge of criticism heaped on them. But there again Sophie Wessex and others recovered from mishaps in the past and went on to be accepted.
Harry is a hot-head with not great judgement with his Virgo Sun square Mars and Neptune in Sagittarius and his Mercury in Virgo square Uranus – so an overly-impulsive and high-wire temperament with a tendency to dreams and illusions as well as addictive-prone. Plus he has a dose of stubbornness from a Taurus Moon and Saturn Pluto in Scorpio. And last but not least he has a head-in-the-clouds Neptune Jupiter in the 12th.
His Saturn in Scorpio will give him a leaning towards obsessiveness as will his 8th house Sun. And his Taurus Sun will make it tricky for him to let go hurts.
At the moment his Progressed Mars is sitting on his Ascendant stoking up his assertive streak; and his Progressed Moon is moving through his 8th house for another almost two years which is a conflicted often anguished time of searching for new values. 2021 will be a difficult year with tr Neptune in a debilitating opposition to his Sun and tr Saturn moving into his 2nd house of finances bringing cash shortages and cutbacks until 2025. Tr Uranus will move across his IC in 2022 which suggests a major upheaval and relocation with a trapped, blocked Solar Arc Sun conjunct Pluto in 2023, and considerable setbacks and discouragement in 2025 from Solar Arc Saturn square his Sun. So not an easy furrow ahead to plough as tr Saturn rolls on through his low profile first quadrant for the rest of the decade; and will push him deeper into unresolved psychological issues between 2021 to 2025.
Meghan has been over-reactive recently with her Progressed Mars conjunct her Mercury and her Progressed Mercury square her excitable Mars in Cancer about a year back. Her Mars coincidentally is conjunct the Queen's relentlessly dutiful 6th house Pluto for a clash of agendas. Meghan has her Progressed Moon moving exactly now into her 8th house for the next two years which, as it is for Harry, is an emotionally charged time, with power struggles bringing draining experiences and money being one area of contention.
Tr Saturn is about to move across her Descendant from later this month for a three year stretch of chillier close relationships when flaws begin to show and there's more negativity around. It can also indicate social or public popularity for celebrity types. What will make it more intense is tr Pluto from late February also moving into her 7th to stay for many years ahead which will make for power struggles and tensions in close relationships. Her morale will sag with tr Neptune opposition her Solar Arc Sun from late March 2020 for a year thereafter. She'll be prone to outbursts with tr Uranus square her Mercury this coming April and will experience a major upheaval with tr Uranus squares her Sun in 2021.
Any joint or commercial set up will move through sticky times from early 2022 till late 2024 with tr Saturn moving through her 8th. It will throw her back on her own resources financially and emotionally and is generally a tight time on the cash front.
Odd other non-astrological thoughts. If you're in the public eye don't read the media. Liz Taylor who started as a child star read no magazines or newspapers about herself. Sensible.
The media can be scabrous – they can also be helpful for publicising good causes like Invictus. Diana made a pact with the devil when she got into bed with them to fight her own private vendetta. But making an enemy of them is equally as stupid and equally as likely to blowback. Kate Middleton had fairly horrendous media coverage for years and almost never reacted except over sunbathing pics. Ditto Camilla. They kept their heads down and weathered the storms. The Princess Royal is a class act for coping with (ducking) the media. Her romantic life has been colourful over the years but little has emerged. Charles and sons went to Gstaad to ski and complained about photographers. Anne, I think, went to Norway to ski and I never saw a pic of her.
Not everything you read in the media as hard fact is true but if the comments that Meghan and Harry reacted badly to being 'ousted' by the four generation pics of Queen, Charles, William and little George, then I despair. For years we had the whining Princess Margaret kvetching about having to walk behind the Queen and never being first. She had all the money, residences and wealthy friends she could ask for and could have done anything with her life. 99.99% plus of the population never get to be first.