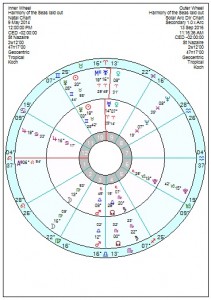 Harmony of the Seas, the world's biggest cruise liner, has been involved in a fatal accident, with one crew member dead and four injured during a safety exercise.
It was laid down on 9 May 2014 when there was an accident-prone and risky Uranus Venus in Aries opposition Mars square Pluto opposition Jupiter and a Sun opposition Saturn – so it was always going to have a crises-strewn life. Not as bad as the Titanic, whose hull laying had a Sun Saturn square Neptune and a Mars Uranus conjunction inconjunct Pluto, with a weak Jupiter – but still prone to hitches, glitches, breaks, maybe explosions and other problems.
At the moment tr Pluto has closed the square to Uranus to exact; and Solar Arc Mars will move to square Pluto and then oppose Uranus in late 2017 and late 2018 which are both edgy, insecure and prone to injury.
It is a solid chart in one way with an Earth Grand Trine of Sun trine Pluto trine a Virgo Moon, formed into a Kite by Sun opposition Saturn; and the heavily aspected Jupiter gives testament to its gigantic size as well as rescuing it from a few mishaps. But there will be more to come until the Grand Cross clears all its aspects which will take a couple of years or so.