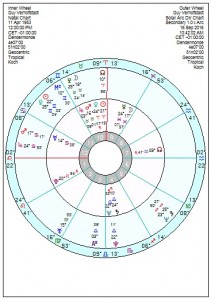 The unwieldy juggernaut that is the EU has now fished out another arch-federalist to be a Brexit chief negotiator. The appointment of Guy Verhofstadt, ex Belgian PM, is sending shudders down UK spines, being shoehorned in for the European Parliament, to add to the woes of having Michel Barnier, the hardline French chief negotiator for the European Commission. [Don't ask me what the difference is.]
Verhofstadt described the Leavers as rats leaving the ship – sinking? Titanic? David Davis, chief UK batsman for Brexit, referred to him cheerily as Satan. Senior sources in the EU say the policy is to be so tough on the Brits that it will make Brexit less likely to happen. The EU, with such an incredibly Fixed chart (Moon Taurus square Uranus opposition Venus in Aquarius square Node and Neptune in Scorpio), always acts as if the world was going to adapt to them, rather, heaven forfend, than that they might bend or be pliable themselves, let alone realistic.
Verhofstadt, 11 Apr 1953, is a Sun Venus in Aries trine Pluto and opposition Neptune Saturn in Libra square Uranus – so tough, a touch of the megalomania, a fanatical idealist; with a pushily confident and ruthless Jupiter Mars in Taurus square Pluto. He's facing an extremely bumpy ride ahead with tr Uranus conjunct in his Sun Venus and opposition Neptune Saturn in 2017; and a stuck-stuck Solar Arc Pluto conjunct Saturn and opposition Venus in 2018.
David Davis, 23 Dec 1948, has his Mars in Capricorn square GV's Sun Venus and Saturn Neptune and opposition GV's Uranus – so sparks will fly.
Davis's relationship charts with both Verhofstadt and Barnier look swamped in confusion (and scandal) in 2017/18. And Davis's natal Mars is completely deadlocked in 2018/19 with tr Pluto conjunct Mars.
I can't see what Theresa May's strategy is at all – since the three Brexiteers she thrust into key negotiating positions are none of them serious players. Fox and Davis appear to be living in never never land – and Boris is just bumbling Boris. She is supposedly micro-managing the exit and certainly dislikes both Barnier and Verhofstadt, and there's a fair amount of huffing and puffing on those two relationship charts, especially from mid 2017 onwards.