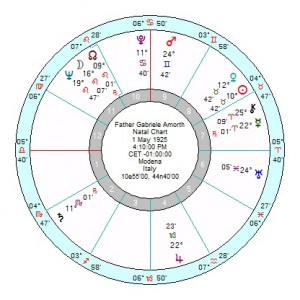 The chief exorcist for Rome, Father Gabriel Amorth, has died. He claimed to have conducted tens of thousands of exorcisms, was against yoga because it encouraged Eastern religions; and against Harry Potter, since it gave children an interest in black magic and wizardry. He said people possessed by the devil vomited pieces of iron, glass and rose petals when being cleansed and embarrassed the Vatican with his wilder claims.
Born 1 May 1925 at 4.10pm Modena, Italy (ADB, BC), he had a chart that certainly fitted him for delving below the surface, and indeed could have made him clairvoyant. His Taurus Sun was conjunct Venus in the 8th opposition Saturn in Scorpio and square North Node, Moon, Neptune in Leo; with his Sun Venus also sextile an influential and likes-to-be-in-control 10th house Pluto.
He also had two Yods in his chart – Jupiter sextile Uranus inconjunct Neptune, and Mars sextile Nerptune inconjunct Jupiter. Both of those would, once he'd found the right path, suit him for a life of healing and a higher social purpose. Though the first can also be delusional and the second given to self-aggrandizement.
His healer 12th Harmonic is not that strong. What is more marked is his 7th Harmonic, which can be highly spiritual or creative, tinged with both genius and madness. In his case it brought together an unpleasant collection of Mars Pluto and Saturn, tied into the 7H Sun – violent, risky, brutal. He chose to work with other peoples' madness, perhaps as a way of soaking up some of his own. He would certainly revel in the high-adrenaline flow of the excitement of the exorcism with his Uranus square Mars exactly.