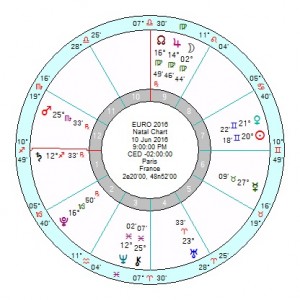 EURO 2016, the European football championships start tonight in Paris at 9pm amidst terror threats as well as national strikes affecting transport and rubbish collection. Matches will be played at nine different locations across France including Marseille, which like Paris, has a large disaffected Muslim community.
The start chart does have tr Mars retrograde exactly conjunct the Mars on the France chart so a tense time. Mars will go direct on June 29th, 12 days before the finish so be interesting to see if that has an effect.
Otherwise the neurotic Saturn square Neptune is exact, tied into a T square by Jupiter in Virgo, with scattered, edgy Saturn in Sagittarius leading, conjunct the Ascendant which will damp down enthusiasm. Unsettled Uranus is in the domestic 4th which makes sense, square Pluto in the 2nd which in turn trines Jupiter – so someone will be making money out of the chaos.  Mars in the hidden 12th opposes Mercury – much argument, heated debate.
Though a charming, sociable Sun Venus in the 7th square Jupiter will make for a veneer of enjoyment.
It will be tense since the Sun opposes the Mars/Pluto midpoint, which could point to accidents, violence (tho' that could be drunken fans).  Both Saturn and Neptune are in aspect to the Sun/Moon midpoint which you sometimes see in disasters with relatives mourning loss.  Though that could also be football widows getting zero attention for a month as their husbands stay rooted to the game.