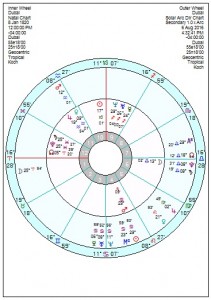 Dubai has been lurching from one crisis to the next since the crash of 2009, with falling oil prices recently hitting any recovery badly. There have been several major fires in their shiny high-rise blocks since 2012, six this year so far;  and last week a plane crash landed at the airport, which isn't only a bad omen, it also costs around $1 million per minute that the airport is closed.
There are two charts for Dubai – 8 January 1820 and 9 June 1833. Earlier charts are usually better and the 1820 chart has a 17 degree Capricorn Sun and Libra Moon; and Saturn Pluto in last decan of Pisces trine Mars in Cancer and square Uranus Neptune Mercury in Sagittarius.
The economically-challenging tr Saturn in Virgo opposition Uranus in Pisces was bouncing off the Dubai Saturn Pluto and Mercury Uranus Neptune in the post-2008 years. Then discouraging tr Saturn in Libra would conjunct the Moon and square the Sun; more recently tr Uranus has been square the Sun, opposition the Moon at some point; and now tr Pluto is conjunct the Sun in 2016/17 and again square the Moon.
So it's had a long run of difficult influences, especially tr Pluto conjunct the Sun which presages a need for a major rethink and reconstruction in attitudes and lifestyle. Often disasters go along with this, as a kind of external warning.
In the aftermath of tr Pluto challenging the Dubai Sun, will come tr Uranus in an insecure square to Mars in 2018; and then 2021 to 2024 tr Pluto will be in a dreary sextile to Saturn Pluto and finally in a really blocked opposition to Mars. So there's a fair few bumps on the road to come.