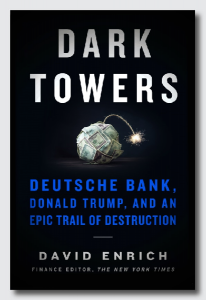 Deutsche Bank, Trump's lender of last resort, his bolt hole when no other financial outfit would touch him with a bargepole after multiple bankruptcies, has a hair-raising record of malfeasance. They have been fined $17 billion in the last decade on an array of criminal and civil charges in the US and UK for money laundering, with Russia a key component and rate-fixing amongst other sins. They are being investigated for the $1 billion Malaysian Development fund scandal, have been named in Australian criminal cartel charges, did business with Jeffrey Epstein up to 2019 etc etc etc. The bank's shares lost more than half their value in 2018 and have continued to underperform the broader industry this year.
By this June the Supreme Court will rule on whether subpoenas issued by congressional committees to Deutsche Bank for Trump's financial records can be enforced along with other cases concerning Trump's tax returns.
A new book by the financial editor of the New York Times David Enrich In Dark Towers: Deutsche Bank, Donald Trump, and an Epic Trail of Destruction, delivers what has been described as a 'master class in financial sleuthing', tracing the history of the bank up to present day including the Trump connection.
Deutsche Bank was founded on 10 March 1870 in Germany which gives a slippery Sun Mars in Pisces square Saturn in Sagittarius; with a super-confident, rules-don't-apply-to-us Jupiter Pluto in Taurus on the focal point of a mini-Grand Trine of Sun Mars to Uranus.
Their downhill slide will continue and accelerate this year from late March onwards till late 2021 with tr Neptune conjunct the Sun and Mars bringing a panicky sense of failure.
Trump's relationship chart with them looks edgy at the moment, undermined late March onwards, jolted in April with tr Uranus conjunct the composite Sun and into disaster territory by June onwards. It's too much to hope the Supreme Court might do the decent thing but you never know – the impossible might happen. His upset with them continues into 2021.
Ivanka, Don Jnr and Ivanka were also mentioned in paperwork as well as Steven Bannon's throwaway remarks about Jared Kushner's connection.
Ivanka's relationship chart with the bank looks uncertain and panicked this month; very up and down all year; with a tussle for the upper hand so she won't give in easy.
Don Jnr and Eric look agitated vis a vis the bank through 2020/2021 with worse in the two years to follow.
Jared will be tossed this way and that from March onwards and will be feeling the pain on into 2021 as well.
https://www.theguardian.com/business/2020/feb/16/dark-towers-review-deutsche-bank-donald-trump
https://www.npr.org/2020/02/18/806984703/dark-towers-is-a-cautionary-tale-of-pursuing-profits-at-any-cost?t=1582109498847