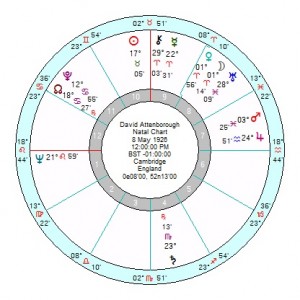 David Attenborough has been the voice and face of natural history for an incredible 60 years on BBC and aged 90 is still going strong. After a ten year gap Planet Earth 11, the lavish BBC blockbuster which he narrates, has become the most watched nature programme. After initially resisting the idea he has come round to see climate change as a major threat.
Born 8 May 1926 (less than three weeks before HM Queen) he has, like her, an extraordinarily Fixed chart. His Taurus Sun opposes obsessively conscientious Saturn in Scorpio square a humanitarian/cross-cultural Jupiter in Aquarius opposition a creative Neptune in Leo. So a Fixed Grand Cross which gives endurance, obstinacy aplenty, a tendency to assume the world and everyone in it will adapt to him rather than the other way round. Fixed personalities hate change and would prefer to plough the same furrow for ever – which he has done extraordinarily well.
His Taurus Sun, the only Earth planet,  fits him well into the natural world.
Not surprisingly he has a strong super-star 22nd and the scientific 11th; plus breakthrough 13th; tough conditions 16th; making-mark 17th and 19th. What is intriguing is his very heavily aspected 12H, the healing harmonic. We'll miss his mellifluous voice when he finally gives up, though like the Queen no sign yet.