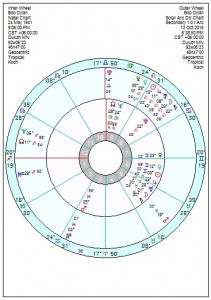 Bob Dylan, has been – extraordinarily and probably controversially – given the Nobel Prize for Literature "for having created new poetic expressions within the great American song tradition". His songs include Blowin' in the Wind and The Times They are A-Changin'. He is the first American to win since novelist Toni Morrison in 1993. One commentator likened it to give Henry Kissinger the  Nobel Peace Prize.
Born 24 May 1941 9.05pm Duluth, Minnesota, Dylan has had a decades-long career and is still performing – in Las Vegas this week. He is a Sun Venus in Gemini, a common sign amongst popular singers, with the Sun conjunct Jupiter in Taurus, all in the 6th house of work and service; as well as conjunct Uranus in the 5th. He's got a stellium in Taurus – Saturn Moon Uranus in the performing 5th plus Jupiter, all in an inspired, creative trine to Neptune and North Node in Virgo. His Mercury in Gemini conjunct his Descendant makes him a communicator; and Pluto in his 8th sextile his Sun gives him depth and the ability to influence widely. His Sun also squares a 3rd house Mars in Pisces, so he is assertive, can be get angry about issues.
His super-star 22nd Harmonic is strong; as oddly enough is his literary 21H; and that curious 13th Harmonic. 'This number is associated with exploration, genius and breaking with the orthodox. It warns against the unknown and the unexpected. It requires adaptation to change to be successful.' The secretary of the Swedish Academy said "For 54 years now he's been at it reinventing himself, constantly creating a new identity."
At the moment his Solar Arc Saturn is almost exactly conjunct his 8th house Pluto, which looks stuck rather than elated. But tr Jupiter is heading for his midheaven and 10th from this December which will boost his reputation.