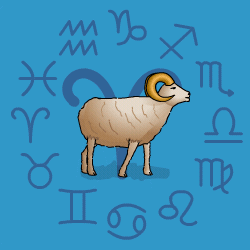 Aries
March 21 - April 20
---
Today's Horoscope for Wednesday May 31st
Looking around at home you'll be keen to see seeing how you can add comforting touches to the decoration to make the mood relaxing and stylish. Clearing out clutter will make your rooms look better and you'll feel easier within yourself. Later try not to go leaping into a tricky situation too hastily. You'll find you don't want to see it through to the end. With the Moon across the zodiac from your sign you can lose courage and motivation and wish you hadn't started.
The Weekly Outlook from 29th May
You may be imagining all sorts of problems that are never going to crop up. What you need is to get grounded, organised and hang onto common sense. Life is certainly changing but that could be for the better, not a cause for concern. You won't be finding it easy to take on practical responsibility, since you want to retreat into a comfortable corner or even better to aim for adventure. Getting out of a rut, broadening your horizons and filling your life with lively activities and friends will restore your good humour. Try to see the big picture without losing sight of vital details.
Your Monthly Horoscope for May
In an indulgent mood, you'll be keen on treating yourself and spending on presents and extravagances. If you can clear time to reorganise your finances, sort out a few practicalities and put plans in place to build up your long term security, it'll be wise. Not normally a sign who bothers much about nuts and bolts, you will know it is in your own interests to be self-protective now and not irresponsible. The mood at home will be harmonious with tensions in the family easing. You'll want to entertain more in your intimate surroundings and even contemplate sprucing up the decoration to brighten your spirits. From the middle of the month money will roll in faster to keep you smiling and your good fortune will be around for months ahead, so putting a portion aside won't be difficult. Though you'll be revved up and not inclined to listen to advice, pushing ahead with more confidence than common sense. Between the 18th and 23rd you'll be inclined to step over the mark and allow your enthusiasm to run away with you. In the final week you'll be talking non stop and facing a few realities.
and Next Month's Horoscope for June
Skipping along through a busy and varied everyday schedule you may get scattered and cut corners but you'll rarely be bored. More short distance trips, phone calls, letters will keep you fully occupied and you'll be keen to spread your opinions around liberally. Your social life will waken up with a flourish with more invitations and compliments coming your way, Loved ones will rally round to make you centre of attention.rnPluto retrograding back into Capricorn until January may bring a few tensions at work and elsewhere as you want to go one way and someone else will tug the other, Try not to get into no-win arguments which waste time and energy. Be a subtle and strategic, even devious, and sidestep the difficulties. You will also be back to pondering what direction you can take in life which will bring you the meaning and purpose you dream of.rnIn the final ten days you'll slow down to spend time at home with loved ones and giving yourself a chance to mull over recent events and get them into perspective. Putting down roots and snuggling up close will be more important than outer ambitions for a while.
Year Ahead 2023
Bouncing into 2023 in high spirits with lucky Jupiter in your own sign willing you on with confidence, enthusiasm and new opportunities, you won't be holding back. In a go-to mood you'll know this is your year for making significant decisions about changing key areas of your life. The Eclipses will challenge you to take a different approach to your life's ambitions as well as your close relationships. It won't be a time for impulsive decisions so considering all your options carefully before coming to a sensible judgement will be wise. For many years you have been searching for a stronger sense of meaning and purpose in what you do and this is the point where you revise your outlook and plans for what comes next. Gradually you'll mix with influential people or be keen to involve yourself with likeminded friends to make a difference. Your finances will improve noticeably from May onwards with more flowing in and probably out again as your spending increases. If you can save a little of your good fortune for a rainy day ahead it'll give you security. Tackling practical tasks won't be easy with Saturn moving through Pisces the sign before yours. But needs must that loose ends from the past are tied up and you bring to completion what has been started in past years. Once you tie a ribbon on unfinished business you'll be free to move on.