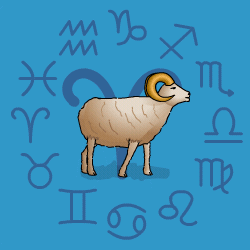 Aries
March 21 - April 20
---
Today's Horoscope for Sunday August 09th
You know you have to resolve certain practical or business problems at home. That may involve getting down to brass tacks with loved ones. Face the bottom line and then the only way from there is upwards. Knuckle down, say what needs said, do what needs done and then you can play truant. If you have to cut your losses then reassure yourself it'll free you up to concentrate on your successes. Do not trail on with what is not working well. You have to get a grip and start building.
The Weekly Outlook from 03rd August
Maybe you will bounce into a situation that you thought was going to work instantly and your expectations will fall short. That shouldn't happen since sheer joie de vivre will carry you along, but do watch for a hint of over-confidence. A little self-discipline never goes amiss with Jupiter connecting to dynamic Mars. In your exuberance you may ignore vital details in your determination to see the broad sweep. If you can keep your feet on the ground and plan sensibly you'll do OK.
Your Monthly Horoscope for August
This is your fun month of the year with the entertaining Leo Sun in your chart area of romance, children, enjoyment and games. You'll revel in the spotlight, be showered with compliments and invitations for three weeks and be avoiding anything that smells like duty or routine. You may make hasty cash decisions or buys early on and then wonder whether it was wise. But on the while you'll be in an adventurous, risk-taking mood and unlikely to hold yourself back at least early on. Your witty flow of jokes will go down well. The mood at home and amongst the family will be harmonious so you'll enjoy having them around and even planning how to spruce up the decoration. Towards mid-month there may be an intense encounter which ends up in a no-win discussion. Try not to push arguments to the bitter end. Your wonderful capacity for not holding grudges and bouncing off in new directions when blocked will stand you in good stead. Hard work will creep back into the schedule in the final few days with a setback to cope with. But you'll be well rested by then.
and Next Month's Horoscope for September
Settling into a steadier work routine may not sound your cup of tea but you'll be pleasantly surprised at the advantages of. Praise will come your way and your achievements will mount up. Out in the community you'll be looked up to and respected. Your priority needs to be keeping yourself on top form since you'll need to boost your stamina to crack on through the pile of chores under your nose. Your enthusiasm and dynamic energy will move you ahead at speed but you'll not always be good at remembering to look after your physical needs and respect your limits. There will be times when a little drifting and daydreaming may be in order so that you can bounce back revitalised after a break. Warm-hearted social mates will be there every step of the way boosting your morale and in turn you'll keep them entertained. Getting a grip not only of your career but also your direction in life will bring a reassuring comfort. Into the final days you'll be less drained by duty with more support from one close partner. In demand socially, you'll have a chance to aim for enjoyment.
Year Ahead 2020
2020 starts the way it intends to continue with challenging questions about how much work and responsibility you want to shoulder. Saturn will bring rewards for past efforts but can also drag mistakes into the open. Pluto close by will bring tensions, a desire to succeed but also resistance from certain people who want the upper hand. Then just as you feel stuck along comes Jupiter to sprinkle a little stardust and luck around career matters. So it'll be a whirlygig of good, not so great and indifferent. March, June and November will be highs of success and rising confidence.rnTeam relationships will require more effort to keep them running smoothly between March and July, and the same goes for certain friendships which will feel separated.rnYou'll need to keep your eye firmly on your personal finances since there will be unpredictable comings and goings with surprise expenses and equally unexpected bonuses coming through. You'll need to continue budgeting for an erratic flow of income.rnAt times you'll want to disappear off into daydream-land and drift along, leaving the hustle and hassle to others but you won't manage it for long.rnThe eclipse cycles will move on to gradually shift your focus away from home and family matters towards ways of finding more adventure and reaching out for more mind-stretching your horizons. You'll be juggling various schemes, planning to travel further afield or take up new hobbies.rnWhere your year really revs up is in the second half from late June till the New Year with Mars in your own sign. You won't take no for an answer, will sweep obstacles to one side not always tactfully and stamp your foot to get your own way no matter how many arguments it causes. Just watch you aren't accident-prone or inclined to shoot yourself in the foot at times since you will hash and crash ahead which won't always make for smooth progress.rnBy the year end your optimism will be high and you'll be looking forward to a lighter, brighter few months ahead.