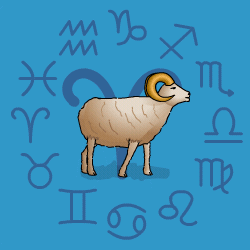 Aries
March 21 - April 20
---
Today's Horoscope for Thursday August 05th
You will have to push indulgences and pleasure activities to one side to concentrate on being efficient and better organised for a few weeks ahead. Duty will come first which could make you feel ground down but on the other hand you'll clear a good many essential tasks out of the way. At home later, give yourself peace and quiet and you'll begin to see how you got into an emotional muddle recently by not thinking clearly. With more understanding you can stop it happening again.
The Weekly Outlook from 02nd August
With Saturn around for a few days you could be critical about a friend's behaviour. The reason may be partly because you're out of sorts with one pet project hitting a delay. Give yourself a shake. At the moment nothing stays the same for long. After midweek you'll decide to throw your plans up in the air. Curious and imaginative, you'll be alert, quick-witted and outspoken. If you can crack a few jokes and play the trickster then you'll keep friends entertained.
Your Monthly Horoscope for August
Love, laughter, parties and fun should be on your agenda for three weeks though the first few days may be distracted by a few hitches and glitches. One plan may be delayed perhaps by a friend not being available to help and there'll be an expected turn of events involving money, which will give you pause for thought. But the flamboyant Leo New Moon on the 8th will revitalise you and send you off in search of attention, affection and entertainment. Lending a hand to those close who are in need will build up a store of goodwill and after midmonth they'll repay you with interest. Then a gradual shift over to Virgo will bring practical matters and work back into prominence. In the final ten days you'll be knuckling down to clear chores and essentials out of the way and to see what you can do to improve your fitness levels.
and Next Month's Horoscope for September
Settling down to a steady routine of chores and practical tasks won't be a laugh a minute but will clear stuff off your plate for the near future. At times you may feel you're pushing boulders uphill but perseverance will pay off. Staying on top form physically will be vital so you'll pay attention to your diet and exercise regimes as well as ensuring you get enough sleep and relaxation. The affectionate support of a close partner will keep your morale high and you won't go short of social invitations for the first ten days. Thereafter you'll be emotionally intense and secretive and less likely to be out on the party trail. The drain on your energy will ease from mid month with more support coming from energetic mates. There may be arguments since both of you will be fired up but if you can agree a joint strategy then you'll forge ahead together. Where there are issues you need to air your grievances in a calm and tactful way and listen to feedback.
Year Ahead 2021
Living in the present won't suit you remotely with a head full of adventurous schemes and a driving determination to raise your sights high and broaden your horizons. You may not be able to travel instantly in 2021 but there will be other ways to fill your life with excitement and fun escapades. Friends, new and old, will be a major part of your entourage as you bounce ideas around and listen to feedback. You won't be letting the grass grow under your feet as you lay out your grand strategy for what comes next. Admittedly you'll need to keep a watchful eye on your personal finances since your circumstances will change constantly and rapidly. Budgeting with the unexpected in mind means saving when there is surplus to tide you through lean patches and not jumping to hasty decisions or purchases. January will be fraught in this respect, so tread softly and cautiously. You'll redouble your efforts to make more money or protect your security but will also be inclined to over spend. You'll give yourself a break for two months after the middle of May, to ponder, reflect and wait till inspiration strikes. The more you can content yourself with your own company the happier you'll be. Though there may also be a secret adviser who'll set your thinking along new lines. At work certain of the old issues of feeling pushed around or being over controlled will still be there but you'll manage to find a way of sidestepping troublemakers and control freaks since you've been round this circuit several times before. In a quiet way you'll exert more influence than you imagine. From midyear, an extra busy everyday schedule will require you to manage your time well, communicate clearly and get better organised. Your romantic and social life will revive with a surge of high energy and boisterous spirits through July and after. Though you'll need to entertain and party with an eye on the budget since the cash flow ups and downs will run throughout the year.