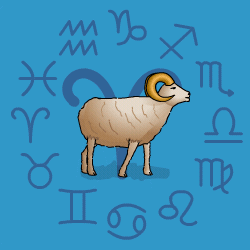 Aries
March 21 - April 20
---
Today's Horoscope for Saturday January 23rd
Because your morale is high, your physical energy will follow suit which will help you push your visions forward. If you have a financial plan in mind, make sure you are not relying heavily on someone else's generosity or expecting miracles and curb a temptation to spend like mad. Your romantic life will be ethereal and dreamy so you'll cruise along in style. You'll see loved ones better than they are. Life through a soft-focus lens. But do you need to see all the flaws? Enjoy your vision while it lasts.
The Weekly Outlook from 18th January
You'll be tempted to toss aside responsibilities, forget about your conscience and be off having fun. What you want is the elbow room to suit yourself, to pursue new activities and bring more liveliness into your routines. A priority will be to avoid anything that smells like routine or boredom. As the week goes on you'll surround yourself with friends, team mates and colleagues, since you'll reckon there is safety and security in numbers. You won't want to fly solo or be part of a twosome. The more the merrier as far as you are concerned.
Your Monthly Horoscope for January
You'll be taking the lead, expecting others to follow your wishes and generally be in a go-ahead and get-it-together mood. At times your determination may tip over into bossiness so try to soft pedal when you can. Luckily you'll gradually adopt a more team-spirited approach and be chatting over plans for the longer-term. You know this is no time to rest on your laurels or sticking to outworn ambitions. Friends will rally round to pitch in with advice and support. You won't always agree but if you keep an open mind you'll get helpful feedback. Money will be a priority after the 6th and you'll find good luck runs side by side with setbacks and irritations on the cash front. Try not to make hasty decisions but pursue a steady and cautious approach which may go against the grain of your adventurous nature but will be more sensible.
and Next Month's Horoscope for February
Adjusting to the rhythms of a new year, you'll be aware that getting a grip of your personal finances is a top priority. Mars, your ruler, will be giving you a sharp nudge to get a move on and take the initiative with plans to upgrade your security though you may be tempted to spend as well, and have the budget knocked off track by unexpected turns of events. Affectionate friends will be both supportive and sensible as you sort out practical schemes for the months ahead. Your optimism will stay high despite the ups and downs with new acquaintances opening your eyes to possibilities you had never considered before. Try to organise your schedule for more downtime in the final days when you can step back and let others do the running around. You need a chance to reflect on recent events and recharge your batteries.
Year Ahead 2021
Living in the present won't suit you remotely with a head full of adventurous schemes and a driving determination to raise your sights high and broaden your horizons. You may not be able to travel instantly in 2021 but there will be other ways to fill your life with excitement and fun escapades. Friends, new and old, will be a major part of your entourage as you bounce ideas around and listen to feedback. You won't be letting the grass grow under your feet as you lay out your grand strategy for what comes next. Admittedly you'll need to keep a watchful eye on your personal finances since your circumstances will change constantly and rapidly. Budgeting with the unexpected in mind means saving when there is surplus to tide you through lean patches and not jumping to hasty decisions or purchases. January will be fraught in this respect, so tread softly and cautiously. You'll redouble your efforts to make more money or protect your security but will also be inclined to over spend. You'll give yourself a break for two months after the middle of May, to ponder, reflect and wait till inspiration strikes. The more you can content yourself with your own company the happier you'll be. Though there may also be a secret adviser who'll set your thinking along new lines. At work certain of the old issues of feeling pushed around or being over controlled will still be there but you'll manage to find a way of sidestepping troublemakers and control freaks since you've been round this circuit several times before. In a quiet way you'll exert more influence than you imagine. From midyear, an extra busy everyday schedule will require you to manage your time well, communicate clearly and get better organised. Your romantic and social life will revive with a surge of high energy and boisterous spirits through July and after. Though you'll need to entertain and party with an eye on the budget since the cash flow ups and downs will run throughout the year.