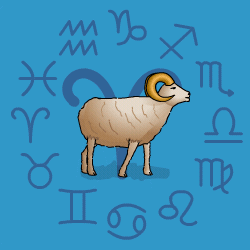 Aries
March 21 - April 20
---
Today's Horoscope for Tuesday October 04th
With Mercury moving through Virgo until the 10th you'll have a practical approach than usual, an appetite for detail and oodles of common sense. Mates may find you a stickler for everything being just so and a stickler for perfection. You are on a determined path where you are searching for a career or life's direction which will bring you a deeper sense of purpose and fulfilment. You know that you no longer want to follow certain ambitions or follow the same course as before.
The Weekly Outlook from 03rd October
You will be coping with detail and talking about re-organising your working life. Your helpful suggestions will go down well now except when you tramp on other people's corns, pointing out their mistakes. Try to turn on the charm and throw out a few compliments before you wade in to criticise. Towards the weekend you'll be able to solve a dilemma that has been bothering you. But don't keep digging and go so far down into the depths you end up looking on the bleak side. Ask the searching questions without pushing too hard and you'll get answers.
Your Monthly Horoscope for October
Normally you like to take the lead and be the one making the key decisions but you'll be happy to compromise and cooperate this month if you get support in return from a close partner. Togetherness will be your way ahead and you'll also be in demand socially because of your knack of making everyone you meet feel special. Charm will get you most places and handing out compliments will do wonders for your popularity. You'll glide over the surface, avoid unpleasantness and generally make yourself amiable. A busy schedule will keep you on your toes and on the run, multi-tasking and talking constantly. You'll cut a few corners to ensure that you pack in everything essential. At times you'll get impatient with delays or mistakes but getting snappy and ruffling feathers won't speed your progress. A sensible friend will be on hand with good advice when your motivation sags and those close will back you up when a tricky situation blows up after mid month. The Scorpio Eclipse in the final ten days is a hint that you ned to change the way you share, care and relate over money or your emotional life. It won't be easy but your determination will make all the difference.
and Next Month's Horoscope for November
An intense, secretive mood won't sit comfortably with your fiery temperament but there will be confidential discussions on financial and emotional matters which you'll understand need to be kept under wraps. Progress may be slow as you have to tackle differences with those close to negotiate fairer agreements. All of which will take time, effort and patience. You won't forget anyone who lets you down or tries to pull a fast one though you don't normally hang on to grievances. Luckily there will be generous gestures coming your way in private or presents when you least expect it to warm your heart. What to keep in mind is that your efforts will result in greater security once you have pushed through the difficulties. From the middle of the month a gradual shift into Sagittarius will put the sparkle back in your eye as adventure beckons. Conversations will be less restrictive, wide ranging and entertaining. Your social life will move into a livelier, enjoyable few weeks with fun companions. And there may be chances to travel further afield.
Year Ahead 2022
A slow start to 2022 need not be a bind since you'll relish the chance to enjoy quiet time, reflecting on recent events and coming to terms with yourself. You be learning to like yourself better and relax in your own company for the first few months. Then you'll bounce out revitalised and raring to go from May onwards, with luck on your side and the prospect of better times ahead.rnWhat will need your attention are your finances since the eclipses through the year highlight a need to take the initiative and not to amble along as before, hoping your guardian angel will keep you bountifully afloat. Getting a grip, take the right steps and making it happen will bring results.rnYou are nearly at the end of a longish phase of several years questioning where you are heading career-wise and in your life. By this stage you should have found a few answers that will bring you more of a sense of meaning, purpose and even vocation in the time ahead. A change in your plans may not come until the year after this but you will be reflecting on all the alternatives open to you.rnThroughout the year you'll be working hard to keep contact with friends and to ensure that team activities run smoothly. It may not be as easy as before but perseverance will pay off.rnJupiter moving through your own sign May to October and again from mid December into 2023 will zip up your confidence, enthusiasm and energy and with Mars, your ruler, in your chart area of high-speed movement and sharp talking from late August for nearly seven months you certainly won't be bored. A jam-packed everyday schedule will keep you on your toes. You won't suffer mistakes, delays or fools gladly so may ruffle a few feathers but that won't stop you speaking your mind and pressing ahead with vigour.