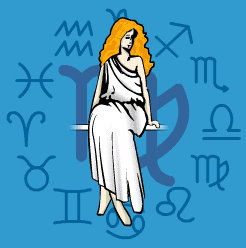 Virgo
August 24 - September 23
---
Your Birthday Horoscope
IF ITS YOUR BIRTHDAY TODAY your year ahead will be hard-working and enthusiastic. You will be paying attention to detail and sweeping others up in your enthusiasm. Just don't overload yourself since staying fit and healthy will be important. There will be chances to wind down at home and relax with loved ones in between sorting out a mountain of chores. One partner may be touch evasive so be forgiving and let them drift. You will be a commanding presence out socially.
Today's Horoscope for Saturday September 22nd
Maybe you are being slower than usual to make up your mind. But once you get on track nothing will budge you. Both at home or at work, you want the reassuring support of people who can be there for you. Give a wide berth to grumblers, gripes and bores. Look for supportive buddies, the ones whom you trust. What you want is a peaceful mood so you will be smoothing rough edges, pouring oil on troubled waters and generally being amiable.
The Weekly Outlook from 17th September
Whatever else life is at the moment it's certainly not boring. This week there are revolutionary influences around which will rattle the bars of your cage. They want you to see where you have been fitting in too much. The trick is to make changes without causing any major disruption. Less praise will be coming your way than you might wish, but you can always take pride in what you do for its own sake, and be your own morale booster.
Your Monthly Horoscope for September
In an exuberant and outgoing mood, you'll be stepping out boldly and notice you're making much more of an impression than usual when you sweep into rooms. Your energy and passionate enthusiasm will sweep everyone up in your wake. OK so one close partner will be a touch elusive, preoccupied or vague around the 7th so leave them to their own devices. Your morale will get a definite boost around the 12th with a lucky break. Your good fortune will be mainly due to your positive attitude and determination but you'll feel blessed in some small way. Hard work will be unavoidable thereafter, but you never mind practical chores. Just don't be too perfectionist and insist on doing everything yourself. Surprising news will come in on the 18th which you'll do best not to respond to instantly. In the final days you'll be getting your finances knocked into shape.
and Next Month's Horoscope for October
Your hard work should be paying off in solid results which should boost your finances and your morale in equal measure. Money will be on your mind as you dig in to push ahead with plans to improve your earning power or your security. You'll be tempted to spend as well as save, so keeping your extravagances to a minimum will help. You will want to look like a persona of substance but throwing money around to impress isn't the best way of gaining attention. Turn your imagination to good use and achieve more. Looking after health and fitness to boost your stamina will be crucial. Everyday companions at work and elsewhere will go out of their way to shower you with compliments and thoughtful gestures to keep you smiling. And your charming way of expressing yourself will guarantee your popularity. Loved ones will be acting in a more determined fashion that usual before the 12th so handle them with care and dexterity and don't let them have the upper hand. You'll be racing along in the final week, following through on your own original ideas, not caring what anyone else thinks or says.
Year Ahead 2018
A busy busy, varied and enthusiastic everyday schedule will keep you on the run and never bored. Always a great chatter, you'll be communicating with even more exuberance and finding that your new more positive and tolerant approach is paying dividends. Suddenly your world will seem a brighter place with new contacts and fun encounters along the way.rnThere'll be less time for fun and social high-jinks since duty will get in the way and you may find it more difficult to be spontaneous and outgoing. Make the effort. You all too easily fall into being a workaholic. Remember you're an Earth sign and they always need some indulgence before they feel happy. Those close may be landing heavier responsibilities on you which will teach you valuable lessons about love. In giving to others you give to yourself.rnOne close partner will be vague, preoccupied or even downright evasive. And truthfully you won't be too sure of how committed you want to be. Search out more spiritual connections and you'll be more satisfied.rnJoint finances will continue to be up and down, sometimes great and at other times unexpected expenses will throw your budget out. So plan to save when there is surplus to tide you over the leaner times.rnThe first half year will be hard-working so you'll need to be on top efficiency form, as well as boosting your fitness and stamina when you can. After mid year you'll want more time for private reflection, to put the past into perspective.rnYou'll also from July be keen to widen your circle of friends and to be a better networker. Perseverance will pay off. Late in the year you'll be more content within yourself, relaxing happily at home, even in your own company. And planning how to expand your domestic setting to allow for more entertaining.