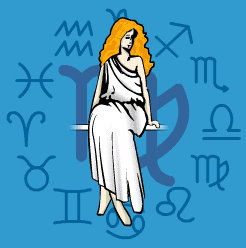 Virgo
August 24 - September 23
---
Today's Horoscope for Wednesday July 18th
You could be slightly irritable and a little too perfectionist for friendship to be smooth. Go your own independent way and take satisfaction in doing what you're doing well for its own sake. Sort out your priorities and decide what really is of value to you. You might be tempted to think that money is the only thing that matters. But there are other things, which hold every bit as much interest for you, and can lift your spirits when you are feeling low.
The Weekly Outlook from 16th July
Your eagle eye will spot any chancers or dodgy schemes. You're not getting carried away by odd whims or hunches or taking risks. You're saving money, you're double-checking one or two things, so you're not likely to get yourself in a muddle. Saturn is putting out a restraining hand and making sure you fulfil your obligations and be on parade when and where required. You need to put attention into health issues, and whatever makes you feel you are boosting your stamina.
Your Monthly Horoscope for July
You'll be anchored down by a pile of chores and need to watch a tendency to be overly-perfectionist. If everything has to be done with obsessive conscientiousness or you reckon you're the only one to do chores well, you'll land yourself with too much of too much and drain your energy. Put attention towards staying fit since you'll want to distract yourself with fun meetings and trips. Your magic way with words will win you new admirers and your newfound tolerance will allow you to absorb other viewpoints. The Cancer Solar Eclipse mid month is a challenge to sort out your longer term plans. Don't put off decisions and drift along as before. Ensure you have a structured idea of where you are going and how to get there. Your circle of friends will widen and you'll enjoy networking in the months ahead. There'll be a view upheavals late month just as you decide to take it easy and recharge your batteries. Try not to fly off the handle or be too hasty. Turn the charm up full volume and act as peacemaker.
and Next Month's Horoscope for August
A betwixt and between start to a low profile two weeks, will find you sitting on the side lines yet having to work extra hard at the same time. Your unconventional views won't always meet with approval but frankly you won't care, retreating into peace and quiet, if those around get too awkward. Make keeping fit a priority and try not to overload yourself. Delegate more. You'll need quality private time to mull over recent events and try to get the past into perspective. Once you have resolved highly personal matters then you'll be free to throw cares aside and step out more boldly. Spending money will be a temptation after the 6th and you'll find that treats and indulgences lift your spirits. Your confident way of getting your views across will make you popular in your everyday comings and goings. After mid month your physical energy and passionate enthusiasm will soar and you'll throw yourself with gusto into enjoying yourself and getting your own way. The add icing to the cake your birthday Sun from the 23rd will steer you into a new start, with more exuberance and a definite twinkle in your eye.
Year Ahead 2018
A busy busy, varied and enthusiastic everyday schedule will keep you on the run and never bored. Always a great chatter, you'll be communicating with even more exuberance and finding that your new more positive and tolerant approach is paying dividends. Suddenly your world will seem a brighter place with new contacts and fun encounters along the way.rnThere'll be less time for fun and social high-jinks since duty will get in the way and you may find it more difficult to be spontaneous and outgoing. Make the effort. You all too easily fall into being a workaholic. Remember you're an Earth sign and they always need some indulgence before they feel happy. Those close may be landing heavier responsibilities on you which will teach you valuable lessons about love. In giving to others you give to yourself.rnOne close partner will be vague, preoccupied or even downright evasive. And truthfully you won't be too sure of how committed you want to be. Search out more spiritual connections and you'll be more satisfied.rnJoint finances will continue to be up and down, sometimes great and at other times unexpected expenses will throw your budget out. So plan to save when there is surplus to tide you over the leaner times.rnThe first half year will be hard-working so you'll need to be on top efficiency form, as well as boosting your fitness and stamina when you can. After mid year you'll want more time for private reflection, to put the past into perspective.rnYou'll also from July be keen to widen your circle of friends and to be a better networker. Perseverance will pay off. Late in the year you'll be more content within yourself, relaxing happily at home, even in your own company. And planning how to expand your domestic setting to allow for more entertaining.