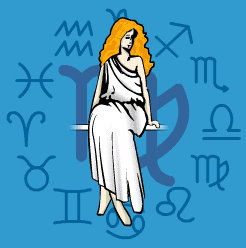 Virgo
August 24 - September 23
---
Today's Horoscope for Tuesday March 20th
Venus has a reasonably light-hearted, superficial kind of influence, but it will help you to understand what makes your life fit together in a way as a whole, because Venus wants to join the bits together, wants things to be harmonious, contented and secure. You'll be gliding over unpleasant edges, sliding round situations that are too awkward and moving towards the people you really want to be around. Behind your smiles you'll be feeling secretive, determined more than usual at the moment.
The Weekly Outlook from 19th March
At times it may seem a little like a battlefield as confrontations litter your way ahead. You may complain about your difficult path just now but it won't last long. You will defend your corner with vigour. No one will interfere or cross swords with you and emerge unscathed. But if you can indulge in creative discussion where no one takes offence, but everyone speaks their mind firmly, then you will emerge with better ideas.
Your Monthly Horoscope for March
Close partners may be elusive, preoccupied or downright evasive early on but you'll insist on getting support so they'll snap into focus. Togetherness will be the key to your happiness, so being less self-sufficient and more adaptable will pay off. For all that you will be playing certain cards close to your chest since there will be situations where only you know what you want. Loved ones, especially children, will be demanding and you may feel weighed down at times trying to keep a lively social life running. After mid-month your energy and passionate enthusiasm will soar. You'll bounce out intending to make your mark and get your own way. Remember that instant answers won't come no matter how hard you push. So enjoy the fun moments and continue to push hard behind the scenes to resolve problematic situations. In the final days you'll be ultra-determined and not letting on to any but those close exactly what is on your mind.
and Next Month's Horoscope for April
Loved ones may be causing you some concern or aggravation. But you won't be distracted from the confidential matters which will be occupying much of your time for three weeks. You'll know that only by looking for deeper insights will you find answers to what is holding you back. So going slow, being persistent and looking for alternatives to your old way of operating will you succeed in getting the peace of mind and security you want. Be flexible and be prepared to compromise or jettison outworn attitudes of mind. It won't all be easy since you'll be working too hard, not getting enough time for fun and be determined to get your own way. But if you boss loved ones around they won't appreciate it. Venus in Taurus will provide some light relief, bringing new fun friends your way. Your way with words will attract praise around mid month and later. If you can stay tolerant and open-minded you'll be persuasive. From the 20th will be a time to aim higher and find a way to inject more adventure or stimulation into your life.
Year Ahead 2018
A busy busy, varied and enthusiastic everyday schedule will keep you on the run and never bored. Always a great chatter, you'll be communicating with even more exuberance and finding that your new more positive and tolerant approach is paying dividends. Suddenly your world will seem a brighter place with new contacts and fun encounters along the way.rnThere'll be less time for fun and social high-jinks since duty will get in the way and you may find it more difficult to be spontaneous and outgoing. Make the effort. You all too easily fall into being a workaholic. Remember you're an Earth sign and they always need some indulgence before they feel happy. Those close may be landing heavier responsibilities on you which will teach you valuable lessons about love. In giving to others you give to yourself.rnOne close partner will be vague, preoccupied or even downright evasive. And truthfully you won't be too sure of how committed you want to be. Search out more spiritual connections and you'll be more satisfied.rnJoint finances will continue to be up and down, sometimes great and at other times unexpected expenses will throw your budget out. So plan to save when there is surplus to tide you over the leaner times.rnThe first half year will be hard-working so you'll need to be on top efficiency form, as well as boosting your fitness and stamina when you can. After mid year you'll want more time for private reflection, to put the past into perspective.rnYou'll also from July be keen to widen your circle of friends and to be a better networker. Perseverance will pay off. Late in the year you'll be more content within yourself, relaxing happily at home, even in your own company. And planning how to expand your domestic setting to allow for more entertaining.