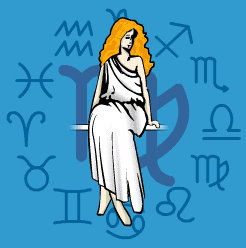 Virgo
August 24 - September 23
---
Today's Horoscope for Wednesday December 13th
You'll be in mental overdrive, so you zip on so quickly that you miss out on opportunities. It may go against the grain, but if you can pause to collect your scattered wits you will achieve more. If you rush ahead too fast you may get careless or cut corners. Then nothing works well. You'll have a more imaginative way of speaking than usual. This can be useful, since you are absorbing a good deal of information from your surroundings, almost without noticing.
The Weekly Outlook from 11th December
This week you will definitely want to be more experimental or original. Any of the old compromises just aren't going to suit you anymore. So make an effort to get your real feelings out into the open. Be openly affectionate in your close relationships, make that phone call you have been putting to one side. Try to see where you can smooth over past disagreements and iron out any of the wrinkles in your family sphere.
Your Monthly Horoscope for December
Your determined efforts to get your finances on track may be disrupted on the 1st as a surprise turn of events throws the budget up in the air. Just avoid making reckless decisions on the spur of the moment. Close partners will be elusive not to say evasive if you're looking for support early on. Try not to feel let down. Just leave them to their own devices. Happily the mood at home will be harmonious and indulgent for several weeks, with a chance for heart-to-heart chats when it matters. Your everyday schedule will speed up dramatically from the 9th which will keep you on the run and rarely bored. You'll be expressing yourself vigorously, getting impatient with delays and mistakes. Then from the 20th Saturn moving into earthy Capricorn for more than two years ahead will bring heavier responsibilities for loved ones. You'll need to push yourself to keep your social life bubbling along and to express your feelings, since you may turn what should be fun into a chore. Venus will help to sparkle up your party spirit from the 25th.
and Next Month's Horoscope for January
Bouncing into the New Year in good form, you'll be keen to party even if it takes an effort at times, and certainly be demanding attention from the right people. At times you'll be possessive with loved ones and at other times, slightly critical. Try to mellow your approach. A super-busy and lively everyday schedule will keep you running, talking constantly and listening intently to your most supportive mates. You're beginning to understand more and more where you've held yourself back by taking too narrow a view. Now you can spot opportunities all around and by opening your mind to a wider world, you'll see there's a good deal more support around than you had imagined. Just try not to cram too much into your schedule since your enthusiasm could run away with you. And keep an eye on joint finances since there may be unexpected outgoings as well as incomings through the month. In the final days you'll settle down to a steadier routine but need to keep in mind that rest and relaxation is as important as zipping through the chores.
Year Ahead 2018
A busy busy, varied and enthusiastic everyday schedule will keep you on the run and never bored. Always a great chatter, you'll be communicating with even more exuberance and finding that your new more positive and tolerant approach is paying dividends. Suddenly your world will seem a brighter place with new contacts and fun encounters along the way.rnThere'll be less time for fun and social high-jinks since duty will get in the way and you may find it more difficult to be spontaneous and outgoing. Make the effort. You all too easily fall into being a workaholic. Remember you're an Earth sign and they always need some indulgence before they feel happy. Those close may be landing heavier responsibilities on you which will teach you valuable lessons about love. In giving to others you give to yourself.rnOne close partner will be vague, preoccupied or even downright evasive. And truthfully you won't be too sure of how committed you want to be. Search out more spiritual connections and you'll be more satisfied.rnJoint finances will continue to be up and down, sometimes great and at other times unexpected expenses will throw your budget out. So plan to save when there is surplus to tide you over the leaner times.rnThe first half year will be hard-working so you'll need to be on top efficiency form, as well as boosting your fitness and stamina when you can. After mid year you'll want more time for private reflection, to put the past into perspective.rnYou'll also from July be keen to widen your circle of friends and to be a better networker. Perseverance will pay off. Late in the year you'll be more content within yourself, relaxing happily at home, even in your own company. And planning how to expand your domestic setting to allow for more entertaining.