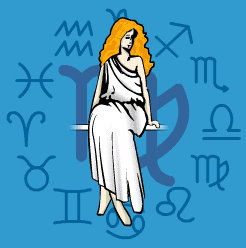 Virgo
August 24 - September 23
---
Today's Horoscope for Sunday November 19th
You have certainly no intention of being ignored now. You want to be taken as a person of substance and given much more attention. Try to turn your growing creative talents to good use since your achievements will bring you all the acclaim you seek. You can be quite a commanding figure at parties and social functions now if you try, attracting attention by your charismatic presence. Just don't let your social ambitions push you into over stretching yourself financially or in other ways.
The Weekly Outlook from 13th November
Early in the week you will be having fun, no matter what anyone else is like. You definitely intend to be amused and entertained, and if you can grab time off then you'll find that everything does work well. Towards the weekend it's important not to go it alone even if you are finding relationships tricky. Just pick the right kind of company. Don't pick friends you know will test your patience or rub you up the wrong way.
Your Monthly Horoscope for November
A busy, varied and cheerful everyday schedule will find you skipping along, chatting merrily to everyone you meet. Suddenly your horizons are opening up and you can spot opportunities that were always there but now you can see them and even better make use of them. You are always a great communicator, but even more so now with words flowing out and being heard. You'll be keeping an open mind, listening to feedback and generally feeling that your life has turned itself round. Thoughtful gestures from those close will make you feel warm and wonderful. It may not be grand passion but it will send your morale soaring. Making more money will be a preoccupation and perseverance will pay off but be wary of spending to impress after mid-month or getting cornered into a situation not of your choosing. Winding down to relax at home after the 23rd will find you sighing with relief and snuggling up close to those who make you feel comfortable.
and Next Month's Horoscope for December
Your determined efforts to get your finances on track may be disrupted on the 1st as a surprise turn of events throws the budget up in the air. Just avoid making reckless decisions on the spur of the moment. Close partners will be elusive not to say evasive if you're looking for support early on. Try not to feel let down. Just leave them to their own devices. Happily the mood at home will be harmonious and indulgent for several weeks, with a chance for heart-to-heart chats when it matters. Your everyday schedule will speed up dramatically from the 9th which will keep you on the run and rarely bored. You'll be expressing yourself vigorously, getting impatient with delays and mistakes. Then from the 20th Saturn moving into earthy Capricorn for more than two years ahead will bring heavier responsibilities for loved ones. You'll need to push yourself to keep your social life bubbling along and to express your feelings, since you may turn what should be fun into a chore. Venus will help to sparkle up your party spirit from the 25th.
2017 Year Ahead
Always a self-sufficient sign, you will be focussing more than usual on relationships of all varieties in your life and asking yourself what can be done to improve them. At times your significant other will seem inaccessible or preoccupied so you'll have to tread gently and be forgiving, since you won't always know what you want your commitments to be either. See where you can share more spiritual or artistic interests and you'll find you connect better.rnAt home you'll be working hard to get everything in ship shape order and pondering on what sort of constructive changes you can make to bring you more security and stability. If there are any family tensions, having calm heart to heart chats to flush them out into the open will get them cleared out of the way.rnOut on the social scene you'll be making a few waves, turning on your charismatic charm at parties and being possessive of attention. Just try not to be too controlling with loved ones since it may push them away. Lighten up and have fun, realising that you too will enjoy your moments of freedom when you can kick over the traces.rnMoney should be flowing through more easily with Jupiter in Libra for nine months, though you'll be spending liberally as well so may not end up with much surplus. Just be aware that there will be unexpected expenses and not everything will flow along smoothly. So keep some aside for sudden emergencies.rnFrom October your everyday routines will liven up considerably. Suddenly you'll see that what was holding you back wasn't bad luck but too narrow an outlook. As you take your blinkers off you'll suddenly spot all manner of opportunities for making new contacts. Your magic way with words will win you new admirers and quite a few discussions.