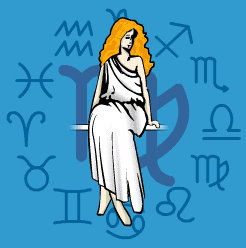 Virgo
August 24 - September 23
---
Today's Horoscope for Tuesday May 22nd
Make sure you communicate to loved ones that your rather detached manner at the moment is not a rejection of them. You are just in a butterfly mood, flitting happily around, not settling anywhere for long. You will be trying to go in two opposite directions at once. One way is what you ought to do, the other is what you want to do. Following your whims will give you a guilty conscience, but being dutiful will make you feel under nurtured.
The Weekly Outlook from 21st May
You are putting a good deal of emphasis on your reputation. You will dislike more than usual being passed over for attention or praise at work. You want to be noticed, not made to feel one of the crowd. You will be brimming with energy, wanting to tackle activities that are more physical. All sorts of unexpected opportunities are opening up around you now, so you need to be on top form to be able to make best use of them all.
Your Monthly Horoscope for May
Feeling motivated and in an expansive mood, you'll be broadening your horizons and looking further afield for new projects and hobbies. Thinking small won't be your motto. The bigger the better. Maybe your enthusiasm will run away with you and certain plans won't work out, but momentum will keep you heading in the right direction. Out on the social scene you'll be making waves, demanding attention and generally being a mover and shaker. From mid-month you'll be into a new phase with Uranus moving into earthy Taurus for seven years ahead. You'll want to explore new outlooks and philosophies, to speak your mind no matter what the reactions of those around and travel to more adventurous places. You won't avoid hard work since the chores will mount from the 16th for a few weeks. Put energy towards staying fit since you'll need to boost your stamina. Warm-hearted friends and team mates will do your morale the world of good from the 19th. And you'll be on a real high from the 21st as you reap the rewards of efforts earlier in the year. This won't be the time to be s shrinking violet. Get out there and showcase your talents and achievements.
and Next Month's Horoscope for June
There'll be no sense in hiding your light under a bushel and skulking in a corner. This is your chance to get out there and shine. Be bold and demand that your achievements and talents are valued and given recognition. You'll be taking the lead at home and at work, insisting that others follow along behind. OK you'll be working extra hard but the rewards will roll in to boost your morale. One close partner may be evasive or off in their own dream world. Don't expect miracles from them. Warm-hearted friends will keep you company and lay out a welcome mat when you're in the mood to be out and about. You'll need to pace yourself since the chores will be piling up and you won't burn the candle at both ends without boosting your stamina and putting down a few limits. Your enthusiasm will tend to run away with you so you could end up promising more than you can deliver. New projects will get under way on the 13th and thereafter you'll be less sociable but more focussed on your real priorities. What is key in the final days is to lay out a long-term future plans and decide how best to put it into gear. You'll have plenty of support, encouragement and advice. Even if your life feels pressured and less fun than usual, you'll keep on trucking.
Year Ahead 2018
A busy busy, varied and enthusiastic everyday schedule will keep you on the run and never bored. Always a great chatter, you'll be communicating with even more exuberance and finding that your new more positive and tolerant approach is paying dividends. Suddenly your world will seem a brighter place with new contacts and fun encounters along the way.rnThere'll be less time for fun and social high-jinks since duty will get in the way and you may find it more difficult to be spontaneous and outgoing. Make the effort. You all too easily fall into being a workaholic. Remember you're an Earth sign and they always need some indulgence before they feel happy. Those close may be landing heavier responsibilities on you which will teach you valuable lessons about love. In giving to others you give to yourself.rnOne close partner will be vague, preoccupied or even downright evasive. And truthfully you won't be too sure of how committed you want to be. Search out more spiritual connections and you'll be more satisfied.rnJoint finances will continue to be up and down, sometimes great and at other times unexpected expenses will throw your budget out. So plan to save when there is surplus to tide you over the leaner times.rnThe first half year will be hard-working so you'll need to be on top efficiency form, as well as boosting your fitness and stamina when you can. After mid year you'll want more time for private reflection, to put the past into perspective.rnYou'll also from July be keen to widen your circle of friends and to be a better networker. Perseverance will pay off. Late in the year you'll be more content within yourself, relaxing happily at home, even in your own company. And planning how to expand your domestic setting to allow for more entertaining.