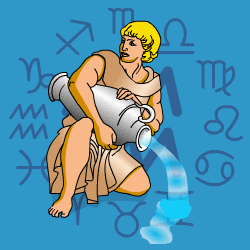 Aquarius
January 21 - February 19
---
Today's Horoscope for Monday January 22nd
You may be imagining all sorts of horrors that are never actually going to happen. What you need is to get more grounded, better organised and hang onto common sense. Life is certainly changing but that could be for the better, not a cause for concern. Try not to feel badly done to, even if it's all work and no play for a while. Don't get gloomy since it is only a passing blip. Saturn always demands discipline and makes indulging yourself difficult.
The Weekly Outlook from 22nd January
Where others are concerned at the moment what they get with you is what they see. You won't hide much away, indeed you are priding yourself on being as upfront as possible. Not that you put on any effort or a performance, it is just happening instinctively with your natural effervescence spilling over. You don't intend to let the grass grow under your feet so you will be setting your goals for the future with great determination.
Your Monthly Horoscope for January
Powering ahead with great determination and confident that whatever you attempt will work out well, you'll be on the crest of a wave. At least as far as others are concerned. Though behind the scenes you will be puzzling over highly personal dilemmas and unclear how to sort them out. Try not to get so sunk in concerns that you can't see the wood for the trees. You will get a flash of enlightenment along the way which will make everything clear. Accept the praise and admiration coming your way as well-deserved and enjoy it. Even if you get scattered towards mid month you'll still have your wits about you and make the right choices. Then suddenly you'll step out into a fun phase, looking great, and keen to make waves. Everyone will sit up when you come into rooms since you'll be quite a presence.
and Next Month's Horoscope for February
A key month for you with not only your birthday Sun in place but also a Solar Eclipse in your own sign says you need to get cracking with major decisions about your life ahead. This is a turning point for you so the path you choose from now on needs to be carefully thought through, weighing up all the different options available. You'll be more independent-minded for a few months since you'll know it's your life and should be your choices. But it doesn't mean you'll be on your own. You'll make rooms light up when you bounce in and others will appreciate your exuberance. Dynamic friends will keep you sorting out longer term plans and be throwing their energy behind your pet projects. You won't always find it easy to co-operate but their support will help, so bear with them. If there's a cash setback after mid-month, just sort out the muddle and resolve to be more on top of practicalities thereafter. Though curbing the temptation to spend on indulgences and treats may not be easy.
Year Ahead 2018
What do you want out of your life and your closest relationship? Those are your key questions through 2018 with the Eclipses in your own and your opposite sign. You'll start in a more independent frame of mind, making up your own mind what your priorities are. Though that will gradually change through mid year as you work out how to improve your emotional life. At that point being less self-sufficient and more adaptable will be the key to greater fulfilment. You can't be an island unto yourself.rnJupiter at your midheaven will bring success your way, so whatever you touch at work or in your community activities will work out faster and better than you expect. You'll glow with pleasure at the appreciation coming your way.rnHaving to juggle the demands of an extra-busy everyday schedule will scramble your brain at times, so stay focussed, make out to-do lists and take every chance you can get to wind down and de-stress. Money muddles may occur since you'll overlook important details or leave it to someone else. Going on a wing and a prayer usually doesn't work well where finances are concerned. So be sensible, better organised and not overly generous.rnKeeping an eye on health and fitness will also be an idea from July onwards, since you'll need to boost your stamina however you can. And not overload yourself. If you can reach better agreements with close partners then they can help take the load off your shoulders.rnLate in the year a wider circle of fun and enthusiastic friends will brighten your spirits.