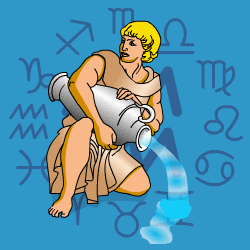 Aquarius
January 21 - February 19
---
Today's Horoscope for Monday October 22nd
Being around too many people will make you feel overwhelmed at times today. Use the time wisely to explore your past and to understand yourself better. Don't be wary about what you might discover. It could be better than you imagine. If you are frustrated because companions are shutting off what you are saying, then you need to rethink your approach. Sometimes the harder you push, the more they resist. Gentle persuasion will work best, or even be slightly devious.
The Weekly Outlook from 22nd October
The Full Moon falling at the lowest point of your chart is a warning that you need to draw back from work to consider your feelings more. You can't allow your head to over rule everything and forget your heart. Though truthfully at times you'll want to throw life up in the air. It's a time to be curious, to use your imagination. You're feeling very alert, quick-witted, but quite wound up as well - like an over strung harp in some ways.
Your Monthly Horoscope for October
In your element with no one cramping your style, you'll be talking animatedly, spreading your views around, thinking up grand schemes and wanting to travel if you can. Circumstances may not allow you to move around as much as you'd like so you'll need to find other ways of injecting more adventure and stimulation into your life. Your social life will be fun with invites to special occasions so you'll be putting extra effort into your wardrobe and appearance. There will be occasional moments where you feel anchors dragging you back into the past. Try to clear your feet as quickly as you can and leave old resentments behind. After the 10th you'll be in demand for your views at home and at work so there's no sense in holding back. Throughout the month you'll be pushing ahead with vigour, allowing nothing to stand in your way. An surprise in the home or at home in the final week may tempt you to leap into action. Keep your focus steady on what's really important. This is your time to shine out at work or in your community activities, so don't be distracted.
and Next Month's Horoscope for November
You'll be on a high but not sailing along on a pink cloud top. Your more prominent position for three weeks at work or in your community activities will mean you'll be out and about, putting your talents on display and being looked up to with admiration and appreciation. This won't be the time to hide away and be shy or modest. Be bold and make your mark. Mars will be revving up your engine till mid month so you won't be short of courage or energy. Your optimism will soar after the 8th and your friendship circle will widen not just this month but for the year ahead. Thereafter you'll be swinging along in a cheerful mood and turning your attention to improving your finances. Effort will pay off though you'll need to control your impulses to spend if you want to end up with surplus. In the final weeks you'll be into a friendly, forward-looking few weeks with no shortage of great company. Just have a care since not all the advice coming your way will be reliable. It won't be deliberate deception more overly confident and unrealistic.
Year Ahead 2018
What do you want out of your life and your closest relationship? Those are your key questions through 2018 with the Eclipses in your own and your opposite sign. You'll start in a more independent frame of mind, making up your own mind what your priorities are. Though that will gradually change through mid year as you work out how to improve your emotional life. At that point being less self-sufficient and more adaptable will be the key to greater fulfilment. You can't be an island unto yourself.rnJupiter at your midheaven will bring success your way, so whatever you touch at work or in your community activities will work out faster and better than you expect. You'll glow with pleasure at the appreciation coming your way.rnHaving to juggle the demands of an extra-busy everyday schedule will scramble your brain at times, so stay focussed, make out to-do lists and take every chance you can get to wind down and de-stress. Money muddles may occur since you'll overlook important details or leave it to someone else. Going on a wing and a prayer usually doesn't work well where finances are concerned. So be sensible, better organised and not overly generous.rnKeeping an eye on health and fitness will also be an idea from July onwards, since you'll need to boost your stamina however you can. And not overload yourself. If you can reach better agreements with close partners then they can help take the load off your shoulders.rnLate in the year a wider circle of fun and enthusiastic friends will brighten your spirits.