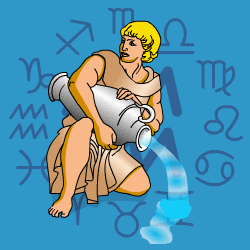 Aquarius
January 21 - February 19
---
Today's Horoscope for Wednesday December 13th
Get your original, experimental ideas out into the world. You can make a difference by what you say, and perhaps motivate companions out of their ruts. You may not be a list-making person, but it might be good idea, because you could end up forgetting things. Too many ideas are chasing round inside your head so you are at risk of getting in a muddle. You've got to have some kind of structure to what you're saying otherwise you will not communicate clearly.
The Weekly Outlook from 11th December
You may find some slower mates aren't doing very well because they can't keep up with you. But the important thing is that you suit yourself. It's not a good idea to settle down to doing what other people want you to do. Venus emphasised this week wants everything to be harmonious. So you'll be gliding over unpleasant edges, sliding round awkward situations and moving towards the people you really want to be around.
Your Monthly Horoscope for December
Known for your maverick streak, you may go slightly over the score early on with a few pithy comments out of exasperation at being hemmed in. You won't care what anyone thinks. But you'll need to put the brakes on fairly sharply since Neptune will be casting a mist of confusion around and not everything will be as it seems. You'll rely on a wide circle of good friends and team mates to give you sensible advice and stop you looking back over your shoulder. Your popularity will soar since you'll be able to put everyone around at their ease. From the 9th you'll be roaring ahead, keen to achieve your goals and ensure that others work every bit as hard as you do. You'll be laying down the law which may not always go down well, so try to sweep everyone up in your enthusiasm. A significant shift in attitude from the 20th will find you more inward looking. Both Saturn and the Sun move into the sign before yours, so you'll want to step back from too much rushing around, to recharge your batteries and take stock.
and Next Month's Horoscope for January
Powering ahead with great determination and confident that whatever you attempt will work out well, you'll be on the crest of a wave. At least as far as others are concerned. Though behind the scenes you will be puzzling over highly personal dilemmas and unclear how to sort them out. Try not to get so sunk in concerns that you can't see the wood for the trees. You will get a flash of enlightenment along the way which will make everything clear. Accept the praise and admiration coming your way as well-deserved and enjoy it. Even if you get scattered towards mid month you'll still have your wits about you and make the right choices. Then suddenly you'll step out into a fun phase, looking great, and keen to make waves. Everyone will sit up when you come into rooms since you'll be quite a presence.
Year Ahead 2018
What do you want out of your life and your closest relationship? Those are your key questions through 2018 with the Eclipses in your own and your opposite sign. You'll start in a more independent frame of mind, making up your own mind what your priorities are. Though that will gradually change through mid year as you work out how to improve your emotional life. At that point being less self-sufficient and more adaptable will be the key to greater fulfilment. You can't be an island unto yourself.rnJupiter at your midheaven will bring success your way, so whatever you touch at work or in your community activities will work out faster and better than you expect. You'll glow with pleasure at the appreciation coming your way.rnHaving to juggle the demands of an extra-busy everyday schedule will scramble your brain at times, so stay focussed, make out to-do lists and take every chance you can get to wind down and de-stress. Money muddles may occur since you'll overlook important details or leave it to someone else. Going on a wing and a prayer usually doesn't work well where finances are concerned. So be sensible, better organised and not overly generous.rnKeeping an eye on health and fitness will also be an idea from July onwards, since you'll need to boost your stamina however you can. And not overload yourself. If you can reach better agreements with close partners then they can help take the load off your shoulders.rnLate in the year a wider circle of fun and enthusiastic friends will brighten your spirits.