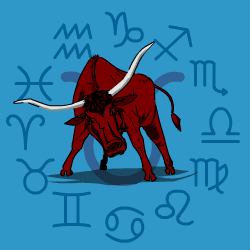 Taurus
April 21 - May 20
---
Today's Horoscope for Wednesday July 18th
Certain people may find you a little threatening as you obviously intend to take over the decision-making role. Be aware that charging ahead in a headstrong way could run you into problems. You may find that your emotional state could affect your physical well-being, so you need to look to the state of your heart as well as looking after your body. Finding the right food to eat and not over-stressing yourself is important if you are to be as dutiful as you wish.
The Weekly Outlook from 16th July
This is a week to deal with people with a bit of dignity and restraint.You're not going to be bouncing in and giving everyone kisses and lots of hugs. Older people will appreciate your straightforward kindness and concern for their practical needs. Your energy is being channelled into achieving your ambitions at work and in your community activities. Though at times you may find it difficult to understand people who lack your drive. Try to remember that everyone is different.
Your Monthly Horoscope for July
Skipping along at speed, you'll be talking constantly and scattering your energy in all directions. Close partners will be keeping up offering helpful hints and constant encouragement. At times you may come across as bossy since you'll expect everyone to follow your lead. But your enthusiasm will be infectious as long as you don't get too forceful. There may be delays in travel plans towards mid month or differences of opinion. Try to be tolerant and open to feedback from those who don't agree. The Cancer Solar Eclipse hints that organising your everyday routines to streamline your efficiency will assist in the months ahead of a busy schedule. So will getting your views across clearly and succinctly. Don't race ahead so fast that you forget to check that you've been understood. After the 22nd you'll slow down to spend more time at home and be making decisions about how to reorganise your family and domestic life ahead.
and Next Month's Horoscope for August
Although you'll want to be pushing ahead with ambitious plans, you'll know that your first priority is home and family for three weeks. Putting down roots and making whatever changes you feel necessary both in family relationships and practical domestic arrangements will bring you fulfilment in the months ahead. The Solar Eclipse hints that heart is more important than head. You won't always feel co-operative, indeed early on you may stamp your foot and cause a few upsets. Luckily one close partner will be laid-back and happy to offer support. You may be over eating at points since richer and sweeter food will be tempting. Then you'll set your sights higher from mid-month, keen to be off adventuring and certainly intent on spreading your enthusiastic opinions in all directions. Romance, fun and enjoyment will come with the Virgo Sun from the 23rd for four weeks as you set out on a giddy social whirl.
Year Ahead 2018
Your Eclipse year in 2018 divides into an ambitious, high-flying phase first half; and then after midyear, a home and family focussed phase. Making your mark and getting your talents out on display early on will be a priority. This is no time to be a shrinking violet. The support and enthusiasm of close partners will be there for you throughout. Not only will they keep your hopes high, you'll enjoy sharing more activities with them and dreams.rnYou won't feel as restricted financially and emotionally as you have been over the past two years. But your experiences have made you more resilient and given you the experiences which will stand you in good stead ahead. Your restlessness will not diminish.rnIndeed by mid year you'll be ready to throw caution to one side and be as rebellious and independent-minded as you please. This will be a major turning point for you, running on for years to come. You won't care what anyone says or thinks, you'll walk your own path. Just try not to get too heavy in discussions, since you'll be challenged on your viewpoint at times and may perhaps have to adjust your outlook. Money will roll through more easily towards the year end either through partner's generosity, joint ventures or just plain luck. You'll also be lowering your defences and inviting more intimacy into your life.