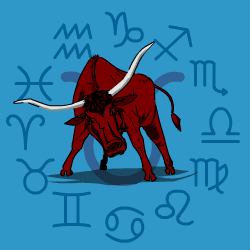 Taurus
April 21 - May 20
---
Today's Horoscope for Friday November 16th
You may find flirtations spring up around your everyday chores. You will take pleasure in doing things with care. Your lucky touch is working well, though you are also likely to be extravagant and spend it as fast as you make it. But it will be enjoyable. You will find yourself in higher gear at home. You are determined to get things into shape but do beware a tendency to be a little too sharp at points. You could hurt sensitive feelings.
The Weekly Outlook from 12th November
People may be holding you back, but sometimes they give you more security than you might recognise. If you push them away too hard they might not be around later when you want to reverse a little and get a hand to hold and a shoulder to lean on. You have had recently a time of making decisions on your own and being bossy but now you are happy to submerge your feelings in group situations, though co-operation won't always be easy.
Your Monthly Horoscope for November
Togetherness will be one of your themes this month and you'll want a helping hand to lighten your load. Socially you'll be in demand for your knack of making everyone you meet feel special. Partners will appreciate your selfless actions in making them happier. It won't be a strain since you know you'll get your rewards on that front soon. Your dedicated efforts to push one project ahead will be showing progress. Beneficial changes will creep up gradually from week 2 onwards for a year ahead as you make the transition from the past to the future much more easily than you expect. Money will also come in with less effort from partner's generosity or just sheer luck. You'll start to drop your defences so close partners will be moving closer. Energetic friends will spur you on after midmonth, keen to ensure you sort out long term plans and enjoy yourself. A more confidential phase starts in the final week with a generous present or dollop of cash coming in.
and Next Month's Horoscope for December
Energetic friends will be pushing you into forward gear but you'll refuse to be hurried along. You'll be keen to honour old obligations, and sort out confidential matters, financial and emotional. You'll be treading carefully being neither too submissive nor too demanding with those you share joint responsibilities with. You know you can't get it all your own way but will need to compromise to reach agreements which are fair to all. It will feel like a slow slog at times but endurance is your middle name. One plan may turn out to be a mirage around the 7th but you'll write it off as a learning lesson and move on. From mid month you'll redouble your efforts to find the answer to a dilemma which has seemingly no escape route. By the 20th you'll be beaming with delight as tensions lift and new opportunities point a new way ahead. The Capricorn Sun in the final ten days will lift your spirits and your enthusiasm as your intense mood lifts and you'll be off looking for pastures new.
Year Ahead 2018
Your Eclipse year in 2018 divides into an ambitious, high-flying phase first half; and then after midyear, a home and family focussed phase. Making your mark and getting your talents out on display early on will be a priority. This is no time to be a shrinking violet. The support and enthusiasm of close partners will be there for you throughout. Not only will they keep your hopes high, you'll enjoy sharing more activities with them and dreams.rnYou won't feel as restricted financially and emotionally as you have been over the past two years. But your experiences have made you more resilient and given you the experiences which will stand you in good stead ahead. Your restlessness will not diminish.rnIndeed by mid year you'll be ready to throw caution to one side and be as rebellious and independent-minded as you please. This will be a major turning point for you, running on for years to come. You won't care what anyone says or thinks, you'll walk your own path. Just try not to get too heavy in discussions, since you'll be challenged on your viewpoint at times and may perhaps have to adjust your outlook. Money will roll through more easily towards the year end either through partner's generosity, joint ventures or just plain luck. You'll also be lowering your defences and inviting more intimacy into your life.