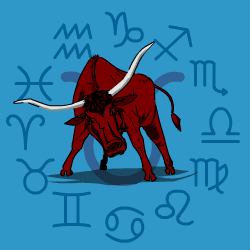 Taurus
April 21 - May 20
---
Today's Horoscope for Tuesday May 22nd
A calm atmosphere makes you feel settled, while angry words get your more on edge than usual. Just remember to stand up for yourself since you can give in too much just to keep the peace. Your light, airy approach is exactly what is required in special situations at the moment. Ignore those who say you sound too cool and detached. There is a time for passion and this isn't it. Keep throwing around compliments, cracking jokes and being the entertainer and diplomat.
The Weekly Outlook from 21st May
You will fight to defend your rights and get your due, but don't be too possessive. Flow with the bounty of the universe and it will flow back in your direction. Trying to be in control all the time can sometimes backfire. The outcome of whatever you are tackling now should be better than you had hoped. You will get results as long as you keep your feet on the ground and don't let an adrenaline rush send you off to do anything too wild.
Your Monthly Horoscope for May
Your birthday Sun aligned across the zodiac with Jupiter will put you in good humour, hoping for miracles and finding that your luck does hold. Though a hint of caution would not go amiss. Close partners will be enthusiastic though not always realistic so take their advice with a pinch of salt. You'll continue spreading your opinions around vigorously, keen to inform everyone within earshot. By mid-month you'll be in the mood to set off on a new adventure, unconcerned what anyone says or thinks. You'll throw tradition and convention to one side and step out boldly to be yourself. A wardrobe and image makeover will be in order as you want to show a different face to the world in the time ahead. More independent-minded, you won't always want to co-operate so you'll need to come to an agreement with those close which allows for a longer rein. After mid-month you'll be pushing ambitiously ahead and turning your attention to improving your finances.
and Next Month's Horoscope for June
Your charming way with words will bring favourable responses from everyday mates at work and in the neighbourhood. They'll be appreciative in return. Though one friend may be acting evasively and not answering straight questions. Try to be forgiving rather than critical since they may be preoccupied for reasons they aren't willing to divulge just yet. You'll be swithering and dithering abut one future plan but there's n sense in forcing yourself before the time is right. Just coast along and keep a weather eye on your personal finances. You'll be tempted to spend which will be fun, but taking the initiative to improve your security moving ahead will also be a good idea. Loved ones at home will be keen to pamper you after mid month so you'll relax and enjoy. Though a busy schedule after the 21st will need to be fitted in round indulgent moments. If there's a difference of opinion towards the 27th or even travel delays, stay calm and it'll all blow over.
Year Ahead 2018
Your Eclipse year in 2018 divides into an ambitious, high-flying phase first half; and then after midyear, a home and family focussed phase. Making your mark and getting your talents out on display early on will be a priority. This is no time to be a shrinking violet. The support and enthusiasm of close partners will be there for you throughout. Not only will they keep your hopes high, you'll enjoy sharing more activities with them and dreams.rnYou won't feel as restricted financially and emotionally as you have been over the past two years. But your experiences have made you more resilient and given you the experiences which will stand you in good stead ahead. Your restlessness will not diminish.rnIndeed by mid year you'll be ready to throw caution to one side and be as rebellious and independent-minded as you please. This will be a major turning point for you, running on for years to come. You won't care what anyone says or thinks, you'll walk your own path. Just try not to get too heavy in discussions, since you'll be challenged on your viewpoint at times and may perhaps have to adjust your outlook. Money will roll through more easily towards the year end either through partner's generosity, joint ventures or just plain luck. You'll also be lowering your defences and inviting more intimacy into your life.