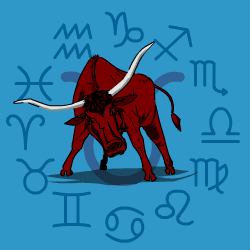 Taurus
April 21 - May 20
---
Today's Horoscope for Saturday September 22nd
Companions may quail a little when you come around at the moment since you are so observant. Try to let them know your intentions are basically good hearted behind your clinical approach. Don't get jealous or down if a friend seems to pay more attention to someone else, because it will pass quickly. The Moon around now is rather fickle, so things tend to be good one moment, not so good the next. Just let it all ebb and flow.
The Weekly Outlook from 17th September
Think about anger as blocked assertion and you can see why it is better to express what it is you need, and more importantly what you don't need. The trouble is when you don't assert yourself enough, resentment builds up and then suddenly you let fly. Try to find a little tact and subtlety as a counter balance, and sweep companions up in your enthusiasm. You should be able to praise yourself for your accomplishments at the end of this time.
Your Monthly Horoscope for September
A fun-loving, sociable and popular few weeks will find you on sparkling form. You'll be in the spotlight of loved ones' attention as well as kicking up your heels with friends. Your witty line of jokes and entertaining conversation will keep you centre spotlight, so any thoughts of work and duty are likely to go out of the window. Venus in your opposite sign of Scorpio from the 9th will increase your romance and enjoyment-quotient, with compliments and invitations coming your way. You'll make everyone you meet feel special. A pet project will get the go-ahead in the second week, so your confidence will soar. Luck will be on hand. You'll be laying down the law and expecting everyone to dance to your tune after mid month. Try not to rock the boat too hard or be too unco-operative since you will be in a rebellious mood. In the final week you'll push frivolities to one side and get back to more serious matters.
and Next Month's Horoscope for October
Hard work won't be in short supply with the Sun in a decidedly unglamorous area of your chart for three weeks. So knuckle down, do what needs done and don't expect too much praise. Just pat yourself on the back for what you achieve in a modest way. At times as you forge ahead you may wonder why those around are dragging their heels. Getting bossy isn't the answer. Be understanding that they're not as motivated as you. Looking after health and fitness will be important since you'll be putting energy out. Luckily the affectionate support of a close partner will keep you in good spirits. You'll also be in demand out on the social scene for your knack of making everyone you meet socially feel special. In the final week you'll feel inclined to stage a minor rebellion or rock the boat in some way with a close partner. Be cool, you may want to backtrack from impulse decisions a few days later.
Year Ahead 2018
Your Eclipse year in 2018 divides into an ambitious, high-flying phase first half; and then after midyear, a home and family focussed phase. Making your mark and getting your talents out on display early on will be a priority. This is no time to be a shrinking violet. The support and enthusiasm of close partners will be there for you throughout. Not only will they keep your hopes high, you'll enjoy sharing more activities with them and dreams.rnYou won't feel as restricted financially and emotionally as you have been over the past two years. But your experiences have made you more resilient and given you the experiences which will stand you in good stead ahead. Your restlessness will not diminish.rnIndeed by mid year you'll be ready to throw caution to one side and be as rebellious and independent-minded as you please. This will be a major turning point for you, running on for years to come. You won't care what anyone says or thinks, you'll walk your own path. Just try not to get too heavy in discussions, since you'll be challenged on your viewpoint at times and may perhaps have to adjust your outlook. Money will roll through more easily towards the year end either through partner's generosity, joint ventures or just plain luck. You'll also be lowering your defences and inviting more intimacy into your life.