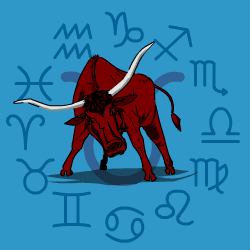 Taurus
April 21 - May 20
---
Today's Horoscope for Wednesday December 13th
Maybe you'll feel a little highly strung or wound-up but you can make good use of your hyper-active state. You want to get right down to the roots of things, and will keep digging and investigating until you find out the answers and solutions which make you feel secure. You will be absolutely on the ball where discussions are concerned, having more than enough ideas of witty suggestions to keep the conversation flowing. Just make sure you are not being too sharp at points.
The Weekly Outlook from 11th December
This is not a time to sit around and relax: you will want to be on your toes, to keep moving. You also need to make sure that you are doing as much as you can to learn new subjects. You will want to be surrounded by elegance, sophistication and good taste. So make the effort to get out to appreciate nature, or be around something beautiful in terms of art or music. You could also try to put your own creative talents into practice.
Your Monthly Horoscope for December
In a highly restless mood, you'll want to take a bold move. But be wary of leaping before you look, since you'll only have to backtrack a few days later. Ask yourself instead what is it that you really want to be doing with your life and plan sensibly before pushing forward. The problem is you've probably no clear idea but dislike being stuck. Just take it calmly otherwise you'll trip over your feet. Close partners will be firing on all cylinders after the first week so you'll need to keep pace with them. Co-operation will work better than getting into arguments. Take time out to mull over a few confidential matters which are hanging fire until you reach agreements with those close. You'll clear the air by the end of the month. In the final days you'll find that travel delays are more likely so you'll need a Plan B up your sleeve or other ways of occupying yourself while you wait. Happily you'll be surrounded by fun and stimulating friends.
and Next Month's Horoscope for January
With the wholehearted support of one close partner and good social mates, you'll go far. In an adventurous mood, you'll be aiming high, keen to broaden your horizons and bring more excitement into your life. OK so there may be travel delays or differences of opinion early on. But with patience and a softer approach in discussions, you'll overcome whatever is standing in your way. Your social circle will be wide with more fun activities to enjoy. But it is that special other who will boosting your morale and encouraging you to follow your dream. They will firing on all cylinders and happy to throw their energy behind your plans. Just after midmonth you'll know which relationships really do have potential for development. Venus and the Sun at your midheaven later will find you in a higher profile situation, charming all the right people and attracting rather intriguing invitations.
Year Ahead 2018
Your Eclipse year in 2018 divides into an ambitious, high-flying phase first half; and then after midyear, a home and family focussed phase. Making your mark and getting your talents out on display early on will be a priority. This is no time to be a shrinking violet. The support and enthusiasm of close partners will be there for you throughout. Not only will they keep your hopes high, you'll enjoy sharing more activities with them and dreams.rnYou won't feel as restricted financially and emotionally as you have been over the past two years. But your experiences have made you more resilient and given you the experiences which will stand you in good stead ahead. Your restlessness will not diminish.rnIndeed by mid year you'll be ready to throw caution to one side and be as rebellious and independent-minded as you please. This will be a major turning point for you, running on for years to come. You won't care what anyone says or thinks, you'll walk your own path. Just try not to get too heavy in discussions, since you'll be challenged on your viewpoint at times and may perhaps have to adjust your outlook. Money will roll through more easily towards the year end either through partner's generosity, joint ventures or just plain luck. You'll also be lowering your defences and inviting more intimacy into your life.