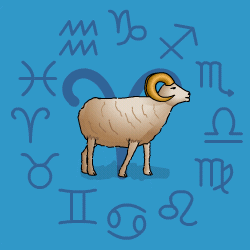 Aries
March 21 - April 20
---
Today's Horoscope for Tuesday March 20th
If you can talk about your feelings to others, you'll find that they respond positively, and you will probably get back what you give out. Financially you will negotiate well, not because you're practical, but because you're exceedingly charming and very persuasive. This is the start of your birthday month so you fully intend to suit yourself. This is the time of year to lay down plans for the next twelve months. You will need to work out what will suit you and get cracking with plans.
The Weekly Outlook from 19th March
Everyone should respond well to your presence since you are so warm and outgoing. Your constitution should feel stronger than usual. Later in the week you will need to be sensible since with Mars around you could go rushing in where angels fear to tread. You're not in a mood to concentrate on practical details, but your mind is sharp and clear. Try to find some way of using that without flaring up about trivial irritations.
Your Monthly Horoscope for March
Staying out of sight and taking it easy really isn't your style so you may be prowling around restlessly with the Sun in the sign before yours till the 20th. Remember that even a dynamically supercharged sign like yours does need to recharge along the way, so winding down will do you good. In quiet moments inspiration may hit you so it won't be wasted. Luckily after the 6th you'll still be able to charm and entertain everyone around with your wit and wisdom. You'll talk rather than listen, pour out the compliments effortlessly and generally keep the peace. Even when your overly strong opinions sometimes escape and cause irritation, you'll quickly smooth over problems. Slowly but surely you'll sense you're getting more control over your life and pushing it the way you intend it to go. After mid month you'll start building up a head of steam, pushing ambitiously ahead and be on top form in the final days.
and Next Month's Horoscope for April
Bouncing with high enthusiasm you may run into a couple of delays or setbacks initially and one late on. This will leave you fuming and fretting, flying off the handle and being none too tactful. Just bear with what you can't change and sort out what is possible at work or in your community activities. As compensation you'll be spending happily on treats for yourself. Gradually you'll clear the decks of problems and challenges and be ready to roll, with your confidence soaring after the 11th. There'll be good news on the cash front, as well as praise coming your way. You'll sense you are back in control and able to get pet projects speeding ahead successfully. Hard work will keep you fully occupied all month with little let-up. But you will see results and be learning a good deal from your experiences. The Taurus Sun in the final days will allow for more pleasure though you'll keep you eye firmly on your finances and long-term security.
Year Ahead 2018
Home, friends and romance are all areas highlighted by 2018's Solar Eclipses so will be your priority. Review, discuss and adjust what isn't suiting you any longer. Happily Jupiter moving through Scorpio will allow you to embrace change in a positive way, with beneficial results, emotionally and financially. Money will come in unexpectedly and you'll let your defences down to allow for more intimacy. Though towards midyear you'll find your finances move into a roller coaster phase, both up and down, so you'll need to budget sensibly.rnIn your career or community activities you may be weighed down by work and responsibilities so will be sticking to the straight and narrow. Everything you've pushed and prepared for should be bringing in a harvest. Though past mistakes may also surface to be sorted out.rnIn the first few months you'll be widening your circle of friends and sorting out longer term plans. With a major push from March onwards to move towards your goals and fulfil your ambitions. It'll feel like pushing boulders uphill at points but perseverance will win through.rnThen from midyear you'll want to slow down to focus on family and domestic matters and to liven up your social life. It won't be easy juggling close relationships and duties in the outside world. But needs must for a fulfilling life. From November you'll be aiming higher, keen to broaden your horizons and find time for adventures or more stimulating hobbies.