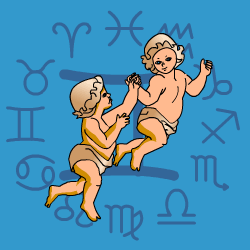 Gemini
May 21 - June 21
---
Today's Horoscope for Sunday November 19th
Mars in aspect to Pluto does not lead to flare-ups or tensions coming out into the open. Quite the reverse. Everybody sulks and broods and gets bad-tempered. Try to keep your sense of humour handy. You do have a capacity to handle joint finances well but must try at the moment to avoid committing yourself to situations which may make you feel trapped in the days ahead. Just tread softly, move cautiously, and check out all the options before coming to a decision.
The Weekly Outlook from 13th November
This week you will be outgoing and feeling more upbeat. It is important to watch a lack of discipline though, because you basically can't be bothered doing anything too hard-working. Maybe you feel controlled by people who are very determined to have all the power. Often it is awkward to know how to handle them for the best. The more you try to push back, sometimes the worse they get, and you end up in no win disagreements or battles.
Your Monthly Horoscope for November
Mars, the fiery planet of high-octane energy will be keeping you bouncing on a round of social events and fun occasions, where you'll project yourself with vigour. Try not to order loved ones around since they won't appreciate it. You'll also be juggling a pile of chores and busy work schedule since there will be heavy demands on your sense of duty and responsibility. So it'll be vital to boost your stamina however you can. Overeating may be a temptation as you whizz around working and playing hard. Be prepared to make adjustments in the way you handle joint projects with close partners. Finding a new approach or a more positive attitude of mind will make all the difference. Getting uptight about situations you can't change won't help. Then from the 22nd you'll be hand in hand walking together, knowing that your recent efforts have cemented the right bonds even closer than before.
and Next Month's Horoscope for December
A hot rush of blood to the head and you'll stamp your foot and throw caution to the winds on the 1st. Your passionate enthusiasm will send you haring off in a direction that may not be entirely wise. Two days later you'll subside into a puddle of doubt and low energy and question your actions. But at least you'll have wakened yourself up. Luckily close partners will offer a steadying hand and a few practical hints so listen to what they have to say. They'll also be affectionate and you'll be in demand socially, so any mis-steps will be quickly forgotten. Hard work will be unavoidable after the 8th with Mars in Scorpio for a few weeks, so you'll knuckle down and be both practical and perfectionist. Try to delegate when you can otherwise you'll over burden yourself. In the final days you'll be thrown back on your own resources financial and emotional, but be a tower of strength for others. You may feel the universe is being ungenerous but through your experiences you'll gain in resilience and inner strength.
2017 Year Ahead
As the sign of the twins, you have a reputation for being both light and shade, sometimes enthusiastic, at others veering to the dark side. 2017 will offer you a chance to live both to the full. Jupiter until October will find you playing away the day, throwing old self-doubts to one side and stepping out exuberantly onto the social scene and at work. Your positivity will be infectious and since you'll be putting a higher value on yourself so will everyone else.rnBut you'll also continue to wrestle with highly confidential and secret dilemmas which will prompt you to ask searching questions about the fundamentals of your life and those close. You'll want to tear down pretence and get down to the roots of problems. You may feel trapped by old obligations but that is nothing new so you'll accept what you can't change and be determined about putting new schemes in place when you can. New friends will be mavericks, not always around, but they will open your mind to new ideas.rnClose relationships will continue to be cool but the loyal bonds will stay rock solid. Try to curb criticism since it won't help. If you stand steady, there'll be a real opportunity for you both to move forward together with new agreements in place. Affectionate friends will be more in evidence than before.rnAt work, the message is as last year, be as helpful as you can and don't push for ego-centred ambitions. Oddly enough, the more caring you are, the more successful you'll be. From October onwards you'll find a more enthusiastic mood around at work, with support and a fun around. Your health will also get a lift from Jupiter in Scorpio for the year ahead.