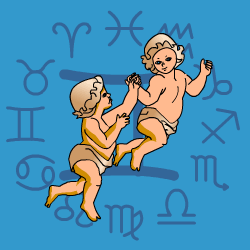 Gemini
May 21 - June 21
---
Today's Horoscope for Saturday September 22nd
Mates secretly admire your courage for being so outspoken, though at times they wonder about your lack of humility.Clearly you've decided you're not getting enough attention at home, so you have to go out into the world and get it. You will be very responsive to the mood around you at work, and therefore good about handling group situations. You have incentive and ambition, but you're putting it across in a very nice, protective kind of way for other people.
The Weekly Outlook from 17th September
Uranus emphasised this week is prompting you promoting you to alter your behaviour or your attitude in some way. Often it helps you shine light on hidden places. Suddenly you become aware of a facet of a situation which had never struck you before. It can be unsettling but it can also be very liberating. You will feel a renewed sense of excitement after recent delays. You will be in an unusually vocal mood wanting to shout your opinions from the rooftops.
Your Monthly Horoscope for September
Tucked away happily at home and surrounded by the family, you'll be content to let life idle by until the 23rd. Giving yourself a chance to reflect on recent events will put them in perspective and you'll also be recharging your batteries. The more you talk to loved ones the better agreements you'll get for the future and old muddles can get sorted. You'll be free of the foot-dragging mood of the past few weeks over confidential matters as Mars moves into Aquarius on the 11th. You'll be aiming high, thinking big and spreading your enthusiastic opinions around. A matter involving money and your domestic life will be resolved to your satisfaction and you'll be forging ahead in good spirits. After mid month you'll need to put the brakes on one scheme since over-confidence could send you in a direction that wouldn't be wise. You'll be restless and wound-up, so take a deep breath and do nothing in haste. In the final few days you'll be in a party mood.
and Next Month's Horoscope for October
Fun, love and laughter will keep you in good spirits for three weeks with the Sun in your chart area of romance and entertainment. You'll have an appreciative audience with loved ones rallying round to compliment and adore you. You will have odd moments where you feel stuck, held back by old obligations you can't shake off or by circumstances beyond your control. But in general you won't let anything dent your good humour. Over indulgences may be a temptation since richer and sweeter food will be all too irresistible. And exercise won't be tempting either. You'll be spreading your enthusiastic opinions in all directions keen to convert those around to your views. But getting too forceful may backfire. Gentle persuasion will work faster and with less aggravation. After mid month your restlessness will spill over into what may turn out to be badly-thought through schemes. Take time to ask yourself why you feel hemmed in and whether there isn't a better way of giving yourself elbow room. Duty will take priority in the final week so you'll need to get organised and more practical.
Year Ahead 2018
More serious than usual as 2018 opens, you'll be carrying heavier responsibilities, financial and emotional, for loved ones and partners. You will feel thrown back on your own resources for a while but will grow stronger as a result of coping and the lessons you learn will stand you in good stead for the future.rnLuckily you'll feel healthy and recover quickly from minor ailments with Jupiter in Scorpio till late year. Workmates will be enthusiastic and supportive so you should whizz on through your chores. If old obligations weigh on you, this is no new thing, just a reinforcement of the message that no life is entirely carefree. Change what you can and accept what you can't. That way comes peace of mind.rnAdventurous and zany friends will keep you well entertained early on, with plenty of fun diversions. Keep your sights high and aim to broaden your horizons however you can. A sea change midyear will find you exploring secrets and your own hidden depths. Life will bring moments of insight and enlightenment especially in the quiet times.rnA busy phase after midyear means you'll need to manage your time well, streamline your efficiency and start making out to-do lists otherwise you'll end up running in circles. Money should come in through your own efforts, though overspending to impress won't be wise. Late in the year close relationships of all varieties will flourish. Your positive approach will prove infectious so your popularity will soar.