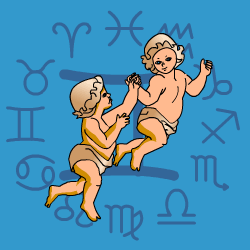 Gemini
May 21 - June 21
---
Your Birthday Horoscope
IF IT'S YOUR BIRTHDAY TODAY your year ahead will be extravagant and indulgent, though slightly stuck at times. There'll be a good many confidential matters, financial and emotional to tackle, which won't find fast solutions. Persistence and flexibility will help and being sensible about your long term security. There'll be enthusiasm around work with more support and from the year end close partnerships of all varieties will flourish with more shared interests.
Today's Horoscope for Tuesday May 22nd
You want tangible gestures of affection to make you feel appreciated and wanted at the moment, either in cuddles or in presents. Venus in the signs after yours makes you emotionally rather fixed, at times rather possessive, even jealous at times. Try to be as flexible as you can. You will smooch, schmooze and generally put yourself about in a thoroughly charming fashion. Mates will adore your easy-going ways, so you should be able to pour oil on troubled waters.
The Weekly Outlook from 21st May
Everyone around should be responding well to your presence since you are so warm and outgoing. Don't over-tax or over-commit yourself. If you can keep yourself under a certain amount of control, put down a few limits, then you will be really pleased with the end results of your activities. You will be in a high flying, real dynamo of a mood, and it's just wise not to get ahead of yourself and lose some really good opportunities.
Your Monthly Horoscope for May
This should be your month for taking it easy, sitting back and letting others do the heavy lifting, at least until the 21st. It'll be a great time for pondering, planning and recharging your batteries before your new birthday year starts. Working quietly behind the scenes, pulling strings and being invisible will bring best results. You will have a good many confidential matters on your plate, financial and emotional, which are being slow to resolve, so be patient and persistent. Say less after the 13th and listen more. You may get restless and feel restricted but this won't be the time to toss caution aside. Whatever happens you'll gain insights into your past and deeper feelings which will help in the days ahead. You will want to raise your sights from mid-month and to bring more adventure into your life. You'll be spreading your enthusiastic opinions around and moving faster. Then the Gemini Sun in the final ten days will boost your morale and your energy.
and Next Month's Horoscope for June
Bouncing with exuberance, you won't be overlooked in a go-ahead month that will revive your spirits which have sagged recently. You'll be upfront, confident and keen to make a splash. Keen on adventures and anything that brings excitement into your life, you'll be aiming high and thinking big, wanting to travel further afield or broaden your horizons however you can. OK so you may find yourself directionless or undecided how best to proceed or be of help around the 7th. But that will be a passing blip. Spending money will be all too easy on extravagances and indulgences but you'll reckon you deserve it. You will get on top of details and forward financial planning from mid month. From the 13th you'll be charming the birds of the trees and smoothing out tensions, happy to have everyone around in a peaceful mood. In the final days there may be more practical matters demanding your attention with less help and generosity from others. So getting any problems resolved will fall to you.
Year Ahead 2018
More serious than usual as 2018 opens, you'll be carrying heavier responsibilities, financial and emotional, for loved ones and partners. You will feel thrown back on your own resources for a while but will grow stronger as a result of coping and the lessons you learn will stand you in good stead for the future.rnLuckily you'll feel healthy and recover quickly from minor ailments with Jupiter in Scorpio till late year. Workmates will be enthusiastic and supportive so you should whizz on through your chores. If old obligations weigh on you, this is no new thing, just a reinforcement of the message that no life is entirely carefree. Change what you can and accept what you can't. That way comes peace of mind.rnAdventurous and zany friends will keep you well entertained early on, with plenty of fun diversions. Keep your sights high and aim to broaden your horizons however you can. A sea change midyear will find you exploring secrets and your own hidden depths. Life will bring moments of insight and enlightenment especially in the quiet times.rnA busy phase after midyear means you'll need to manage your time well, streamline your efficiency and start making out to-do lists otherwise you'll end up running in circles. Money should come in through your own efforts, though overspending to impress won't be wise. Late in the year close relationships of all varieties will flourish. Your positive approach will prove infectious so your popularity will soar.