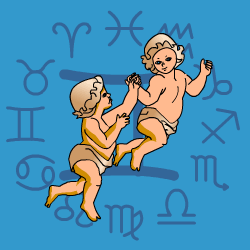 Gemini
May 21 - June 21
---
Today's Horoscope for Wednesday December 13th
Your social party chit-chat is even more sparkling than usual, so you'll be the general favourite not just with close partners but out amongst your wider circle of friends as well. This is definitely not a time for sitting still. You will be whizzing around on short-distance journeys, or writing more letters than usual, making phone calls galore. Just watch a slight tendency to tell other people exactly what you think of their inadequacies and flaws. Needless to say that won't go down well.
The Weekly Outlook from 11th December
There will be a great deal of excitement around this week; there is a lively, sparkly quality always about Uranus. You can see things in a new way that just helps you understand how the bits of the world fit together, how the jigsaw works really. This is definitely a time to be around friends, to have a good time. Relax and amuse yourself and others. You will want to avoid anything noisy, unpleasant or brash, and get away from sordid reality.
Your Monthly Horoscope for December
A hot rush of blood to the head and you'll stamp your foot and throw caution to the winds on the 1st. Your passionate enthusiasm will send you haring off in a direction that may not be entirely wise. Two days later you'll subside into a puddle of doubt and low energy and question your actions. But at least you'll have wakened yourself up. Luckily close partners will offer a steadying hand and a few practical hints so listen to what they have to say. They'll also be affectionate and you'll be in demand socially, so any mis-steps will be quickly forgotten. Hard work will be unavoidable after the 8th with Mars in Scorpio for a few weeks, so you'll knuckle down and be both practical and perfectionist. Try to delegate when you can otherwise you'll over burden yourself. In the final days you'll be thrown back on your own resources financial and emotional, but be a tower of strength for others. You may feel the universe is being ungenerous but through your experiences you'll gain in resilience and inner strength.
and Next Month's Horoscope for January
While others are kicking up their heels welcoming in the New Year, you'll be more reserved, pondering about secret matters of great importance to you personally. Up to the 9th you may feel trapped or at least held back by circumstances you don't quite understand. But it won't stop you being ultra-helpful, working hard and feeling buoyant. There will be good news on the work and health front to keep your spirits high. A friend may spring a surprise on you towards midmonth. You'll feel pulled between wanting to throw caution to the winds and feeling you should honour old obligations. Only you know which is the right way to go. A lighter-brighter, less inward-looking phase picks up from the 18th, so you'll be about socialising with lively friends, planning future holidays and keen to think big. In the final days one close partner will move into overdrive, so you'll need to speed up to stay in step with them.
Year Ahead 2018
More serious than usual as 2018 opens, you'll be carrying heavier responsibilities, financial and emotional, for loved ones and partners. You will feel thrown back on your own resources for a while but will grow stronger as a result of coping and the lessons you learn will stand you in good stead for the future.rnLuckily you'll feel healthy and recover quickly from minor ailments with Jupiter in Scorpio till late year. Workmates will be enthusiastic and supportive so you should whizz on through your chores. If old obligations weigh on you, this is no new thing, just a reinforcement of the message that no life is entirely carefree. Change what you can and accept what you can't. That way comes peace of mind.rnAdventurous and zany friends will keep you well entertained early on, with plenty of fun diversions. Keep your sights high and aim to broaden your horizons however you can. A sea change midyear will find you exploring secrets and your own hidden depths. Life will bring moments of insight and enlightenment especially in the quiet times.rnA busy phase after midyear means you'll need to manage your time well, streamline your efficiency and start making out to-do lists otherwise you'll end up running in circles. Money should come in through your own efforts, though overspending to impress won't be wise. Late in the year close relationships of all varieties will flourish. Your positive approach will prove infectious so your popularity will soar.