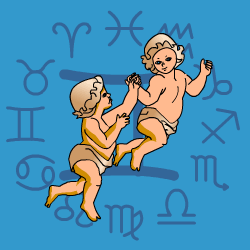 Gemini
May 21 - June 21
---
Today's Horoscope for Monday January 22nd
Partners may be less generous than usual, or even a slight financial burden on you at the moment, so you need to take care that you do not carry too many responsibilities for them. Do what you can since it is only a temporary phase but put down definite limits. The Moon at a tricky aspect to Saturn could make you seem chilly and stand offish, but really deep down inside you may be feeling shy. Try to open up to those close and explain what you really need.
The Weekly Outlook from 22nd January
Because you come across as confident and good with words you will be a popular companion at work and in your leisure activities. Your wandering instincts make it difficult for you to sit still, so you need mental stimulation to hold your attention steady. Try to throw your energy into joint cooperative ventures. If you pull together you can achieve more than you would solo, and it will also avoid confrontations which waste energy.
Your Monthly Horoscope for January
While others are kicking up their heels welcoming in the New Year, you'll be more reserved, pondering about secret matters of great importance to you personally. Up to the 9th you may feel trapped or at least held back by circumstances you don't quite understand. But it won't stop you being ultra-helpful, working hard and feeling buoyant. There will be good news on the work and health front to keep your spirits high. A friend may spring a surprise on you towards midmonth. You'll feel pulled between wanting to throw caution to the winds and feeling you should honour old obligations. Only you know which is the right way to go. A lighter-brighter, less inward-looking phase picks up from the 18th, so you'll be about socialising with lively friends, planning future holidays and keen to think big. In the final days one close partner will move into overdrive, so you'll need to speed up to stay in step with them.
and Next Month's Horoscope for February
Your head will be filled with enthusiastic plans, great ideas and a yearning to travel further afield. If you're stuck in the one place you will be taking up new hobbies, even new studies. The Solar Eclipse this month in Aquarius will urge you to keep this in mind over coming months. You need to raise your sights higher and inject more adventure or interest into your life. Close partners will be firing on all cylinders so if you can hitch your wagon to theirs, you'll go further faster together, than you would flying solo. Just try not to get into arguments over trivia which will be all too easy to do. Your social life will be more fun with new friends and entertaining venues to explore. The chores will roll along smoothly since you'll be feeling healthier with more energy, though possibly eating too much. You'll be invited out to special social events and be putting on a sparkling performance. Bear with one minor let down after mid-month, since you'll generally be hitting the heights thereafter, attracting praise and more attention. You'll be working hard, being helpful and keeping close partners calm.
Year Ahead 2018
More serious than usual as 2018 opens, you'll be carrying heavier responsibilities, financial and emotional, for loved ones and partners. You will feel thrown back on your own resources for a while but will grow stronger as a result of coping and the lessons you learn will stand you in good stead for the future.rnLuckily you'll feel healthy and recover quickly from minor ailments with Jupiter in Scorpio till late year. Workmates will be enthusiastic and supportive so you should whizz on through your chores. If old obligations weigh on you, this is no new thing, just a reinforcement of the message that no life is entirely carefree. Change what you can and accept what you can't. That way comes peace of mind.rnAdventurous and zany friends will keep you well entertained early on, with plenty of fun diversions. Keep your sights high and aim to broaden your horizons however you can. A sea change midyear will find you exploring secrets and your own hidden depths. Life will bring moments of insight and enlightenment especially in the quiet times.rnA busy phase after midyear means you'll need to manage your time well, streamline your efficiency and start making out to-do lists otherwise you'll end up running in circles. Money should come in through your own efforts, though overspending to impress won't be wise. Late in the year close relationships of all varieties will flourish. Your positive approach will prove infectious so your popularity will soar.