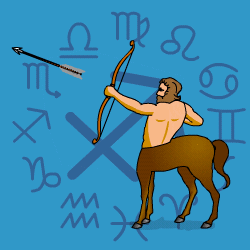 Sagittarius
November 23 - December 22
---
Today's Horoscope for Friday November 16th
You will be at your best in large social groups and team relationships at work, looking optimistically ahead. Your friendship circle is welcoming, and you will have no shortage of invitations when you feel inclined to be out and about. Your moods will be lively and unpredictable today, and you won't sit still for long. You will be skipping around looking for entertaining conversations, wanting to swap new ideas, and generally be off doing anything that is not the same as yesterday.
The Weekly Outlook from 12th November
Try to steer well clear of people who are likely to tie you down. This is a time of personal growth, new insights and better times to come if you allow yourself to step across old fears. Keep some of your wilder ideas within limits, because clearly you can't turn your life totally upside down. Mars, planet of dynamic action, is in your chart area of family matters so you may be more accident prone than usual and given to tearful scenes.
Your Monthly Horoscope for November
The three weeks before your birthday Sun emerges are always slow going, so if you're sensible you'll take time out, let others rush around, while you reflect and put your feet up more often. Not that you'll grind to a halt since Mars will be prodding you into action once in a while, making your opinions known in no uncertain manner. Your good news will arrive courtesy of Jupiter on the 8th moving into your own sign for a year ahead and starting a new twelve year cycle of growth, good luck and expansion. Your morale and enthusiasm will soar since you'll sense your guardian angel is on hand to sprinkle silver linings around. After the 15th you'll set to reorganising at home which may not always meet with approval from loved ones and the family but you'll persist in getting everything knocked into shape. From the 22nd you'll be raring to go, sprucing up your appearance and putting your best foot forward with good news keeping you smiling to the end of the month.
and Next Month's Horoscope for December
Life at home may be all over the place but your spirits will be high with your birthday Sun in place. You'll be upfront, exuberant and keen to get cracking with new resolutions. Last month's confidence dip will be gone so you'll forge ahead. Loved ones in the family will not be in agreement with all of your plans or your desire to reorganise your living space. If you sweep them up in your enthusiasm you'll do better than getting into endless arguments. You will in the first week be disappointed in their attitude, but you know that turning dreams into reality takes time and effort so you'll keep persevering. Pampering yourself in the peaceful moments in the absence of anyone else doing it will help. An expected social high spot on the 20th will find you in a mischievous mood keen to push restrictions to one side. The final days will be indulgent and expensive and you'll have fun.
Year Ahead 2018
All you really want in 2018 is a chance to put your feet up in peace and quiet, and be content. Even your own company won't be a hardship at times. As you mull over highly personal matters and put the past into perspective, you'll find you feel better about yourself.rnThere won't, however, be as much chance as you'd like to steer clear of frantic activity. The first half year will find you deluged with trips to make, people to talk to and general busyness. You'll need to streamline your efficiency and manage your time well if you're to pack everything in.rnMaking a dedicated effort to reorganise and retrieve your finances will also be a priority. Saturn now in Capricorn hints there may be less to play with than in the past, a need to tighten your belt and put in some serious thinking about how you can maximise your assets and build your security long term. Inspiration will come in quiet moments to put you on the right track.rnYour social life will be sparkling at times and rather bare at others, so you'll find that it's feast or famine. Loved ones, especially children, may be a touch erratic or rebellious. And you may be disappointed about not having the ideal home and family life you'd like. Be realistic and forgiving and you'll feel happier.rnFrom mid year, you'll be keen to broaden your horizons and find new interests, or, ideally, travel further field. Whether you're taking up new hobbies and studies or on the road to adventure, you'll feel more energised.rnDeeply personal and confidential matters, both financial and emotional, will also preoccupy you. Persuading yourself to change the habits of a lifetime and share, care and cooperate in a more engaged way may not be easy but it will bring its rewards.rnLate in the year lucky, enthusiastic Jupiter moves into your sign to start a new 12 year cycle of good luck and expansion in your life.