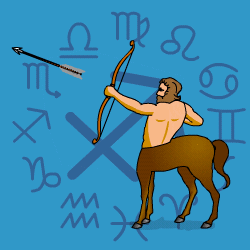 Sagittarius
November 23 - December 22
---
Today's Horoscope for Monday January 22nd
With Saturn putting the brakes on your spending at the moment, you are learning to be better disciplined where money and possessions are concerned. You do have a feeling that you do not have enough or what you have may be at risk. Caution may be a good thing, but don't always look on the gloomy side. Later you will smooch, schmooze and put yourself about in a thoroughly charming fashion. Mates will adore your easy-going ways, so you should be able to pour oil on troubled waters.
The Weekly Outlook from 22nd January
Restless and versatile, you seem to know a little about a good many subjects at the moment. Maybe you are scattering your attention in too many directions at once, or across too wide a field. Any obstacles that appear will be swept aside and people who oppose you will get short shrift. Your temper is not likely to be as its smoothest so some diplomacy will be needed. But your blunt approach is what is needed to achieve your aims.
Your Monthly Horoscope for January
Finding a balance between quality time for yourself and a dedicated push to improve your personal finances may not be simple. But it is do-able. You just need to parcel out your days into compartments. Getting your cash situation rebooted is of vital importance, though that won't stop you spending happily as irresistible treats catch your eye. Try to avoid getting too stubborn or obsessive in your approach. Flow with the bounty of the universe and it'll flow back to you. In private moments you'll be aware of a growing sense of inner self-esteem. Despite hold ups in a few pet projects you'll be quietly confident about their outcome. You won't have to wait for long. By the month's end you'll be surging ahead. Indeed after midmonth you'll find your everyday schedule is more varied, chatty and entertaining. You'll have a definite twinkle in your eye and a lilt in your walk.
and Next Month's Horoscope for February
Scurrying around an increasingly busy and varied everyday schedule, you'll be talking constantly and shooting off in all directions at once. You'll need to manage your time well, streamline your efficiency and keep to-do lists otherwise you'll get muddled and not fit everything in. The Aquarius Solar Eclipse hints this could go on for several months to being well organized will help. Mars in your own sign will give you zip, courage and high energy as well as a tendency to be bluntly outspoken. In quiet moments you'll be content in your own company, feeling good about yourself and getting the past laid to rest. Home will be happier and more indulgent from the 10th and in between times of snuggling up close, you'll be planning to spruce up the decoration and make everything look elegant. Have a care with finances since you may well not pay attention to important details which could cost you money. With a sigh of relief in the final days you'll slow down and put your feet up at home more regularly.
Year Ahead 2018
All you really want in 2018 is a chance to put your feet up in peace and quiet, and be content. Even your own company won't be a hardship at times. As you mull over highly personal matters and put the past into perspective, you'll find you feel better about yourself.rnThere won't, however, be as much chance as you'd like to steer clear of frantic activity. The first half year will find you deluged with trips to make, people to talk to and general busyness. You'll need to streamline your efficiency and manage your time well if you're to pack everything in.rnMaking a dedicated effort to reorganise and retrieve your finances will also be a priority. Saturn now in Capricorn hints there may be less to play with than in the past, a need to tighten your belt and put in some serious thinking about how you can maximise your assets and build your security long term. Inspiration will come in quiet moments to put you on the right track.rnYour social life will be sparkling at times and rather bare at others, so you'll find that it's feast or famine. Loved ones, especially children, may be a touch erratic or rebellious. And you may be disappointed about not having the ideal home and family life you'd like. Be realistic and forgiving and you'll feel happier.rnFrom mid year, you'll be keen to broaden your horizons and find new interests, or, ideally, travel further field. Whether you're taking up new hobbies and studies or on the road to adventure, you'll feel more energised.rnDeeply personal and confidential matters, both financial and emotional, will also preoccupy you. Persuading yourself to change the habits of a lifetime and share, care and cooperate in a more engaged way may not be easy but it will bring its rewards.rnLate in the year lucky, enthusiastic Jupiter moves into your sign to start a new 12 year cycle of good luck and expansion in your life.