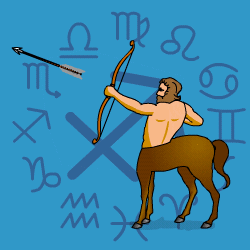 Sagittarius
November 23 - December 22
---
Today's Horoscope for Tuesday May 22nd
Jealousy could be a problem since you want absolute commitment, and any hint of you not being in control of the situation will make you feel insecure. Be aware of your needs but do not over react. You may be magnifying a tiny matter out of all proportion. Just watch you are not so wrapped up in your own needs and deep feelings, that you cannot see anyone else's point of view, or understand their needs. You need to stand back slightly and exercise a little detachment.
The Weekly Outlook from 21st May
Blessed with tact and diplomacy, you should notice an improvement in your social life now. Your charming manner and way of putting others at ease will attract all manner of compliments and intriguing invitations. On top of that you have a sense of idealism, wanting to put your energy into your visions and your hopes to make them work better for yourself. So you will move nearer to accomplishing certain of your goals.
Your Monthly Horoscope for May
Not the most glamourous month for you, there'll be chores aplenty and a need to boost your stamina since you'll be putting energy out. Being helpful and not expecting much in return will get you through faster and in a better frame of mind. Your rewards will come later. Just don't let your high hopes run away with you and land yourself with too many commitments. By the 11th you'll be satisfied that one financial matter has been resolved, so your recent efforts will have paid off. Your everyday schedule will speed up considerably from mid month onwards. You may be too outspoken when you feel pressured or hit delays or mistakes, but you will be wakening everyone around you up. Uranus moving sign will prompt you to start exploring hew health and fitness remedies. Just don't run away with crank ideas. At work or around the chores, you'll want more freedom to follow through on your own ideas. Close partners will be more supportive and encouraging in the final ten days so you'll feel less drained.
and Next Month's Horoscope for June
Togetherness will be your theme for this month with the Sun in your opposite sign. You may not always get exactly what you want especially at home or amongst the family but you'll travel hopefully. Your feelings will be intense and more than usual you'll keep them to yourself. Try not to exaggerate your reactions. People aren't all good or all bad, mostly they have pluses and minuses. Generosity may come your way in cash or in kind which will give you a warm glow. Sit down for confidential heart-to-heart chats after the 12th since only that way will you understand where your partner is coming from and then you can reach better agreements. You'll also enjoy quiet moments in your own company, reflecting peacefully back into the past and getting old problems into perspective. You will need to sort out a couple of cash matters at the middle and end of the month. But there's nothing that effort and ingenuity can't fix. In the final days you'll be considering how to co-operate and relate in a new way, leaving old attitudes behind.
Year Ahead 2018
All you really want in 2018 is a chance to put your feet up in peace and quiet, and be content. Even your own company won't be a hardship at times. As you mull over highly personal matters and put the past into perspective, you'll find you feel better about yourself.rnThere won't, however, be as much chance as you'd like to steer clear of frantic activity. The first half year will find you deluged with trips to make, people to talk to and general busyness. You'll need to streamline your efficiency and manage your time well if you're to pack everything in.rnMaking a dedicated effort to reorganise and retrieve your finances will also be a priority. Saturn now in Capricorn hints there may be less to play with than in the past, a need to tighten your belt and put in some serious thinking about how you can maximise your assets and build your security long term. Inspiration will come in quiet moments to put you on the right track.rnYour social life will be sparkling at times and rather bare at others, so you'll find that it's feast or famine. Loved ones, especially children, may be a touch erratic or rebellious. And you may be disappointed about not having the ideal home and family life you'd like. Be realistic and forgiving and you'll feel happier.rnFrom mid year, you'll be keen to broaden your horizons and find new interests, or, ideally, travel further field. Whether you're taking up new hobbies and studies or on the road to adventure, you'll feel more energised.rnDeeply personal and confidential matters, both financial and emotional, will also preoccupy you. Persuading yourself to change the habits of a lifetime and share, care and cooperate in a more engaged way may not be easy but it will bring its rewards.rnLate in the year lucky, enthusiastic Jupiter moves into your sign to start a new 12 year cycle of good luck and expansion in your life.