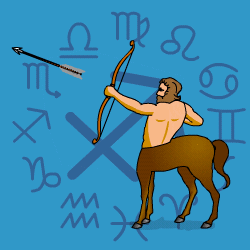 Sagittarius
November 23 - December 22
---
Your Birthday Horoscope
IF IT'S YOUR BIRTHDAY TODAY your year ahead will be scattered, restless, chatty, sociable at times and peaceful at others. Your social life will sparkle and then disappear but you'll wallow in the quiet moments in your own company, dreaming and planning. Sorting out your personal finances will kick you into higher gear from the New Year with a determined look in your eye. You may feel that loved ones in the family are leaning too heavily so encourage them to be independent.
Today's Horoscope for Wednesday December 13th
If you can go with the speed of your thinking and not trip yourself up, then you could motivate and encourage companions into joining in with what you have in mind. They will appreciate the freshness of your approach, and way of seeing what they miss. Your agile, restless mind is coming up with original inspirations at the moment, but you won't always be good at following your ideas through. Maybe you are trying to juggle too many balls in the air at once.
The Weekly Outlook from 11th December
You have got a lot of curiosity: you want to find the answers to questions. You are on the alert, very quick-witted, picking up ideas faster, talking faster. You will want to be around friends who are elegant and fun. This week will probably be superficial and frivolous. Not a time to do anything too serious. Take a break when you can to relax and enjoy. You will be in touch with your feelings, able to reach out to others.
Your Monthly Horoscope for December
Your birthday Sun till the 20th will put you in good heart and you'll be chatting away in good form. A friend may be acting unpredictably early on and you'll be tempted to be too honest. Try not to be too direct, or indeed too reckless. Uranus across from Mars can act like a firecracker. Loved ones may be a worry since they won't be on top form. But it's only a passing moment so nothing to worry about unduly. You'll be plotting and planning behind the scenes from the 9th onwards for several weeks. Aware that you can't action certain plans instantly, you'll want to get all your ducks in a row by late January you'll be ready to fire ahead with all speed. In the final ten days you'll be turning your attention to your personal finances for quite some time ahead. Cutting out extravagances and indulgences and putting long term security ahead of instant whims will be important. Not that you'll stint yourself from the 25th, but you will be taking a new approach to your budget.
and Next Month's Horoscope for January
Finding a balance between quality time for yourself and a dedicated push to improve your personal finances may not be simple. But it is do-able. You just need to parcel out your days into compartments. Getting your cash situation rebooted is of vital importance, though that won't stop you spending happily as irresistible treats catch your eye. Try to avoid getting too stubborn or obsessive in your approach. Flow with the bounty of the universe and it'll flow back to you. In private moments you'll be aware of a growing sense of inner self-esteem. Despite hold ups in a few pet projects you'll be quietly confident about their outcome. You won't have to wait for long. By the month's end you'll be surging ahead. Indeed after midmonth you'll find your everyday schedule is more varied, chatty and entertaining. You'll have a definite twinkle in your eye and a lilt in your walk.
Year Ahead 2018
All you really want in 2018 is a chance to put your feet up in peace and quiet, and be content. Even your own company won't be a hardship at times. As you mull over highly personal matters and put the past into perspective, you'll find you feel better about yourself.rnThere won't, however, be as much chance as you'd like to steer clear of frantic activity. The first half year will find you deluged with trips to make, people to talk to and general busyness. You'll need to streamline your efficiency and manage your time well if you're to pack everything in.rnMaking a dedicated effort to reorganise and retrieve your finances will also be a priority. Saturn now in Capricorn hints there may be less to play with than in the past, a need to tighten your belt and put in some serious thinking about how you can maximise your assets and build your security long term. Inspiration will come in quiet moments to put you on the right track.rnYour social life will be sparkling at times and rather bare at others, so you'll find that it's feast or famine. Loved ones, especially children, may be a touch erratic or rebellious. And you may be disappointed about not having the ideal home and family life you'd like. Be realistic and forgiving and you'll feel happier.rnFrom mid year, you'll be keen to broaden your horizons and find new interests, or, ideally, travel further field. Whether you're taking up new hobbies and studies or on the road to adventure, you'll feel more energised.rnDeeply personal and confidential matters, both financial and emotional, will also preoccupy you. Persuading yourself to change the habits of a lifetime and share, care and cooperate in a more engaged way may not be easy but it will bring its rewards.rnLate in the year lucky, enthusiastic Jupiter moves into your sign to start a new 12 year cycle of good luck and expansion in your life.