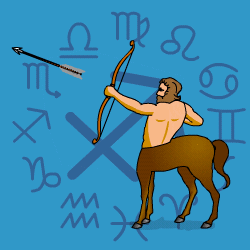 Sagittarius
November 23 - December 22
---
Today's Horoscope for Tuesday March 20th
Chatty Mercury is now close to Venus which is affectionate, charming, elegant, tasteful, witty. It's a time to tell other people what you feel about them in a positive way. You're going to appreciate beauty, listen to music or even going off to write a poem. A party animal at the moment, you will play spontaneously and not settle down to dull, routine chores easily. Feeling happy go lucky, outgoing and romantic, you want to allow your exuberance out on display as much as possible.
The Weekly Outlook from 19th March
You won't be shy about voicing your feelings and your desires this week. More than anything what you want is to be applauded so you will be hamming it up madly, but so charmingly everyone will clap even harder. What you have to say is important, it just a question of finding a subtle strategy. More can mean less when it comes to tricky discussions. Be clear, concise and detached, then all can be done and dusted very quickly.
Your Monthly Horoscope for March
A family member or loved one may prove a minor disappointment early on or be acting in a way that you don't understand. Be tactful and forgiving and they'll sort themselves out. What you want more than anything is the chance to put your feet up at home and relax, pushing recent concerns to one side. Your mischievous wit will win you attention after the 6th and you'll be out at times on a giddy social whirl, with the right kind of attention boosting your morale. Keep a grip of your tendency to blurt out the first thing on your mind since more sensitive souls may be thin-skinned and react badly even though you don't mean to offend. Slowly but surely you'll begin to see the way through one financial tangle and from midmonth will be foot hard on the accelerator with schemes to improve your situation. There will be setbacks along the way but unrelenting determination and courage in demanding your fair dues will pay off. In the final days you'll throw caution to the winds and aim for entertainment, enjoyment and romance. Just try not to over-spend to impress since you need to protect your security.
and Next Month's Horoscope for April
A fun-loving and sociable Aries Sun will keep your vibrant as you glad-hand your way round the party scene, and enjoy the affectionate attention of loved ones. Though you will be weighed down by practical problems which won't resolve quickly or easily. You'll be battling on several fronts, some of them financial. Your desire for more security will make you push with more determination, though you'll know this is a time to cutback on extravagances and to find a new approach to all money matters. You'll be treating yourself to more indulgences and although overweight is rarely your problem, you may have to up your exercise regimes to counteract any expansion. In quiet moments you will enjoy your own company, reflecting on the past and gaining insights which will be helpful ahead. Loved ones won't always be acting predictably after mid-month so prepare to expect the unexpected. Then you'll settle into a hard-working few weeks, happy to be able to get on top of several situations which have been bugging you.
Year Ahead 2018
All you really want in 2018 is a chance to put your feet up in peace and quiet, and be content. Even your own company won't be a hardship at times. As you mull over highly personal matters and put the past into perspective, you'll find you feel better about yourself.rnThere won't, however, be as much chance as you'd like to steer clear of frantic activity. The first half year will find you deluged with trips to make, people to talk to and general busyness. You'll need to streamline your efficiency and manage your time well if you're to pack everything in.rnMaking a dedicated effort to reorganise and retrieve your finances will also be a priority. Saturn now in Capricorn hints there may be less to play with than in the past, a need to tighten your belt and put in some serious thinking about how you can maximise your assets and build your security long term. Inspiration will come in quiet moments to put you on the right track.rnYour social life will be sparkling at times and rather bare at others, so you'll find that it's feast or famine. Loved ones, especially children, may be a touch erratic or rebellious. And you may be disappointed about not having the ideal home and family life you'd like. Be realistic and forgiving and you'll feel happier.rnFrom mid year, you'll be keen to broaden your horizons and find new interests, or, ideally, travel further field. Whether you're taking up new hobbies and studies or on the road to adventure, you'll feel more energised.rnDeeply personal and confidential matters, both financial and emotional, will also preoccupy you. Persuading yourself to change the habits of a lifetime and share, care and cooperate in a more engaged way may not be easy but it will bring its rewards.rnLate in the year lucky, enthusiastic Jupiter moves into your sign to start a new 12 year cycle of good luck and expansion in your life.