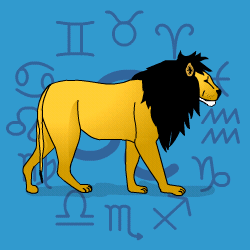 Leo
July 24 - August 23
---
Today's Horoscope for Wednesday December 13th
Coming across as strong minded, forceful but always entertaining in your way of expressing yourself, your mind will be leaping from subject to subject at computer speed. Your fiery, positive approach to tackling problems should sweep companions up in your enthusiasms. Unfortunately, some may be slower-witted than you, so try to pause once in a while just to check they are actually hearing what you have to say. Try to be absolutely clear about what may to you seem to be trivial details.
The Weekly Outlook from 11th December
This week you will want to be involved in the world more than you have been doing recently. So aim to be involved in parties, around teams, at work and any sort of group exercise. There will be good feelings and quite a lot of self-indulgence. Sometimes you want to you fit just for the sake of fitting in, then you get cross with yourself because you feel you've not really been true to what you believe in.
Your Monthly Horoscope for December
Your mischievous sense of humour will keep social mates and loved ones entertained as you skip your way along into the party season. There'll be no shortage of invites or compliments. Try to hold back from outspoken opinions early on, since you could be a touch impulsive with truth-telling. And be cautious as you travel around. More haste, less speed. There could be muddles over money as well, so insist on seeing all the details before you commit yourself. Certain pet projects will be on a go slow after the 9th so you might as well soak up your energy by reorganising at home, though the family may not always take kindly to being swept around. In the final ten days you will want to pace yourself, realising that your physical energy has its limits. There'll be chores to cope with but you need to pay attention to health and fitness as well. Overeating and indulgence may be a minor hazard from the 25th.
and Next Month's Horoscope for January
Running around being helpful with a growing pile of chores, you may feel over burdened and will need to slow down. This phase of your life is about learning where your physical limits are. You won't avoid work and duty but you'll need to be sensible and not bite off more than you can chew. Luckily there'll be fun and relaxing moments at home with the family. You'll begin to feel rooted and settled in a way you haven't before. You will be reorganising like mad as well as indulging yourself. Unexpected news will come in from abroad or a distance away towards midmonth and you'll be pleased at what it says. Thereafter the love and affection of one special partner will give you a warm glow and you'll be in demand socially. Your energy and passionate enthusiasm will soar before the month finishes.
Year Ahead 2018
2018 has similar Eclipses in Leo and your opposite sign of Aquarius, as they did in 2017, so you will find yourself at a crossroads, where you have to make crucial judgements about what comes next. Sitting down to talk to close partners will help to make the adjustments needed for a fulfilling future, though from mid-year you'll be more independent-minded for a few months, since you'll know the decisions have to be yours, not anyone else's.rnLooking after health and fitness will be vital, since you may overload yourself with work. Learning where your limits are will teach you to pace yourself. Listening to your body does not come naturally to you as a Fire sign, but you won't be able to go-go-go constantly without feeling the effects.rnAdventurous travel will be on your mind, but if you are sitting still, you will still find excitement and stimulation in exploring new belief systems and ideas. And happily you will be able to relax comfortably at home and in your intimate surroundings, feeling more secure and contented within yourself.rnTaking care with finances will be important with Neptune hanging around, since not everyone around will give you reliable advice or indeed be entirely straightforward. Force yourself to double check and don't be gullible.rnNear the year end your social life will reboot into a more vibrant phase. You'll be stepping out boldly with renewed self-confidence to meet a favourable reception from everyone you meet.