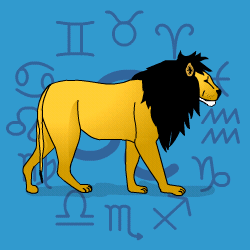 Leo
July 24 - August 23
---
Today's Horoscope for Tuesday May 22nd
You may sometimes feel lonely and under loved at the moment. But time spent on your own need not necessarily be lonely, since you will have a chance to connect to your own deeper feelings or indeed creative talents. Remember also that this is only a temporary phase and will soon be over.Expect the unexpected and you will not be disappointed. If there is a whiff of jealousy or control in the air you will be off, since you have no intention of treading anyone else's line.
The Weekly Outlook from 21st May
You will be sorting out longer term plans so bounce your ideas around and see what feedback you get. Helpful practical advice will put you on the right lines. This will be a week for successful, positive activity. OK, there is a slight risk you may be too impulsive, and perhaps not very practical. But you're swinging along with the kind of enthusiasm which is highly infectious, so everyone will pull together and results will pile in faster.
Your Monthly Horoscope for May
Your star is in the ascendant with the Sun at your mid heaven, so you'll be higher profile, taking the lead and making sure everyone else follows behind. OK so you may have to work hard as well but your efforts will be rewarded with praise and recognition. Loved ones at home may take your good nature for granted but you'll be forgiving and amiable no matter what. Just don't over commit yourself since you'll assume only you can carry out certain tasks well. Being perfectionist will put an extra burden on you. The big astro-news is Uranus moving across your midheaven from mid month for seven years ahead which will find you considering changing direction either in your career or your life. You won't want to co-operate or fit in with others' plans let alone submit to orders. After the 16th close partners will be heated and inclined to hasty actions. Stay calm and refuse to rise to provocation. Fun friends will liven the final ten days so you won't go short of company.
and Next Month's Horoscope for June
Friends will be around even if you aren't feel too sociable or romantic. Any group or team activity will go with a swing and you'll be in your element as one of the gang, looking ahead with optimism. You'll be more settled within yourself and happy in your own company at times or putting your feet up at home. Keep a watchful eye on joint finances since not all your schemes will be practical and the advice coming your way may not be reliable. Keep your own counsel after the 12th, listen rather than talk. But with Venus in your own sign thereafter you'll still be making waves out on the party scene. Giving yourself an image make over will do your confidence the world of good. Close partners will be firing on all cylinders and fairly competitive so you'll need to be the one keeping the peace. Your energy won't be limitless so take the chance in the final days to step back and let others do the running around. Your naturally sunny temperament isn't always to keen on being on the side lines but you need a chance to reflect and do less.
Year Ahead 2018
2018 has similar Eclipses in Leo and your opposite sign of Aquarius, as they did in 2017, so you will find yourself at a crossroads, where you have to make crucial judgements about what comes next. Sitting down to talk to close partners will help to make the adjustments needed for a fulfilling future, though from mid-year you'll be more independent-minded for a few months, since you'll know the decisions have to be yours, not anyone else's.rnLooking after health and fitness will be vital, since you may overload yourself with work. Learning where your limits are will teach you to pace yourself. Listening to your body does not come naturally to you as a Fire sign, but you won't be able to go-go-go constantly without feeling the effects.rnAdventurous travel will be on your mind, but if you are sitting still, you will still find excitement and stimulation in exploring new belief systems and ideas. And happily you will be able to relax comfortably at home and in your intimate surroundings, feeling more secure and contented within yourself.rnTaking care with finances will be important with Neptune hanging around, since not everyone around will give you reliable advice or indeed be entirely straightforward. Force yourself to double check and don't be gullible.rnNear the year end your social life will reboot into a more vibrant phase. You'll be stepping out boldly with renewed self-confidence to meet a favourable reception from everyone you meet.