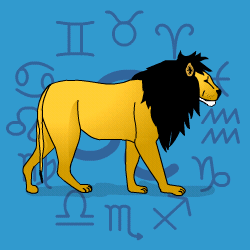 Leo
July 24 - August 23
---
Today's Horoscope for Wednesday July 18th
You will be able to sell yourself with more vigour. You should feel less strained than you have done recently. Although you'll find at points the words spill out all over the place and loved ones may miss out on the sense. Once in a while stand back to come to a few conclusions before you leap back out again. Others respect your sincerity, since they know your heart is in the right place, even if they will not always totally understand you.
The Weekly Outlook from 16th July
You should be able to handle both the light-hearted, frivolous side of your life, and the more serious, self-disciplined side, giving them both equal weight. Maybe you do feel just slightly unappreciated, but you have no intention of letting it show. There may be heated encounters along the way since you will tend to attract yourself to competitive or ambitious companions. Even your nearest and dearest will seem rather outspoken at times, so you may have to keep the peace.
Your Monthly Horoscope for July
Although you won't be as outgoing as usual, you will feel more contented within yourself and can expect good news on the family or domestic front. Plans to expand or improve your intimate surroundings will get the go ahead or be progressing smoothly. Close partners will be wound up and raring to go though not always tactful. You'll be keeping the peace and fitting in with their plans to avoid arguments. But really with the Solar Eclipse in the sign before yours, there will be a need for quiet space to mull over the past and to reflect on what needs to be put right. Not normally an inward looking sign, you may have to force yourself to dig deeper, but the end result will bring more fulfilment. Your birthday Sun after the 22nd will recharge your batteries and you'll fire ahead with enthusiasm. No one will miss your presence as you sweep into rooms with confidence. Though there may be a few surprises and upsets late on which you won't back away from. Just don't say what can't be taken back in the heat of the moment.
and Next Month's Horoscope for August
You'll want to go one way and partners another, so there may be some differences early on. Try not to over react and be too stubborn just to prove a point. The Solar Eclipse in your own sign is a hint that you need to take a look at your life and decide what needs to alter in the months ahead. This is a challenge which if you rise to it will bring more satisfaction ahead. Don't stick your feet in the mud and continue along the same track. Be bold and see where a change could breathe more inspiration into your lifestyle. Hard work will be unavoidable after mid month, so remember that putting as much energy towards health and fitness as you do towards duty will be important. And try not to be too perfectionist otherwise you'll over burden yourself. Pleasure and security will be on your mind in the final days so you'll be spending and saving at the same time.
Year Ahead 2018
2018 has similar Eclipses in Leo and your opposite sign of Aquarius, as they did in 2017, so you will find yourself at a crossroads, where you have to make crucial judgements about what comes next. Sitting down to talk to close partners will help to make the adjustments needed for a fulfilling future, though from mid-year you'll be more independent-minded for a few months, since you'll know the decisions have to be yours, not anyone else's.rnLooking after health and fitness will be vital, since you may overload yourself with work. Learning where your limits are will teach you to pace yourself. Listening to your body does not come naturally to you as a Fire sign, but you won't be able to go-go-go constantly without feeling the effects.rnAdventurous travel will be on your mind, but if you are sitting still, you will still find excitement and stimulation in exploring new belief systems and ideas. And happily you will be able to relax comfortably at home and in your intimate surroundings, feeling more secure and contented within yourself.rnTaking care with finances will be important with Neptune hanging around, since not everyone around will give you reliable advice or indeed be entirely straightforward. Force yourself to double check and don't be gullible.rnNear the year end your social life will reboot into a more vibrant phase. You'll be stepping out boldly with renewed self-confidence to meet a favourable reception from everyone you meet.