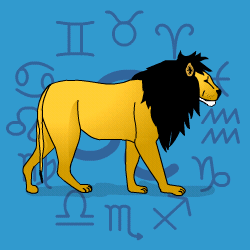 Leo
July 24 - August 23
---
Today's Horoscope for Tuesday March 20th
You'll probably not stand up for yourself very well, because Mercury, which is to do with talking, is close to Venus which wants everything to be smooth and harmonious. You'll compromise, bend round other people in order to get rid of tensions and aggravations. You will be thinking and talking about loftier topics than usual since your wide ranging mind is attracting you to fascinating new ideas. You will be promoting your pet causes to all and sundry with a great deal of evangelical zeal just now.
The Weekly Outlook from 19th March
Maybe you are not being very practical with the Sun in your chart area of grand plans, but you can always sort out what is workable in a few weeks time. This is the much more exciting stage of allowing your visions to flourish. You are likely to be dashing around at top speed, but you need to be careful where you put your feet, and indeed what you say. Be honest with yourself first and foremost about what you are trying to avoid.
Your Monthly Horoscope for March
A Pisces Sun hidden in the deepest, most confidential area of your chart till the 20th will find you preoccupied with highly personal and secret matters. Being persistent but fair-minded will help you find solutions and better agreements, leaving you more secure, financially and emotionally, and giving close partners a sense that they also are more settled. Too much work and too many demands on your time and energy will need to be managed, since you can't do everything. Realise that your body has limits and that saying no once in a while isn't a sign of defeat. Looking after yourself physically will be even more important after mid month, so delegate wherever possible. Luckily your spirits will be high as you socialise with a fun crowd and allow your grander plans to flourish, in word if not in deed. In the final days you'll be broadening your horizons and aiming higher.
and Next Month's Horoscope for April
Your head will be in the clouds, dreaming of grand plans and expansive projects. But your feet will be firmly stuck to the ground with too much work and too many commitments tying you down. Looking after health and fitness will be vital since you'll be putting out energy and need to keep your stamina up. Try not to be too perfectionist and think only you can do tasks well, since you'll over burden yourself. Realise your body has limits. Good news on the home front around mid-month will give you encouragement. Though you may not have as much time to relax and indulge with loved ones as you might wish. And there will be invitations to special occasions so you'll be burning the candle at both ends. In the final days you'll be in a higher-profile position, taking the lead and insisting others follow behind. Certain projects will work well, though one will need careful handling.
Year Ahead 2018
2018 has similar Eclipses in Leo and your opposite sign of Aquarius, as they did in 2017, so you will find yourself at a crossroads, where you have to make crucial judgements about what comes next. Sitting down to talk to close partners will help to make the adjustments needed for a fulfilling future, though from mid-year you'll be more independent-minded for a few months, since you'll know the decisions have to be yours, not anyone else's.rnLooking after health and fitness will be vital, since you may overload yourself with work. Learning where your limits are will teach you to pace yourself. Listening to your body does not come naturally to you as a Fire sign, but you won't be able to go-go-go constantly without feeling the effects.rnAdventurous travel will be on your mind, but if you are sitting still, you will still find excitement and stimulation in exploring new belief systems and ideas. And happily you will be able to relax comfortably at home and in your intimate surroundings, feeling more secure and contented within yourself.rnTaking care with finances will be important with Neptune hanging around, since not everyone around will give you reliable advice or indeed be entirely straightforward. Force yourself to double check and don't be gullible.rnNear the year end your social life will reboot into a more vibrant phase. You'll be stepping out boldly with renewed self-confidence to meet a favourable reception from everyone you meet.