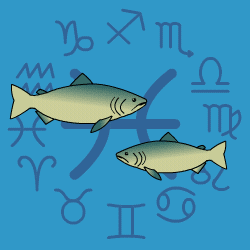 Pisces
February 20 - March 20
---
Today's Horoscope for Wednesday December 13th
You'll have a very clear mind which is capable of grasping ideas and putting them to work at once. You should be organising well but need to develop more of a sense of humour. The old motto of be prepared is not a bad idea at all. Get everything in ship shape order before you launch into activity or into discussions. Sometimes it's a good idea to be self-critical, particularly before other people get a chance to have a look at your pet schemes.
The Weekly Outlook from 11th December
This a week when new activities are going to thrill you. You are going to be curious about finding new answers to old problems. So you're making discoveries about yourself and about everything round about you. On top of that you'll be affectionate, charming and very witty. This is a time to tell other people what you feel about them in a positive way. You're going to want to appreciate beauty, listen to music or even write a poem.
Your Monthly Horoscope for December
Looking great, you'll be putting on quite a performance on social occasions and out in your community activities. The right people will be impressed by your charm and ability to get things done. Certainly you'll need to work hard and there may not be enough time to stay close to what you feel inside, but this is your chance to shine. A minor blip over cash will give you pause for thought on the 1st. Make no speedy decisions since they'll be the wrong ones. Mars moving sign on the 9th will free you up from a few intense weeks of sorting out confidential matters. Now with better agreements in place you'll be able to fly higher and broaden your horizons. You'll be voicing your enthusiastic opinions loudly and be keen to fit more adventure into your daily routines. Friends will be the focus of your attention in the final days and it will take an effort to break down barriers and ensure you can give support where needed. Older, tried and trusted buddies will mean more than frivolous acquaintances. You'll value loyalty.
and Next Month's Horoscope for January
You'll be a fountain of great ideas, big plans and adventurous schemes and keen to spread your enthusiastic opinions round to all and sundry. Aiming high and determined to broaden your horizons, you won't be bored for a second. You'll find certain friends are preoccupied or in a tricky mood. Be persistent since loyalty through the testing times will pay off. You'll be pushing yourself hard to stay focussed on sorting out longer term plans and certain team mates will be there with you. Just try to avoid confrontations or be too possessive since it won't work. Lighten up and appreciate the pluses and minimise the minuses in your life. A financial hiccup towards midmonth will be overcome if you pick your moment and grab a new opportunity. In the final days you'll slow down to recharge your batteries, and ponder on recent events.
Year Ahead 2018
Following your star is very much a Pisces trait, but in 2018 early on you'll be asking yourself exactly which of your dreams you want to be aiming for. Taking time out to wait for insight to strike may seem a bore, but it will pay off. There is an answer buried deep inside you, perhaps connected to the past, which needs to emerge. And you won't manage that if you are scurrying around at high speed.rnYour enthusiasm will stay high and your ability to get your message across to a wider circle of acquaintances will please you. Not all of your plans will be workable, so be prepared to trim back on over high expectations.rnFriends and team relationships will require extra effort. At times you may be a touch discouraged since there will be fewer around than usual, but the ones there will be rock solid in their support. They'll insist that you keep your eye firmly pinned on the longer term. With their sound advice you'll be getting a game plan together.rnYour finances will continue to be fairly erratic. Sometimes good and sometimes not so great. Just budget sensibly when there is surplus around and you'll cope well. Perhaps also turn your mind to exploring new ways of improving your cash situation. Not taking risks but an approach better fitted to your present circumstances.rnFrom July your thoughts will turn to work and romance. You'll need to ensure your health and fitness regimes are running well and boosting your stamina since you'll be landed with more chores. And also to give yourself the energy to go out to play. Your social life will be getting a reboot. If you've been feeling out of the spotlight and not getting enough attention, then you need to give it. Hand out hugs and compliments and your popularity will soar.rnLate in the year several projects will be a great success so you'll be showered with appreciation and respect.