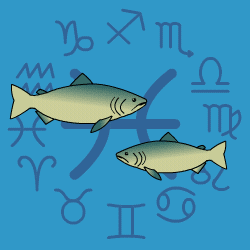 Pisces
February 20 - March 20
---
Your Birthday Horoscope
IF IT'S YOUR BIRTHDAY TODAY your year ahead will be hard-working, responsible and very much a time to stick to the straight and narrow. You'll be rewarded for past effort though also have to face up to past mistakes and fix them. Money should flow through more easily either from partner's generosity or joint ventures or just plain luck. Positive changes in your emotional life will bring greater intimacy as you drop your defences to draw closer. Late in the year you'll follow your dream.
Today's Horoscope for Tuesday March 20th
Happy, positive and agreeable influences will make you friendly towards almost everyone you meet, and even the people you don't like. You'll be wonderfully diplomatic. You'll be writing the letters you've been leaving to one side, pouring oil on troubled waters, and telling the wonderful people in your life how positively you feel about them. The key thing at the moment is to learn the lessons of handling cash successfully. Maybe you are flashing it around a little too extravagantly to boost your self esteem.
The Weekly Outlook from 19th March
You will fight to defend your rights and get your due, but don't be possessive. Flow with the bounty of the universe and it will flow back in your direction. Trying to be in control all the time can sometimes backfire, so you lose what you might have gained. Later in the week the Sun is in an awkward aspect to Mars so you will have to exercise some restraint, otherwise you'll find yourself dashing into arguments and stirring up hornets' nests.
Your Monthly Horoscope for March
Your birthday Sun usually gives you a lift, which may seem to be missing for a few days. Worry not, let yourself drift and daydream until after the 5th and you'll get into a higher gear thereafter. Your head will be buzzing with confident plans and high hopes, so you'll be on top form by the 11th. Your go-ahead approach and disinclination to put up with slowcoaches or delays will pay dividends. You may tramp on a few toes along the way, but you know that wakening everyone around you up is the way to get projects running faster. Not always the most practical of signs, you'll be forced to sort out financial details which won't please you. So you'll reward yourself by spending liberally when irresistible treats catch your eye. After mid month you'll be happy to throw yourself wholeheartedly into friends' activities and team efforts. There may be a few differences of opinion and you'll defend your corner with more vigour than usual.
and Next Month's Horoscope for April
Pleasure and security will be uppermost in your mind for three weeks with the Sun in the sign after yours. Finding a balance between spending and saving will be crucial to finding peace of mind. Friends may become problematic for a few weeks since arguments are likely and you'll be fairly rigid in your outlook. Try to see where tolerating difference and pulling together could make your life easier. The good connections in your life will weather the storms though you'll rely more and more on old, tried and trusted allies from the past. Everyday companions at work and in the neighbourhood will be complimentary and showing their appreciation to keep your spirits up. Twice during the month your more adventurous plans and projects will get a boost, so you'll be pitching your sights higher, knowing that better times will come. In the final days you will hit a stumbling block either of obstinacy on the part of someone close or a scheme that goes into slow motion. Be patient and persistent and keep all channels of communication open.
Year Ahead 2018
Following your star is very much a Pisces trait, but in 2018 early on you'll be asking yourself exactly which of your dreams you want to be aiming for. Taking time out to wait for insight to strike may seem a bore, but it will pay off. There is an answer buried deep inside you, perhaps connected to the past, which needs to emerge. And you won't manage that if you are scurrying around at high speed.rnYour enthusiasm will stay high and your ability to get your message across to a wider circle of acquaintances will please you. Not all of your plans will be workable, so be prepared to trim back on over high expectations.rnFriends and team relationships will require extra effort. At times you may be a touch discouraged since there will be fewer around than usual, but the ones there will be rock solid in their support. They'll insist that you keep your eye firmly pinned on the longer term. With their sound advice you'll be getting a game plan together.rnYour finances will continue to be fairly erratic. Sometimes good and sometimes not so great. Just budget sensibly when there is surplus around and you'll cope well. Perhaps also turn your mind to exploring new ways of improving your cash situation. Not taking risks but an approach better fitted to your present circumstances.rnFrom July your thoughts will turn to work and romance. You'll need to ensure your health and fitness regimes are running well and boosting your stamina since you'll be landed with more chores. And also to give yourself the energy to go out to play. Your social life will be getting a reboot. If you've been feeling out of the spotlight and not getting enough attention, then you need to give it. Hand out hugs and compliments and your popularity will soar.rnLate in the year several projects will be a great success so you'll be showered with appreciation and respect.