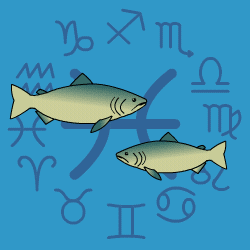 Pisces
February 20 - March 20
---
Today's Horoscope for Friday November 16th
With Venus now direct in your chart area of confidential emotional matters you will be more secretive than usual. Only those closest to you will guess what is on your mind as you keep digging for better long term answers. You feel like taking responsibility so you are ploughing ahead in good style. You have more self discipline than usual and want to work hard. This in turn should rub off onto workmates who will pitch in with more enthusiasm as well.
The Weekly Outlook from 12th November
The trick now is to find a way of bringing a sense of adventure and challenge into your life without overdoing it. If you can pace yourself through these days there will be a sense of aliveness about your routines which was not there before. Though to be truthful you will enjoy leaping into controversies. If your temper sometimes gets you into trouble, that is just the price you pay for the thrill of saying or doing precisely what you please.
Your Monthly Horoscope for November
Your heart will be yearning for distant shores, exotic trips and stimulating activities. If you are anchored to the spot, then you'll be seeking other ways of inviting more adventure and excitement into your life. This is not time to stick to routines or think small. Be expansive, run with your enthusiasm and follow your visions. There will be a few brakes on what is possible until mid-month with Mars stuck out of sight in the sign before yours but you can always plan and dream. What will give you a definite boost will be lucky Jupiter moving across your midheaven from the 8th for a year ahead. Whatever you turn your hand to at work or in your community activities should work out more easily and successfully than you expect. Your reputation will rise with respect and recognition coming your way. After Mars zips into Pisces on the 15th, staying till the New Year, you'll be off at speed, sweeping obstacles to one side. The final week will be hard work but your efforts will pay off with a rare triumph on the 26th.
and Next Month's Horoscope for December
In a zippy, dynamic mood and in a high profile few weeks, you'll be taking the lead, expecting others to follow behind and generally making your mark. Your talents and achievements will be recognised which will do your self-esteem the world of good. Which isn't to say you won't have moments in the first few days of low energy or bewilderment and dither as your will power sags temporarily. Just go with the flow when you're not feeling up to stamping your foot and being decisive. Your social life will be into a more adventurous phase so you'll be mixing with fun company and trying out new activities and venues. The right people will be keen to hear your views from the 12th so don't hold back. Good news or a new opportunity on the cash front around the 20th will set your mind racing along new lines. Thereafter you'll be surrounded by friends, the more the merrier as far as you're concerned.
Year Ahead 2018
Following your star is very much a Pisces trait, but in 2018 early on you'll be asking yourself exactly which of your dreams you want to be aiming for. Taking time out to wait for insight to strike may seem a bore, but it will pay off. There is an answer buried deep inside you, perhaps connected to the past, which needs to emerge. And you won't manage that if you are scurrying around at high speed.rnYour enthusiasm will stay high and your ability to get your message across to a wider circle of acquaintances will please you. Not all of your plans will be workable, so be prepared to trim back on over high expectations.rnFriends and team relationships will require extra effort. At times you may be a touch discouraged since there will be fewer around than usual, but the ones there will be rock solid in their support. They'll insist that you keep your eye firmly pinned on the longer term. With their sound advice you'll be getting a game plan together.rnYour finances will continue to be fairly erratic. Sometimes good and sometimes not so great. Just budget sensibly when there is surplus around and you'll cope well. Perhaps also turn your mind to exploring new ways of improving your cash situation. Not taking risks but an approach better fitted to your present circumstances.rnFrom July your thoughts will turn to work and romance. You'll need to ensure your health and fitness regimes are running well and boosting your stamina since you'll be landed with more chores. And also to give yourself the energy to go out to play. Your social life will be getting a reboot. If you've been feeling out of the spotlight and not getting enough attention, then you need to give it. Hand out hugs and compliments and your popularity will soar.rnLate in the year several projects will be a great success so you'll be showered with appreciation and respect.