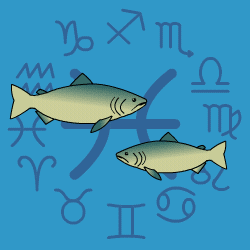 Pisces
February 20 - March 20
---
Today's Horoscope for Sunday November 19th
You could end being pushed around by someone, or indeed by circumstances, and end up feeling powerless to do much about it. Luckily, you have a real enthusiasm at the moment to be part of a group of like-minded friends, who are all pulling together in a cooperative venture. In however small a scale, you really do want to create a new situation around you, even a better world. Maybe some will laugh at you for being an idealist, but you know that visions matter.
The Weekly Outlook from 13th November
Early on this week you will want to smooth things down, so it'll be generally an agreeable time. This will help to lift your spirits. Toward the weekend there will be push-or-be-pushed influences around. It depends which side of the coin you get: either you hold the power and you're not paying enough attention to other people's sensitivities or rights, or they are doing the same to you. Try to sidestep arguments which will only end badly.
Your Monthly Horoscope for November
On a magic, mystery adventure trip this month, you'll want to reach out to the far horizons whether in travelling further afield or filling your life full of more stimulating interests and hobbies. Be bold and let your confidence sail you towards your dream. Your social life will be lively as you mix with a different crowd and you'll want loved ones to be helping you broaden the scope of your life and understanding. The right people want to hear what you have to say so don't hold back. Recently you've been working hard and now you can begin to see where the rewards will come in future. By changing your approach in slow, steady steps you'll make yourself even more fulfilled. Behind the scenes you will be preoccupied with a tricky dilemma for which the answer will be slow in coming. Be persistent and flexible, even if one plan goes on hold after mid month or a friend proves to be less than co-operative. In the final week you'll be flying high, into a higher profile few weeks when your status will rise.
and Next Month's Horoscope for December
Looking great, you'll be putting on quite a performance on social occasions and out in your community activities. The right people will be impressed by your charm and ability to get things done. Certainly you'll need to work hard and there may not be enough time to stay close to what you feel inside, but this is your chance to shine. A minor blip over cash will give you pause for thought on the 1st. Make no speedy decisions since they'll be the wrong ones. Mars moving sign on the 9th will free you up from a few intense weeks of sorting out confidential matters. Now with better agreements in place you'll be able to fly higher and broaden your horizons. You'll be voicing your enthusiastic opinions loudly and be keen to fit more adventure into your daily routines. Friends will be the focus of your attention in the final days and it will take an effort to break down barriers and ensure you can give support where needed. Older, tried and trusted buddies will mean more than frivolous acquaintances. You'll value loyalty.
2017 Year Ahead
2017 could be a game-changer for you if you've not already begun a radical re-appraisal of your life and direction. The February Solar Eclipse in your own sign says you're at a crossroads and need to make significant decisions about your path ahead. You'll be more independent for a few months since you'll ned to ponder your options carefully and not allow others to colour your judgement. At times you'll be vague and want to drift but lethargy needs to be resisted.rnGenerosity will be coming your way from the universe, channelled through joint ventures, unexpected wins, bonuses or inheritances so you'll be pleased at the effect on your finances. Beneficial changes will also over time be helping your intimate emotional relationships, allowing you to be less defensive and more open. The transition from the past to the future will be easier than you expect.rnYou'll be marginally obsessed about sorting out future plans and about making peace over certain friendships which have been going through a sticky patch. Try not to let the mood get too intense or allow jealousy to get in the way of common sense.rnHard work will be inevitable but your conscientious efforts will bring respect along with heavier responsibilities. From August with the Leo Solar Eclipse in place, you'll be focussing on how to improve your fitness levels to give yourself more stamina for the pile of chores that lie ahead.rnIn the final three months, you'll be flying high, keen to set your sights higher and broaden your horizons however you can. Enthusiasm may trump common sense but you'll have fun.