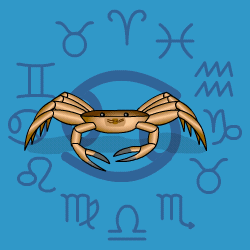 Cancer
June 22 - July 23
---
Today's Horoscope for Tuesday March 20th
There will be good feelings and some self-indulgence. But it's important not to be too pushed around. Sometimes Mercury makes you fit in almost anywhere just for the sake of fitting in, then you get cross with yourself because you feel you've not been true to yourself. What you really want is to be applauded by everyone around. This is your peak time of year where work or community activities are concerned so recognition is likely as you strive hard to get your talents out on display.
The Weekly Outlook from 19th March
You are putting a good deal of emphasis on your social standing. You want to be noticed, not made to feel one of the crowd. Clearly if we all said what we thought all of the time, life would be impossible. A little glossing over of criticism usually oils the wheels of friendships. But if you suppress too much, your true feelings usually leak out and cause trouble anyway. So this week you might as well speak out, but do it gently.
Your Monthly Horoscope for March
You'll be in the mood for fun and frivolity, kicking up your heels and finding new ways of introducing more adventure and stimulation into your life. If you can't travel instantly, you'll be holiday planning like mad. Not all your schemes will be practical so try to think through the consequences of what you decide to follow up on. The positive changes in you recently, with renewed self-confidence and joie de vivre does seem to have put certain strains on a close relationship. Try to take time out for frank and tactful chats, pushing criticism aside and aiming for constructive airing of grievances. Only by being realistic will you strengthen your bond. You'll be in demand at work and socially for your ideas and charm, finding invitations come in to special occasions where you can shine. In the final days you won't avoid arguments but you will be attracting a good deal of positive attention as well.
and Next Month's Horoscope for April
On a high, you'll be getting attention and appreciation from a wide number of people. You'll be working hard but garnering the rewards of your efforts. Others will follow behind if you take the lead. Though truthfully there may be some differences with close partners at home or at work, or both. With Mars, Saturn and Pluto all in your chart area of relationships, there will be heated moments, some criticism and pushing and pulling. If you can stay calm and tolerant, then it'll help enormously. Persuade those close to co-operate on joint ventures. It won't all be easy and harmonious but together you could achieve a good deal. Warm-hearted friends will be on hand to lift your spirits and make you aware of how popular you are for your knack of making any group activity go with a swing. Your social charms will be on display around the 1th with an enthusiastic audience around, applauding your every joke. Sorting out future plans will be your main aim in the final days, though your schemes will need to be put across tactfully if you are to get everyone's approval.
Year Ahead 2018
2018 will find your self-confidence soaring with social invites pouring in along with compliments. You'll be putting a higher value on yourself and finding that everyone else does as well. And your positive and enthusiastic approach will bring praise at work as well. Just don't go wild speculating or gambling, since nailing down your financial security is one of this year's priorities. Save, don't spend to impress; and be pro-active about taking the initiative to improve your long-term security.rnClose partnerships may be cooler. Try not to be critical or negative. Cherish loyalty above passion. It may be that work is interfering with relaxation time, but be grateful that you are rising up rather than the reverse.rnYour path will continue to be winding in terms of career and general life's direction but it'll rarely be boring. If you can be alert for changes and new opportunities, rather than sticking to old ways, it'll bring better results. You will be facing challenges where co-operation is concerned. Try not to be too controlling or indifferent to the needs of those close or at work.rnNeptune will bring you dreams, hunches and insights pointing you down a more spiritual road. OK at times your judgement may be off-beam and you'll have to be wary of relying on gurus or others having all the answers. But you'll be softening your attitudes as a result of your new-found beliefs.rnTravel may be muddled so make sure you always double-check all arrangements and have a Plan B up your sleeve. Late in the year you'll find an exuberant mood around work or the chores and be feeling healthier.