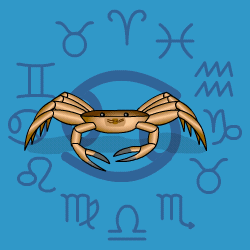 Cancer
June 22 - July 23
---
Today's Horoscope for Saturday September 22nd
More emotional than usual at the moment, you may be over-sensitive to the slightest whiff of criticism. Try not to sound too defensive, when most often it will not be necessary. Try and make sure that you're sorting more entertaining and intriguing things to do, because you want to be mentally stretched. You want to meet new friends. Anything frankly which makes you feel that everything is brighter, breezier. Don't try to stick to your normal routines at all today.
The Weekly Outlook from 17th September
You will find the confidence to say exactly what you think of certain people. This will bring grievances out into the open so you can clear them out of the way. But watch out for being too forceful. Watch also that you don't go too over the score, because if you leap into situations without having thought them through clearly, it won't work well. So try and settle to some restraints and restrictions, but make changes as steadily as you can.
Your Monthly Horoscope for September
Pitter pattering along at speed your tongue will be moving as fast as your feet in a busy few weeks. There'll be short distance trips, fun encounters, bright exchanges of views and you'll be juggling several projects or chores at the one time. Managing your time well, getting efficient, writing out to-do lists in advance and getting your opinions across clearly will all be important otherwise you'll end up in a muddle and misunderstood. Close partners will be argumentative at times so you'll need to keep the peace, even if it means gritting your teeth after the 11th. Your self-esteem will soar with one morale boost around the 12th with plenty to be cheerful about. Your social diary will fill up quickly with an enjoyable few weeks stretching ahead and no shortage of chances to hog the limelight. Behind the scenes there will be confidential tangles to unpick, financial and emotional. Answers and agreements won't come overnight so you'll need to be persevering and patient. Giving yourself a break at home to wind down and snuggle up close to loved ones will keep you smiling in the final few days.
and Next Month's Horoscope for October
Although you're an ambitious and a creative sign, really where you're happiest is at home surrounded by the extended family. So you should be in seventh heaven until the 23rd with a chance to snuggle down, do less rushing around and have a chance to reflect over recent events as well as have heart-to-heart chats with loved ones. One partner will be slightly uptight so you'll need to use all your subtlety to find out what's bothering them. Digging in your heels and refusing to budge if there are differences of opinion won't work. Try to be flexible. Your social diary will be jam packed with chances to shine in the spotlight and have fun. Though in quiet moments you'll be chewing over tricky financial or emotional dilemmas which you're keeping hidden. You know you'll have to give way of certain points but you've no intention of giving in where it really matters. Your self confidence will soar even higher in the final week with a hint of romance around.
Year Ahead 2018
2018 will find your self-confidence soaring with social invites pouring in along with compliments. You'll be putting a higher value on yourself and finding that everyone else does as well. And your positive and enthusiastic approach will bring praise at work as well. Just don't go wild speculating or gambling, since nailing down your financial security is one of this year's priorities. Save, don't spend to impress; and be pro-active about taking the initiative to improve your long-term security.rnClose partnerships may be cooler. Try not to be critical or negative. Cherish loyalty above passion. It may be that work is interfering with relaxation time, but be grateful that you are rising up rather than the reverse.rnYour path will continue to be winding in terms of career and general life's direction but it'll rarely be boring. If you can be alert for changes and new opportunities, rather than sticking to old ways, it'll bring better results. You will be facing challenges where co-operation is concerned. Try not to be too controlling or indifferent to the needs of those close or at work.rnNeptune will bring you dreams, hunches and insights pointing you down a more spiritual road. OK at times your judgement may be off-beam and you'll have to be wary of relying on gurus or others having all the answers. But you'll be softening your attitudes as a result of your new-found beliefs.rnTravel may be muddled so make sure you always double-check all arrangements and have a Plan B up your sleeve. Late in the year you'll find an exuberant mood around work or the chores and be feeling healthier.