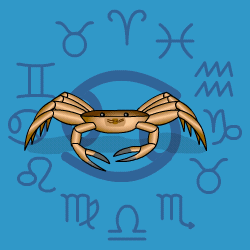 Cancer
June 22 - July 23
---
Today's Horoscope for Tuesday May 22nd
You may try too hard to gloss over imperfections in life, and come across sounding sugary sweet. You will avoid confrontation since you can't be bothered with it. But if you compromise too much for the sake of calm, it may make you sound superficial or insincere. You'll also take pleasure from the hard work ongoing for a short while. There is a good balance between feelings and duty. You will come across as cool, calm, sensible and in control of one practical situation.
The Weekly Outlook from 21st May
Regard this as a gestation phase when you ponder and prepare for what is about to come nearer your birthday. Don't be discouraged by what is not working out as quickly as you expected. Nothing comes together spectacularly well at this time of the year for you. Just have patience. You could perhaps help yourself by planning things through more carefully, but one situation is going to turn out much better than even you expected.
Your Monthly Horoscope for May
Always a sociable sign who treasures friends, you'll be in your element, dashing from one group to another, networking like mad. You'll be looking ahead and planning for the long term with enthusiasm. Your social star will be rising with your confidence spilling over at the compliments and invitations coming your way. Close partners will come to sensible agreements about resolving last month's differences. And with one minor incident mid month should be on good form. Uranus changing sign, which only happens every seven years, will bring new plans and exciting company as you start to view your future from a completely different angle. Tidy up as many loose ends as possible before the final two weeks. You'll need a chance to retreat, reflect and sort out personal matters as well as decide on your options. Tackle financial muddles with persistence and flexibility.
and Next Month's Horoscope for June
Looking great and attracting admiring glances for your spruced-up appearance, you'll be on social top form. But you won't always have the motivation or energy to be out and about full time. Give yourself a chance to wind down and recharge your batteries till be 21st. Finding time to learn the lessons of the past year and plan ahead will mean you'll be ready to leap into action when your birthday Sun comes around. Travel plans may hang fire or be plain confused for a few days, so double check everything if you have to be on the move. In odd moments you'll be preoccupied sorting out confidential cash and emotional matters as Mars lingers for an unduly long time in Aquarius. Perseverance will pay off since there won't be instant answers to dilemmas. In the final days you'll be enthusiastic and in the mood for a fresh start. One close partner may be a touch slow to agree with all your plans, so try to coax them into co-operating.
Year Ahead 2018
2018 will find your self-confidence soaring with social invites pouring in along with compliments. You'll be putting a higher value on yourself and finding that everyone else does as well. And your positive and enthusiastic approach will bring praise at work as well. Just don't go wild speculating or gambling, since nailing down your financial security is one of this year's priorities. Save, don't spend to impress; and be pro-active about taking the initiative to improve your long-term security.rnClose partnerships may be cooler. Try not to be critical or negative. Cherish loyalty above passion. It may be that work is interfering with relaxation time, but be grateful that you are rising up rather than the reverse.rnYour path will continue to be winding in terms of career and general life's direction but it'll rarely be boring. If you can be alert for changes and new opportunities, rather than sticking to old ways, it'll bring better results. You will be facing challenges where co-operation is concerned. Try not to be too controlling or indifferent to the needs of those close or at work.rnNeptune will bring you dreams, hunches and insights pointing you down a more spiritual road. OK at times your judgement may be off-beam and you'll have to be wary of relying on gurus or others having all the answers. But you'll be softening your attitudes as a result of your new-found beliefs.rnTravel may be muddled so make sure you always double-check all arrangements and have a Plan B up your sleeve. Late in the year you'll find an exuberant mood around work or the chores and be feeling healthier.