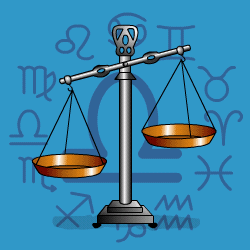 Libra
September 24 - October 22
---
Today's Horoscope for Monday January 22nd
Letting your hair down for sheer enjoyment does seem to happen as often at the moment as it once did. You somehow feel you will not be accepted unless you achieve so you are throwing all your energy into doing rather than being. The upside is you do achieve, the downside is you get gloomy. Try for a better balance. Letting your emotions flow will help your closest relationships. Oddly enough, it will also help your body, which tends to store toxins and fluid.
The Weekly Outlook from 22nd January
In some ways you feel like a child at heart - spontaneous, colourful and unselfconscious when it comes to enjoying yourself. You will be wearing your heart on your sleeve, and be very upfront about what or whom you fancy. Writing letters, making phone calls, holding discussions and negotiations will fill your busy schedule this week. You may be a little too blunt or sarcastic at times, and downright argumentative at others.
Your Monthly Horoscope for January
The turn of the year is always a time to burrow down at home amongst the family for you. Pushing away the cares of the outside world, you'll take the chance to indulge, relax and do some serious thinking about the changes you want to make to your intimate surroundings and relationships with those close. If tensions surface, then take it as a good chance to clear them out of the way once and for all. Don't resist the changes which are being discussed. Go with the flow and see how to make the most of a new scenario ahead. What spare time and energy you have will be devoted to improving your personal finances, which heart-warming results. Money will be flowing in faster though perhaps out against just as quickly as your spending shoots up. One close partner won't be on your wavelength mid month but try not to jump to conclusions. Let them go their own way and cherish space to yourself. After the 18th you'll be off partying, being complimented and enjoying yourself in the spotlight of the right kind of attention.
and Next Month's Horoscope for February
In a fun, entertaining mood you'll be in your element at parties, around children and loved ones, and shimmering with delight when the attention spotlight turns on you. Pushing aside chores for a while the let your inner child out to play will boost your energy and do your morale the world of good. An over-busy everyday schedule may not allow you all the time you'd like to indulge. But try not to get irritated by delays, mistakes and general distractions from those who aren't in step. Being too blunt or outspoken will damp your mood so keep a firm grip on your Libran tact and keep smiling through. You'll be tempted to spend on indulgences and after the 19th on richer and sweeter food. You won't be keen to deprive yourself but a touch of balance will help. If at any point you feel you aren't getting enough love and attention, then you need to hand out compliments and hugs. What you give out will come back to you. In the final days you'll have to hang up your dancing shoes and get back nose to the grindstone as the chores pile up. But you'll set to in good heart.
Year Ahead 2018
Your challenges in 2018 will be to breathe new life into your social and love life, your career and your friendship circle. So you won't go short of projects to keep you occupied and entertained. Early on if you are feeling unloved and overlooked, then you need to make an effort to hand out more affection and attention to others. What goes around, comes around and it isn't always the negative things. Then the invitations and compliments will start flowing your way.rnYou'll also be focussed on home and family matters, finding that a spot of reorganisation is required. Perhaps even thinking of moving in the not too distant future. If emotional tensions or old resentments surface then see the advantage of sitting down with loved ones for free and frank discussions which will clear them out of the way once and for all. Not that it will always be easy since certain family members may be resistant. Be calm, be tactful and keep chipping away.rnOne close partner will continue to be erratic and contradictory, here and then not here. Treat it as a blessing in disguise to give yourself the freedom you want to pursue your own interests. Be inter-dependent not dependent or possessive.rnLuckily money will flow through more easily to allow for treats, though it'll be an idea to save for a rainy day in future, rather than letting it slip through your fingers on frivolities.rnFrom July you'll want to make your mark and have your achievements recognised, so you'll be pushing ambitiously ahead. This won't be a time to be shy or hide away your talents. Bo bold and demand attention. It'll take hard work and effort but the rewards will come through.rnNew friends will turn up as well, widening your circle and providing you with more fun as well as linking you into good social networks. They will help with encouraging words of advice for your future plans and keep you on the right track.rnLate in the year your everyday schedule will move into a revitalised phase. You suddenly discover that what has been holding you back isn't bad luck, but too narrow an attitude. Being more positive will open new doors.