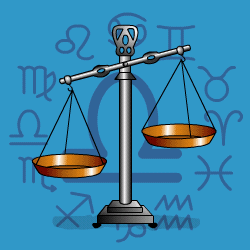 Libra
September 24 - October 22
---
Today's Horoscope for Tuesday May 22nd
If you are on the lookout for a new romance, you could find it at work or perhaps with someone slightly older. It may not be grand passion, but it could raise your social status, and get your invited out to all the best places. Maybe you will be too sentimental or too sugary sweet on the surface. Try to be more honest about your feelings underneath. You will want beauty or luxury at home and your appetite may be more tempted than usual. Just let yourself wander.
The Weekly Outlook from 21st May
Maybe you are not very practical with the Sun now in your chart area of grand plans, but you can always sort out what is workable in a few weeks time. This is the much more exciting stage of allowing your visions to flourish. This is also the time to start getting physically fitter, because you will for once be happy to take more exercise than usual. You will be brimming with energy, wanting to tackle activities that are more physical.
Your Monthly Horoscope for May
More secretive and intense than usual, you'll be ploughing steadily ahead. With the Sun in the deepest, most confidential area of your chart, you'll be sorting out financial and emotional tangles, determined to reach better agreements with those close or those you share joint responsibilities with. Be persistent and flexible since you won't get it all your own way but will need to compromise. Your reorganisation plans at home will be moving ahead at speed though not without a few differences with loved ones. By the 11th you'll be pleased with progress. Then it'll be all systems-change with two planets shifting sign mid month. Uranus will alter your outlook on money as it provides new opportunities, sweeps away old certainties and will bring some ups and downs. But that is not necessarily disastrous, just that larger lumps sums than usual will come and go. You'll also be filled with renewed energy and enthusiasm, keen to throw yourself wholeheartedly into enjoying yourself and getting your own way.
and Next Month's Horoscope for June
Brimming over with high energy and exuberance, you'll be redoubling your efforts to enjoy yourself and be an active presence on the social and sporting scene. Try not to boss loved ones around since they may not take kindly to your enthusiastic approach. You'll also be spreading your opinions around with vigour and be set not only on communicating your zeal but also raising your sights higher. Travel would suit you best but if you are stuck in one place you can always expand your interests in other ways. Just don't over exert or over commit yourself since you may sag at times. Your social status will be rising with invites to special occasions and you'll be turning on your charm full-volume to impress the right people. From the 13th affectionate friends will be around to make you feel appreciated. You'll be chatting over longer term plans and picking up advice left, right and centre. At times you'll try to shock companions just to amuse yourself but try not to go too far. In the final ten days you'll be on peak form and in a higher profile position, gaining respect and praise for your achievements and taking the lead.
Year Ahead 2018
Your challenges in 2018 will be to breathe new life into your social and love life, your career and your friendship circle. So you won't go short of projects to keep you occupied and entertained. Early on if you are feeling unloved and overlooked, then you need to make an effort to hand out more affection and attention to others. What goes around, comes around and it isn't always the negative things. Then the invitations and compliments will start flowing your way.rnYou'll also be focussed on home and family matters, finding that a spot of reorganisation is required. Perhaps even thinking of moving in the not too distant future. If emotional tensions or old resentments surface then see the advantage of sitting down with loved ones for free and frank discussions which will clear them out of the way once and for all. Not that it will always be easy since certain family members may be resistant. Be calm, be tactful and keep chipping away.rnOne close partner will continue to be erratic and contradictory, here and then not here. Treat it as a blessing in disguise to give yourself the freedom you want to pursue your own interests. Be inter-dependent not dependent or possessive.rnLuckily money will flow through more easily to allow for treats, though it'll be an idea to save for a rainy day in future, rather than letting it slip through your fingers on frivolities.rnFrom July you'll want to make your mark and have your achievements recognised, so you'll be pushing ambitiously ahead. This won't be a time to be shy or hide away your talents. Bo bold and demand attention. It'll take hard work and effort but the rewards will come through.rnNew friends will turn up as well, widening your circle and providing you with more fun as well as linking you into good social networks. They will help with encouraging words of advice for your future plans and keep you on the right track.rnLate in the year your everyday schedule will move into a revitalised phase. You suddenly discover that what has been holding you back isn't bad luck, but too narrow an attitude. Being more positive will open new doors.