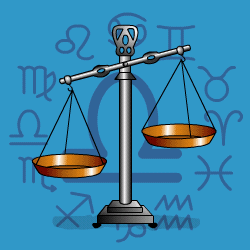 Libra
September 24 - October 22
---
Today's Horoscope for Saturday September 22nd
Quick witted and at times sharp of tongue today, so you'll need to pause to think before you speak. Mates could be startled by your comments. It's important you don't let people demand too much of you. Sometimes one has to do so much and then say, "Enough is enough." But if you are giving out a great deal then it's a bright idea to look at your physical stamina, see what you need to do to give it a boost.
The Weekly Outlook from 17th September
This is one of these times where you may be taking a sledgehammer to crack a nut. Try and find new solutions to old problems. This requires ingenuity and maybe more subtlty than will come naturally in the heat of the moment. Your boisterousness will bounce you back into life in a major way, but try to avoid hashing and crashing your way ahead. Around children or those under your care you could be a little too bossy. so be careful to stay tactful.
Your Monthly Horoscope for September
There'll be a few loose ends to tie up in your domestic reorganisation plans but really you'll want to put your feet up and relax more often for three weeks. This is your time to stand back, let others do the heavy lifting and have a chance to recover your breath. You'll be a sympathetic listener for anyone with problems and won't feel the need to push your own forward. At times early on your energy may sag so do nothing which involves draining your stamina further. Good news on the money front in Week 2 will put a sparkle in your eye and you'll be off to treat yourself in a few extravagances. Before mid month your passionate enthusiasm will soar and physically you'll be back on top form, forging ahead with gusto. You'll be throwing yourself into enjoying yourself, playing games and getting your own way. Just have a care towards the 18th since there may be an unexpected turn of events which could throw your budget off balance if you get too reckless. Then your birthday Sun from the 23rd will give you a real lift as you fly ahead into with new plans.
and Next Month's Horoscope for October
Bouncing with renewed vigour and full of ideas about kick-starting various projects, you'll be forging ahead in good heart. The Sun in your own sign until the 23rd always lifts your confidence and enthusiasm, as you set foot on a new birthday year ahead. You'll be sprucing up your appearance and attracting compliments galore. There will be the odd tension at home and among the family in week two, so you'll need to tread gently. Being confrontational won't work if you're to get your way over reorganisation plans. A high-energy Mars will also be urging you to enjoy yourself, take more exercise and grab whatever attention is going at parties. You may come across as bossy with loved ones since you'll want them to follow your lead. In the final week, you'll be following through on earlier ideas about rebooting your personal finances. Just take partner's views into consideration. Leaping ahead without consulting them won't work well.
Year Ahead 2018
Your challenges in 2018 will be to breathe new life into your social and love life, your career and your friendship circle. So you won't go short of projects to keep you occupied and entertained. Early on if you are feeling unloved and overlooked, then you need to make an effort to hand out more affection and attention to others. What goes around, comes around and it isn't always the negative things. Then the invitations and compliments will start flowing your way.rnYou'll also be focussed on home and family matters, finding that a spot of reorganisation is required. Perhaps even thinking of moving in the not too distant future. If emotional tensions or old resentments surface then see the advantage of sitting down with loved ones for free and frank discussions which will clear them out of the way once and for all. Not that it will always be easy since certain family members may be resistant. Be calm, be tactful and keep chipping away.rnOne close partner will continue to be erratic and contradictory, here and then not here. Treat it as a blessing in disguise to give yourself the freedom you want to pursue your own interests. Be inter-dependent not dependent or possessive.rnLuckily money will flow through more easily to allow for treats, though it'll be an idea to save for a rainy day in future, rather than letting it slip through your fingers on frivolities.rnFrom July you'll want to make your mark and have your achievements recognised, so you'll be pushing ambitiously ahead. This won't be a time to be shy or hide away your talents. Bo bold and demand attention. It'll take hard work and effort but the rewards will come through.rnNew friends will turn up as well, widening your circle and providing you with more fun as well as linking you into good social networks. They will help with encouraging words of advice for your future plans and keep you on the right track.rnLate in the year your everyday schedule will move into a revitalised phase. You suddenly discover that what has been holding you back isn't bad luck, but too narrow an attitude. Being more positive will open new doors.