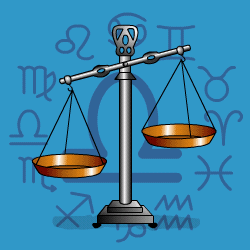 Libra
September 24 - October 22
---
Today's Horoscope for Tuesday March 20th
You'll be talking pleasantly with everyone you meet. Wanting to fit in for the sake of peace and quiet, you will compromise if need be or mend fences. If there have been arguments, this is the time when you can put the right word in the right ear, and suddenly everything calms itself down. Maybe you will feel slightly more vulnerable than usual, but there is support around if you look. Ask for what you need, but be prepared to compromise as well.
The Weekly Outlook from 19th March
You should notice an improvement in your social life this week. Your charming manner and way of putting others at ease will attract intriguing invitations early on. Though later you could be a little bit touchy, tending to regard whatever anyone else says as a challenge. The influence around can be useful since your mind goes into overdrive. But it also moves your tongue into top gear, which can prove a distraction.
Your Monthly Horoscope for March
You won't start the month feeling energetic or motivated, but you won't avoid the chores until the 20th, so do what you can to boost your stamina. Talking out problems with close partners will help and then really want to hear what you have to say, so don't hold back. Your charms will be on display out on the party scene, and your wonderful knack of making everyone you meet feeling special will bring compliments and more invitations. But if you are burning the candle at both ends you'll need to pace yourself. Your super-speed everyday schedule may lead to a few sharp words around the 11th as you get impatient with slow-coaches and mistakes. But luckily there will be good news on the cash front to restore your mood. After midmonth you'll buckle down to reorganising at home, which may not please those close who won't appreciate being swept into place. In the final days they may grumble but will offer more support.
and Next Month's Horoscope for April
A togetherness month will be what your heart yearns for with the Sun in your opposite sign till the 20th. But there may not be much peace at home or amongst the family with Mars, Saturn and Pluto in tricky mood. You will be trying to reorganise to soak up your energy though finding it all feels too much like hard work with not enough indulgence. Emotional tensions are likely to surface, which need to be addressed and cleared out of the way. But it won't be an overnight event, more a longish process which you'll need to take step by step. Your emotions will be more intense than usual, so you'll adore some people and seriously dislike others. Finding your normal balance will take effort. Money will come through more easily than you expect mid-month and again later to put you in better spirits.
Year Ahead 2018
Your challenges in 2018 will be to breathe new life into your social and love life, your career and your friendship circle. So you won't go short of projects to keep you occupied and entertained. Early on if you are feeling unloved and overlooked, then you need to make an effort to hand out more affection and attention to others. What goes around, comes around and it isn't always the negative things. Then the invitations and compliments will start flowing your way.rnYou'll also be focussed on home and family matters, finding that a spot of reorganisation is required. Perhaps even thinking of moving in the not too distant future. If emotional tensions or old resentments surface then see the advantage of sitting down with loved ones for free and frank discussions which will clear them out of the way once and for all. Not that it will always be easy since certain family members may be resistant. Be calm, be tactful and keep chipping away.rnOne close partner will continue to be erratic and contradictory, here and then not here. Treat it as a blessing in disguise to give yourself the freedom you want to pursue your own interests. Be inter-dependent not dependent or possessive.rnLuckily money will flow through more easily to allow for treats, though it'll be an idea to save for a rainy day in future, rather than letting it slip through your fingers on frivolities.rnFrom July you'll want to make your mark and have your achievements recognised, so you'll be pushing ambitiously ahead. This won't be a time to be shy or hide away your talents. Bo bold and demand attention. It'll take hard work and effort but the rewards will come through.rnNew friends will turn up as well, widening your circle and providing you with more fun as well as linking you into good social networks. They will help with encouraging words of advice for your future plans and keep you on the right track.rnLate in the year your everyday schedule will move into a revitalised phase. You suddenly discover that what has been holding you back isn't bad luck, but too narrow an attitude. Being more positive will open new doors.