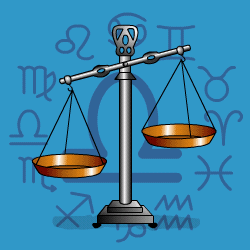 Libra
September 24 - October 22
---
Today's Horoscope for Wednesday December 13th
A really bright, breezy mood will keep you fully stretched. You will be a positive fountain of inspiration to companions. But trying to catch your stream of consciousness and bottle it may be trickier. You will not want to stop long enough to consolidate your thinking or come to sensible conclusions. You can be quite sharp in your comments, if you speak before you think. But you can also be tolerant and flexible in your views, when you have time to consider.
The Weekly Outlook from 11th December
The influences around this week will give you a bit ofa boost in terms of courage and confidence. You just want to nudge your life a little, making it more fun and more challenging. Though at times you will probably not stand up for yourself very well, because you want all your social interactions to be smooth and harmonious. You will compromise, bend round other people in order to get rid of past tensions and avoid new aggravations.
Your Monthly Horoscope for December
You won't be seeing eye-to-eye with those close early on, so agree to differ. You'll be more assertive than usual and those close will be keen on going their own way. Your usual spirit of compromise will be lacking so just stand back. Your energy may sag through the first week, so why waste energy on passing ripples? You'll have more than enough to occupy yourself with in a busy, varied everyday schedule, with plenty of short distance trips and intriguing chats to keep boredom at bay. Spending money will also fill your time after the 9th but be sure to put as much attention towards improving your financial situation as you do in treating yourself, otherwise you'll leave yourself short. From the 20th a shift of Saturn into Capricorn for the next two years will bring to a close your recent time of feeling a touch isolated. Now you'll set to being more visible out and about. And also putting practical thought to your domestic and family situation. Gradually you'll start planning the changes you want to make. The family will be affectionate and supportive from the 25th.
and Next Month's Horoscope for January
The turn of the year is always a time to burrow down at home amongst the family for you. Pushing away the cares of the outside world, you'll take the chance to indulge, relax and do some serious thinking about the changes you want to make to your intimate surroundings and relationships with those close. If tensions surface, then take it as a good chance to clear them out of the way once and for all. Don't resist the changes which are being discussed. Go with the flow and see how to make the most of a new scenario ahead. What spare time and energy you have will be devoted to improving your personal finances, which heart-warming results. Money will be flowing in faster though perhaps out against just as quickly as your spending shoots up. One close partner won't be on your wavelength mid month but try not to jump to conclusions. Let them go their own way and cherish space to yourself. After the 18th you'll be off partying, being complimented and enjoying yourself in the spotlight of the right kind of attention.
Year Ahead 2018
Your challenges in 2018 will be to breathe new life into your social and love life, your career and your friendship circle. So you won't go short of projects to keep you occupied and entertained. Early on if you are feeling unloved and overlooked, then you need to make an effort to hand out more affection and attention to others. What goes around, comes around and it isn't always the negative things. Then the invitations and compliments will start flowing your way.rnYou'll also be focussed on home and family matters, finding that a spot of reorganisation is required. Perhaps even thinking of moving in the not too distant future. If emotional tensions or old resentments surface then see the advantage of sitting down with loved ones for free and frank discussions which will clear them out of the way once and for all. Not that it will always be easy since certain family members may be resistant. Be calm, be tactful and keep chipping away.rnOne close partner will continue to be erratic and contradictory, here and then not here. Treat it as a blessing in disguise to give yourself the freedom you want to pursue your own interests. Be inter-dependent not dependent or possessive.rnLuckily money will flow through more easily to allow for treats, though it'll be an idea to save for a rainy day in future, rather than letting it slip through your fingers on frivolities.rnFrom July you'll want to make your mark and have your achievements recognised, so you'll be pushing ambitiously ahead. This won't be a time to be shy or hide away your talents. Bo bold and demand attention. It'll take hard work and effort but the rewards will come through.rnNew friends will turn up as well, widening your circle and providing you with more fun as well as linking you into good social networks. They will help with encouraging words of advice for your future plans and keep you on the right track.rnLate in the year your everyday schedule will move into a revitalised phase. You suddenly discover that what has been holding you back isn't bad luck, but too narrow an attitude. Being more positive will open new doors.