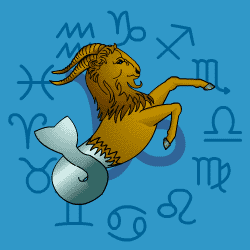 Capricorn
December 23 - January 20
---
Today's Horoscope for Wednesday December 13th
You will be coming up with wonderful ideas, but you may find it difficult to put your them into words. Your uncanny intuitions may be rather fragile, but they will be accurate all the same. You may be inclined to spread yourself a little thin now because you are trying to handle six things at once. Get your list of priorities straight before you start. Then tick them off as you go along and you will end up feeling more than pleased with yourself.
The Weekly Outlook from 11th December
This week you'll find yourself dashing off in various different directions at once. You feel so filled with your own good energy because you've finally discovered who you are and you don't intend to let that go. If you can talk about your feelings to others, you'll find that they respond positively, and you'll get back what you give out. Financially you will negotiate well because you're exceedingly charming and persuasive.
Your Monthly Horoscope for December
Always rather understated running into the end of the year with the Sun in the sign before yours, you'll really want to lie low. Letting others grab the spotlight and hopefully doing the work while you sit on the sidelines and recover your breath, is really what you like. You want be too settled at home or with the family early on with Uranus causing an upheaval or two. Not responding too hastily to unexpected turns of events will help. As will being clear about what you're saying since there may be communication hitches and glitches. Ensure you have heard everything correctly and haven't got the wrong end of the stick. Energetic friends won't let you sit idle since they'll be willing you on from the 9th to be out and about and sorting out future plans. Your birthday Sun in the final ten days will buck you up and lift your spirits. Though Saturn, your ruler, moves back into your own sign as well for the first time in 29 years. You'll be more serious in the two years ahead, sorting out your options and deciding what to clear out of your life that you no longer need for the future. Which doesn't mean you won't be turning on the charm and picking up compliments for your appearance.
and Next Month's Horoscope for January
Your birthday Sun at this time of year usually gives you a lift but you'll be more serious now. You'll be reorganising your life and your wardrobe wanting to revision your image to suit your new sophisticated approach. Try not to be too defensive when meeting people. You will warm up later but it could be off-putting. Luckily enthusiastic and dynamic friends will be around to give you a nudge and keep you looking ahead. Your optimism will be high since you'll sense better times are coming. You'll be in your element in group activities at work and in your leisure hours, with everyone pulling together. Towards midmonth there'll be an unsettled mood at home or within the family. Take it in your stride and refuse to be rushed into hasty decisions. Treats and indulgences will loom large after the 18th as you decide a spot of pampering is in order.
Year Ahead 2018
Your optimism will keep you sailing along in good spirits through 2018. Friends, new and old, will be around to boost your morale and keep your focus on what's coming next. Not all of their advice may be realistic though it'll always be cheering to hear. Just check out in advance before making decisions for yourself. Keep networking since the universe is behind you.rnBut for all that you will be more serious at times with Saturn now in your own sign making it clear you have to keep your feet on the ground. Part of its influence will be to prompt you to clear old baggage of any variety that you no longer need, out of your life. Whether in possessions, attitudes of mind or even people you no longer have common interests with. Think of a plant being pruned back, which stimulates new growth in time. Then apply that to your life. Just don't be too standoffish or give in to self-doubt which could happen in odd moments.rnYou'll be busily sorting out your personal finances in the first few months, taking the initiative and ensuring that your long term security comes before indulgences. Then after July you'll be keen to reorganise joint finances, where you share responsibilities with others. The Leo Eclipse will nudge you into changing the way you handle co-operative agreements, financial and emotional. Be open to the idea that maybe your old approach is outworn, so trying new terms of engagement would work better.rnClose relationships will be going through a period of adjustment also from July for a few months as you seek to reach new understandings both internally as you ask yourself what you really want, and with partners. You will feel unsettled at home, wanting to say on the move, perhaps anticipating another relocation soon. All of which makes it tricky to put down roots. But you will be aiming ultimately for more freedom.rnLate in the year you'll sigh with relief at getting more time to yourself.