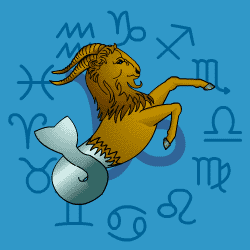 Capricorn
December 23 - January 20
---
Today's Horoscope for Tuesday May 22nd
Just remember to stand up for yourself. You are determined to keep relationships around you smooth and harmonious. But turning somersaults just to keep the peace or avoid confrontations may not always be wise. Be firm but tactful if the need arises.rnYour moods will be lively and unpredictable, and you will not sit still for long. You will be skipping around looking for entertaining conversations, wanting to swap new ideas, and general be off doing anything that is not routine.
The Weekly Outlook from 21st May
Maybe you are feeling resentful because you are not being given all the appreciation your might like. But at the end of the day you will be better pleased doing a good job for its own sake, rather than gaining success and glory in the world. Later in the week you will be in high spirits, feeling full of vitality and good health. Your wonderful way of picking other people up in your enthusiasm should produce very good results
Your Monthly Horoscope for May
In the mood for a party or at least for playing, you'll be in entertaining gear. Loved ones and social mates will rally round with compliments, attention and invitations galore. Looking ahead you'll be optimistic with exuberant friends pointing the way ahead. Just realise that not all of their advice will be realistic or practical. Mars will continue to rev up your engine till mid month so you'll be sweeping obstacles to one side and not taking no for an answer. Thereafter you'll decide to kick up your heels even higher and toss caution and convention to one side. You'll take your enjoyment, romantic or otherwise, in exactly the way that suits you without worrying about anyone else's reaction. Loved ones will be offering their affectionate support and you'll be in demand socially after the 19th. Though you won't avoid hard work in the final days. If you're burning the candle at both ends, you'll need to boost your stamina however you can.
and Next Month's Horoscope for June
Much as you'd like to be off having fun, needs must that practical chores are attended to and financial matters given consideration. Nothing will succeed like sweat and determination. Even if it doesn't feel glamorous, just know that perseverance will pay off in terms of giving you more security. If you can stay on top of detail and be aware that miscommunications are likely, then you'll wade through your to-do list in double quick time. Luckily the affectionate support of a close partner will keep you smiling. And when you can grab time off you'll be in social demand. Your hopes for the future will stay high with enthusiastic friends around keeping you heading in the right direction. Your feelings will be magnified after mid month so you'll adore some people and dislike others. If you can moderate your responses it'll help. The Sun moving into your opposite sign for the final ten days will bring support and encouragement from a close partner. Try not to be too defensive and shut them out.
Year Ahead 2018
Your optimism will keep you sailing along in good spirits through 2018. Friends, new and old, will be around to boost your morale and keep your focus on what's coming next. Not all of their advice may be realistic though it'll always be cheering to hear. Just check out in advance before making decisions for yourself. Keep networking since the universe is behind you.rnBut for all that you will be more serious at times with Saturn now in your own sign making it clear you have to keep your feet on the ground. Part of its influence will be to prompt you to clear old baggage of any variety that you no longer need, out of your life. Whether in possessions, attitudes of mind or even people you no longer have common interests with. Think of a plant being pruned back, which stimulates new growth in time. Then apply that to your life. Just don't be too standoffish or give in to self-doubt which could happen in odd moments.rnYou'll be busily sorting out your personal finances in the first few months, taking the initiative and ensuring that your long term security comes before indulgences. Then after July you'll be keen to reorganise joint finances, where you share responsibilities with others. The Leo Eclipse will nudge you into changing the way you handle co-operative agreements, financial and emotional. Be open to the idea that maybe your old approach is outworn, so trying new terms of engagement would work better.rnClose relationships will be going through a period of adjustment also from July for a few months as you seek to reach new understandings both internally as you ask yourself what you really want, and with partners. You will feel unsettled at home, wanting to say on the move, perhaps anticipating another relocation soon. All of which makes it tricky to put down roots. But you will be aiming ultimately for more freedom.rnLate in the year you'll sigh with relief at getting more time to yourself.