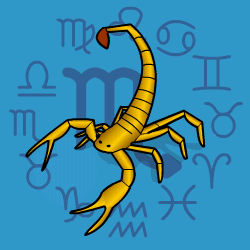 Scorpio
October 23 - November 22
---
Today's Horoscope for Tuesday March 20th
You will want friends who are elegant and fun, and even a little bit trivial. Today will be superficial and frivolous. Not a time to do anything too heavy. Take a break when you can relax and enjoy. You will be in touch with your feelings, able to reach out to others, though you'll need to be fit to crack on through the chores that are piling up. Treat your body like a machine that needs the right treatment, good fuel and maintenance stops along the way.
The Weekly Outlook from 19th March
Maybe you are feeling resentful because you are not being given all the appreciation your might like or higher rewards for your labours. But try to be pleased doing a good job for its own sake, rather than gaining success in the world. If you let your irritability show then you are likely to make the feeling infectious so then everyone gets over- heated. What you have to say is important, it is just a question of strategy.
Your Monthly Horoscope for March
In a merrier mood than most, you'll be kicking up your heels, letting your inner child out to play and accepting every social invitation going. Loved ones will rally round and shower you with attention and affection, with one exception early on as someone close seems evasive or preoccupied with their own concerns. But they'll come around quickly. Despite your aim of packing in as much fun as possible, you'll also be keeping your eye on details and enjoying the odd chore which comes your way. Try not to be too critical if you spot mistakes, since being honest won't always pay. You're likely to be tempted by richer and sweeter food as well, so need to exercise some self-control or exercise more. A busy everyday schedule from midmonth will keep you running with less time for entertainment and more hard work in the final days.
and Next Month's Horoscope for April
Busy as a bee, though a slightly irritated one, you'll plough through a busy everyday schedule, encounters obstacles, sweep them aside mainly, and just keep pushing on. Looking after fitness and stamina will be vital since you'll be putting energy out, at times feeling as if you are doing too much for others and not getting enough in the way of appreciation. So very much a head-down and grit-your-teeth few weeks. If you can take pride in what you're doing for its own sake then you'll fare better. Happily the affectionate support of a close partner will keep you warm and cosy inside; and your own self-confidence won't flag with several small triumphs making you glow with pride. You won't have to work so hard after the 20th with more co-operation from others lifting some of the burden of your chores. Though there will be one more challenge before the month is out, which will be overcome if you persist and say less.
Year Ahead 2018
Your head and your heart will tug in opposite directions in 2018 which won't suit as emotionally intense a sign as yours. You like to be fully engaged. But needs must. First half year will be focussed on home and family matters, making adjustments, reorganising and finding a deeper sense of roots. If loved ones are vague or evasive, try to be forgiving rather than critical.rnA fairly heavy everyday schedule may weigh you down at times, making you want to withdraw, getting sensitive to those who won't listen at work or out in the neighbourhood. Maybe you need to change your approach. Be persistent in getting your message across, listen to feedback and find out what those around really want to hear. Being less dogmatic or forceful will help. Getting organised will be key, streamline your efficiency and manage your time well.rnSince nothing will stay the same for long at work, try to schedule in time for reflection and de-stressing, since you will get highly-strung at times. Be open to new methods and new approaches. Go with the flow and even if certain projects don't work, others will. One door closes, another opens.rnLuckily with Jupiter in your sign till November, your confidence will stay high and luck will be on your side. You'll attract enthusiastic responses from everyone you meet as well as resources. Late in the year, money will roll in faster. And probably disappear just as quickly since your spending will shoot up. Try to save some of your good fortune as you go.rnFrom July you'll be aiming to spread your wings to bring more excitement and adventure into your life. This'll be the time to find your vision and follow your dreams. Your ambitions will need a hefty push as well if you are to get the praise you want for your abilities. Don't be a shrinking violet. Take the initiative and make it happen over the next few months.