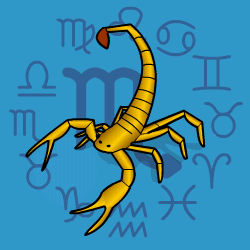 Scorpio
October 23 - November 22
---
Today's Horoscope for Tuesday May 22nd
You will be spreading your favours around fairly generously in a rather enthusiastic way. You want a social life that is challenging, not dull, and will be doing all you can to breathe a little adventure into your off-duty activities.rnThough nothing will distract you from the essentials at work. It may not be passionate or very exciting but you will accomplish a modest amount. The Moon at an easy angle to Saturn will mean you cope admirably with practical situations.
The Weekly Outlook from 21st May
At times this week life may seem a little like a battlefield as confrontations litter your way ahead. You may complain about your difficult path just now, but this situation won't last for long. You may bounce into situations that you thought were going to work wonderfully, but then your expectations fall short slightly. So do watch for a tiny hint of overconfidence and recklessness. A little self discipline never goes amiss.
Your Monthly Horoscope for May
Togetherness is what you'll be aiming for, at least in the first two weeks. Having a partner in whatever you do will make you feel whole, so co-operation will be a priority. Your confidence will be high and you reckon your luck will be in. Just don't get ahead of yourself and take your good fortune for granted. From mid-month you'll sense a shift in the wind as Uranus moves into your opposite sign for the next few years. You'll be sitting down with close partners to discuss ways in which both of you can be free to pursue your individual interests. Possessive won't work in either direction. Relations with those you work closely with may also move into a more changeable phase. After the 16th you'll be frustrated by the slow progress of certain pet projects and throwing your energy into reorganising at home. Loved ones may get uptight if you sweep them too firmly into place. In the final days you'll be mulling over confidential matters, playing your cards close to your chest.
and Next Month's Horoscope for June
Always a secretive, private sign, you'll be playing your cards even closer to your chest than usual. There'll be highly personal and perhaps financial matters which need resolving and while it may suit you to make your own decisions, really you'd be best to share and co-operate. Open up to close partners and see whether a compromise might help in reaching fairer agreements which suit both sides. The mood at home may be heated and you'll distract yourself by reorganising. Though loved ones in the family may not always be delighted at being swept into place along with the furniture. Lift them up with your enthusiasm and you'll fare better. Though truthfully at times they will prove evasive or preoccupied with their own concerns so you'll need to be gentle and forgiving. Luckily your confidence will stay high with social adventures and new fun company to keep you in good spirits. After mid month you'll have sorted out a few dilemmas and be into a more adventurous, less restrictive phase. You'll be keen to broaden your horizons wherever possible and be looking further afield for adventure.
Year Ahead 2018
Your head and your heart will tug in opposite directions in 2018 which won't suit as emotionally intense a sign as yours. You like to be fully engaged. But needs must. First half year will be focussed on home and family matters, making adjustments, reorganising and finding a deeper sense of roots. If loved ones are vague or evasive, try to be forgiving rather than critical.rnA fairly heavy everyday schedule may weigh you down at times, making you want to withdraw, getting sensitive to those who won't listen at work or out in the neighbourhood. Maybe you need to change your approach. Be persistent in getting your message across, listen to feedback and find out what those around really want to hear. Being less dogmatic or forceful will help. Getting organised will be key, streamline your efficiency and manage your time well.rnSince nothing will stay the same for long at work, try to schedule in time for reflection and de-stressing, since you will get highly-strung at times. Be open to new methods and new approaches. Go with the flow and even if certain projects don't work, others will. One door closes, another opens.rnLuckily with Jupiter in your sign till November, your confidence will stay high and luck will be on your side. You'll attract enthusiastic responses from everyone you meet as well as resources. Late in the year, money will roll in faster. And probably disappear just as quickly since your spending will shoot up. Try to save some of your good fortune as you go.rnFrom July you'll be aiming to spread your wings to bring more excitement and adventure into your life. This'll be the time to find your vision and follow your dreams. Your ambitions will need a hefty push as well if you are to get the praise you want for your abilities. Don't be a shrinking violet. Take the initiative and make it happen over the next few months.