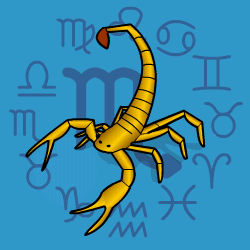 Scorpio
October 23 - November 22
---
Today's Horoscope for Wednesday December 13th
It's a rather fidgety time but it still might be a good time to do outstanding paperwork. You'll have good insights and a quick eye for what's out of place. It is a good day to get new things started. There may be nothing hugely important but it will waken you up. You are in a common sense mood, showing practical flair and determination. You may be slow to make up your mind, but you will be absolutely unshakeable when your decisions are made.
The Weekly Outlook from 11th December
This week you're buzzing around in a happy-go-lucky fashion, saying, "This is me, this is what I want to do." You're studying things that you haven't looked at before. Try to write a poem, paint a picture. You will find it easier to express feelings in a way that has nothing to do with logic. Bring a little beauty or romance into your day and hand round your good feelings. Go on a short trip since it could bring happiness.
Your Monthly Horoscope for December
Recently you've been pent up and raring to go, but feeling restricted. Just give yourself another few days. Timing is everything. If you let your frustrations out too impulsively and force yourself into gear too quickly then it will backfire. Loved ones will be vague and dreamy, none too practical early on, so let them drift along at their own pace. You'll have the chance to tackle your finances to see how to get yourself better organised and to manage your year-end spending. From the 9th suddenly all the red lights will turn green and you'll be off at speed. You'll sweep obstacles to one side and get irked by anyone who gets in your way. But at least finally you can now tackle all the projects which have been hanging fire. In the final ten days there'll be a mood change with Saturn moving into Capricorn for two years plus ahead. You'll need to put effort into getting your views across clearly. If everyday companions aren't listening then you'll need to find a new approach. Don't get disheartened and stay quiet. Be persistent. Gestures of affection from the 25th onwards will make you feel popular.
and Next Month's Horoscope for January
You'll be in high spirits as the New Year dawns with dynamic Mars and confident Jupiter coming together in your sign for a real morale-boost. Nothing will slow you down, so you'll need to stay organised otherwise you'll run round in circles. Although you'll be charming, you'll also come across fairly forcefully or too intensely at times. Remember that gentle persuasion will work faster with less resistance than coming on too strong. You may be right in what you're saying but a lighter-hearted tone will win you friends and allies. Positive responses will come from a wide range of your everyday contacts so you'll sense you've turned a corner into better times. Though you'll need to stay alert for sudden surprises mid month. A small triumph on the 16th will please you enormously. With great relief you'll start slowing down after the 18th with chances to snuggle down and indulge with loved ones.
Year Ahead 2018
Your head and your heart will tug in opposite directions in 2018 which won't suit as emotionally intense a sign as yours. You like to be fully engaged. But needs must. First half year will be focussed on home and family matters, making adjustments, reorganising and finding a deeper sense of roots. If loved ones are vague or evasive, try to be forgiving rather than critical.rnA fairly heavy everyday schedule may weigh you down at times, making you want to withdraw, getting sensitive to those who won't listen at work or out in the neighbourhood. Maybe you need to change your approach. Be persistent in getting your message across, listen to feedback and find out what those around really want to hear. Being less dogmatic or forceful will help. Getting organised will be key, streamline your efficiency and manage your time well.rnSince nothing will stay the same for long at work, try to schedule in time for reflection and de-stressing, since you will get highly-strung at times. Be open to new methods and new approaches. Go with the flow and even if certain projects don't work, others will. One door closes, another opens.rnLuckily with Jupiter in your sign till November, your confidence will stay high and luck will be on your side. You'll attract enthusiastic responses from everyone you meet as well as resources. Late in the year, money will roll in faster. And probably disappear just as quickly since your spending will shoot up. Try to save some of your good fortune as you go.rnFrom July you'll be aiming to spread your wings to bring more excitement and adventure into your life. This'll be the time to find your vision and follow your dreams. Your ambitions will need a hefty push as well if you are to get the praise you want for your abilities. Don't be a shrinking violet. Take the initiative and make it happen over the next few months.