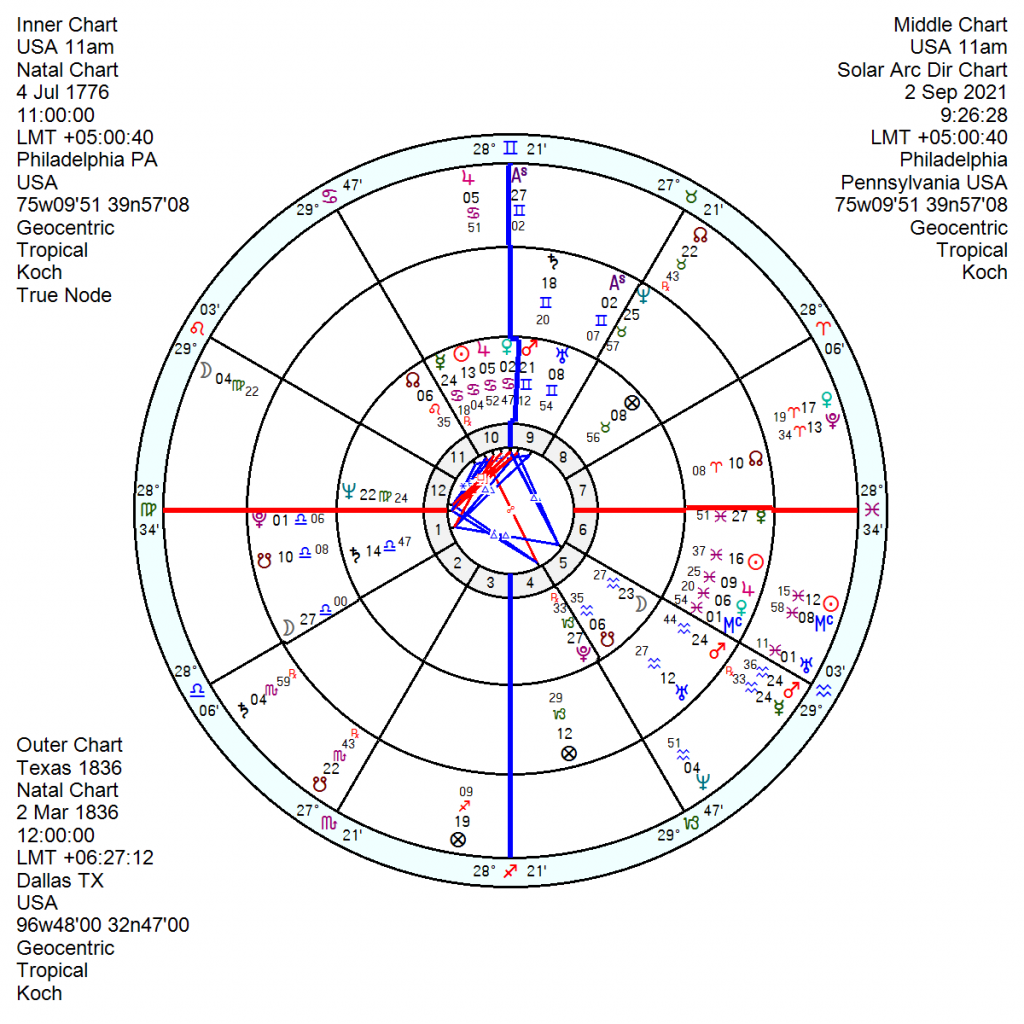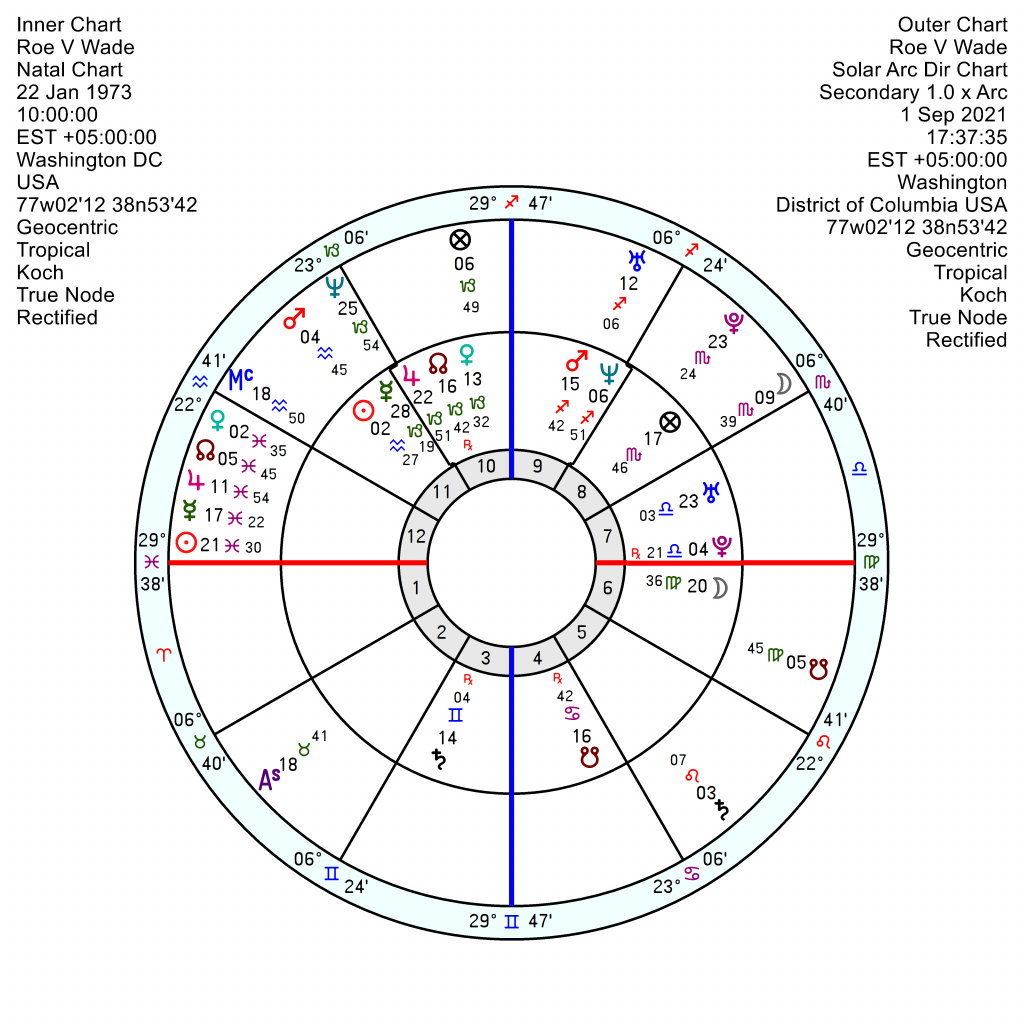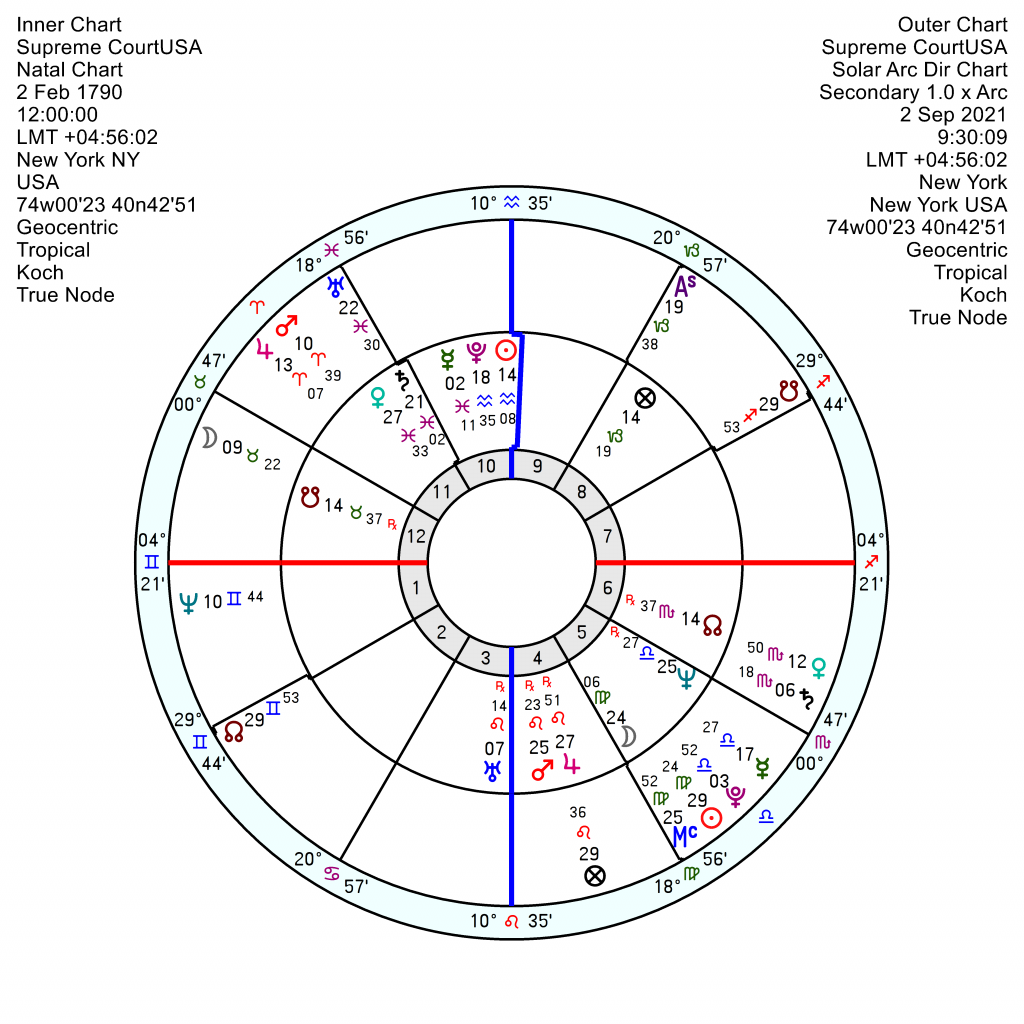 A Texas ban on abortions after six weeks has gone ahead despite Chief Justice Roberts of SCOTUS calling the enforcement scheme as "not only unusual, but unprecedented" and said it deserved more exacting judicial scrutiny. He was over-ruled by five of his conservative colleagues. Over recent years other such attempts at state level have been blocked. Justice Sonia Sotomayor voiced her dissent calling it "a flagrantly unconstitutional law engineered to prohibit women from exercising their constitutional rights." President Biden condemned the law.
Trying to extract a pattern from a plethora of charts, what is eye-catching is the presence of Aquarius both in the pro- and anti-lobbies.
  Texas, 2 March 1836, has Mars Mercury in Aquarius which on an 11am start chart for the USA is conjunct the US Moon and also coincidentally conjunct the US Solar Arc Mars. I have found Mars in Aquarius in the past, amongst its less admirable qualities, to show traits of being downright ornery, aggressively wilful and inordinately stubborn, not a sentimentalist or compassionate. Saudi Arabia and Northern Ireland (1922) also have Mars in Aquarius.
  The Texas Neptune in Aquarius is also conjunct the USA South Node – pulling it backwards into a swamp.
Amy Barratt and Brett Kavanaugh, the two most recent Trump nominees are both Sun Aquarius with conservative Samuel Alito having Venus Jupiter in Aquarius.
The SCOTUS chart also has a controlling Sun Pluto in Aquarius which tr Uranus is upending at the moment squaring the Sun and will continue to do so through 2022 into 2023 as it squares the Pluto. Many things may come to pass with the USA's Pluto Return and not all of them laudable.
It would also have to be said that John Roberts, who comes across as a moderating voice, is also a Sun, Mercury in Aquarius. Roe v Wade, signed 22 January 1973 10 am Washington, DC, also has an Aquarius Sun which will be under considerable pressure from tr Pluto conjunct the Sun from April 2024 onwards so it could be a major plank in the election campaigning, extending right through 2025. Both the negative and positive poles of Aquarius will be in full flight.
  My other faint thought is that an overly strong Mars tends to slant, not surprisingly, to an overly macho, masculine view of life – and there are several Mars Uranus hard aspects amongst the relevant charts. Moon Mars usually indicates anger at women/mother and countries which have regressive and repressive attitudes towards women and women's issues tend to have difficult Moon aspects.  Also there is another pattern of a Cancer Aquarius combination prominent in charts, including the USA, which is an uncomfortable mix.
Muddled thoughts but it is depressing in a supposedly enlightened country.
See post September 24 2020.